Goal is set at $17,000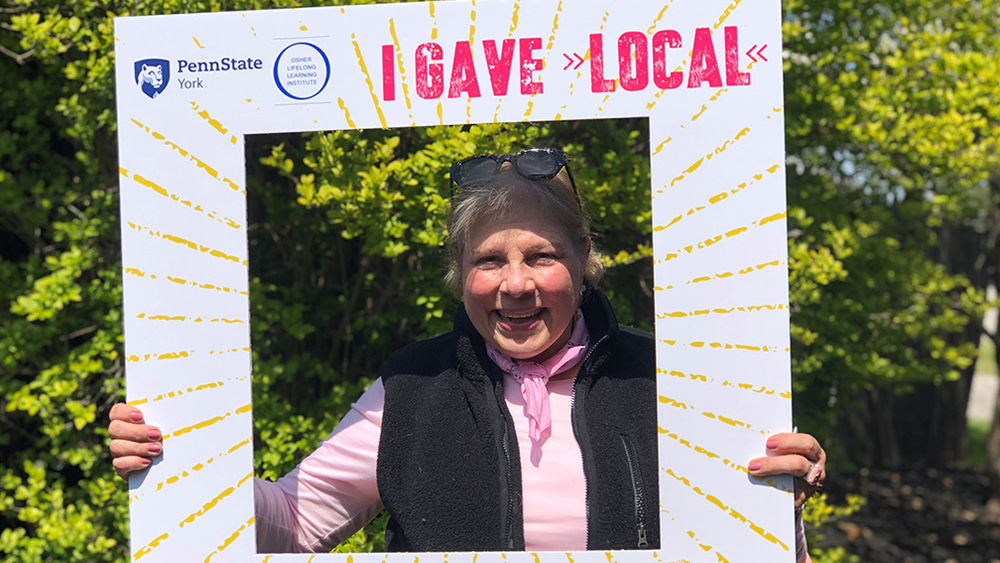 YORK, Pa. — Sustainability is the ultimate goal for the Osher Lifelong Learning Institute (OLLI) at Penn State York as they participate in Give Local York (GLY) on May 7. OLLI provides a variety of classes and other activities to enhance the lives, expand the minds, and provide fun for mature adults, 55 and older, who never want to stop learning. OLLI is a nonprofit organization, and is one of more than 300 participating in Give Local York, a 24-hour fundraising event across York County. This year, the online day of giving is Friday, May 7.
OLLI has set their financial goal for GLY 2021 at $17,000. During last year's GLY event, the organization raised $16,394.15.
"This is OLLI's third year participating in Give Local York. We use this campaign as our annual appeal because it allows us to be part of this amazing community event and Give Local York secures sponsors, so our raised funds are supplemented with stretch pool dollars," said Jennifer Geubtner-May, director of OLLI at Penn State York. "It has been a tough year for OLLI, 200 members have not renewed their memberships due to the pandemic and our course registrations are down by 66%. Despite this, the OLLI spirit is strong, and I am confident that our members and friends will rise to the occasion and help us through GLY."
Donors can give to OLLI at Penn State York on May 7 through this link. There will also be links on the OLLI Facebook page, and its website.
The weeks and months that followed the unexpected closure of OLLI activities in March of 2020 were difficult on the organization. OLLI's in-person courses and events came to a halt. "Virtual OLLI," an online publication, provided education, entertainment, and some connection to OLLI in those first few months, but it quickly became clear that many OLLI members needed more.
OLLI staff pivoted and began offering online Zoom courses and social events, exploring how OLLI members could safely be brought together. Fall 2020 brought in-person courses, not on Penn State York's campus, administered with strict COVID mitigation practices. The restoration of consistent in-person courses, where members could chat, laugh, and learn together, brought energy back to OLLI. By this time, members had the skills to utilize the new curriculum of Zoom courses without too much difficulty, and OLLI was bringing connection and joy back to our members' lives.
Prior to the pandemic, OLLI boasted a membership of more than 700. As stated earlier, since the beginning of the pandemic, the OLLI membership count dropped by 200.
A gift of any size can make a difference. An extra $50 will replenish one of OLLI's 200 lost memberships. An extra $80 will replenish the lost revenue of ten courses. OLLI's Development Committee has established new annual giving levels, detailed here:
Friend $25-99
Associate $100-249
Graduate $250-499
Scholar $500-999
Cum Laude $1,000-1,499
Magna Cum Laude $1,500-2,499
Suma Cum Laude $2,500+
While the timeline and implications for recovery from this pandemic are uncertain, OLLI is committed to continuing to evolve to meet the needs of its valued members and keep them safe.
OLLI at Penn State York members have a desire to stay active and never stop learning. OLLI came to Penn State York in 2007, thanks to the efforts of three women with a thirst for knowledge and mental stimulation, Olive Padden, and the late Charmaine Kissinger and Gussie Petron.
The idea of offering courses of interest during the day for adult learners without the stress of tests, requirements, and official textbooks appealed to the trio, and thanks to their leadership, OLLI began offering courses in April 2008. Since that time, OLLI at Penn State York has continued to grow with a variety of daytime courses, bus trips, travel trips, walking tours, and other exciting activities.
OLLI is a mostly volunteer-driven organization, established to enrich the lives of mature adults living in York County. OLLI at Penn State York is one of more than 124 lifelong learning institutes across the nation that is supported by a grant from the Bernard Osher Foundation. The grant was made available locally though Penn State, which has OLLI sites at University Park and York.
There are two additional ways to give to the GLY campaign this year. Prior to May 7, those who want to donate can send a check to OLLI at Penn State York, c/o Jennifer Geubtner-May, 838 Solarlight Dr., York, PA 17402. Checks must be made payable to OLLI at Penn State York and have Give Local York noted in the memo line on the check. Checks received after May 7 will not be applied to the GLY total but can still help OLLI meet financial goals. The second way to give is on May 7 by donating online.
Since OLLI is a nonprofit organization, all gifts are 100% tax deductible.