Student affairs staff work with students to provide plenty of virtual events and activities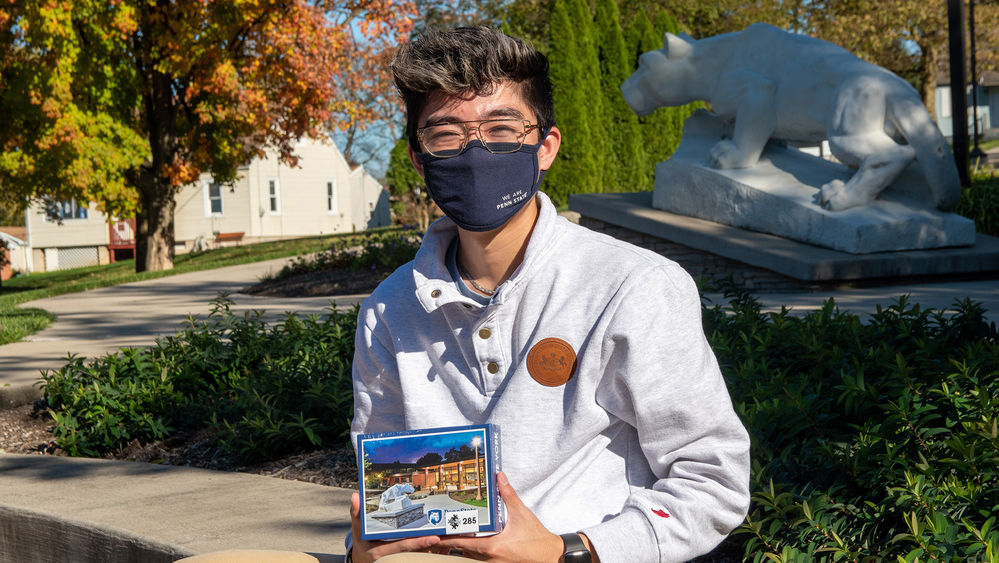 Planting a flower for Earth Day, puzzles, paint by number kits, and a variety of virtual events and activities are just some of the ways that the student affairs office at Penn State York and clubs and organizations are staying engaged with students during the pandemic. COVID-19 has restricted in-person activity since the spring but that hasn't stopped the campus from reaching out and providing support outside the classroom.
"Engagement is more important now than ever," said Sarah Guillen, associate director of student affairs at Penn State York. "This pandemic has forced a lot of isolation and prevented most in-person gatherings, so we have been doing our best to try and provide safe ways for students to still connect with each other outside of the classroom. While an online venue is not ideal, it is the best option we have while keeping safety the top priority," said Guillen.
Drop shipped items sent directly to students' homes have been very popular, and have included a variety of items, the most popular one to date was a Penn State York puzzle.
The University Programming Board (UPB), a student organization at the campus has been working diligently to promote events and activities on social media and to make students feel connected. A variety of gift cards and incentives for participation are also being offered.
"Generally, we meet every two weeks, via Zoom, and get event ideas from members," said Alvin Chen, a Penn State York sophomore majoring in computer science, and co-chair of the UPB.  "The drop ship items are great because they go straight to where the student lives. As part of receiving an item, we ask students to post photos on social media so that they can engage with other students, but it is not a requirement."
The campus has offered a number of virtual events from magicians and comedians online and has partnered with other campuses for some of the events.
"Joining with other campuses for online events has allowed us to get to a bigger piece of the Penn State community and stay engaged," said Chen.
Guillen shared that she sends a weekly bulletin via email every Monday which includes the list of upcoming events for that week, future events, and relevant announcements as needed  On campus, the Stall Street Journal, a one page poster of events and activities is hung on the doors of the bathroom stalls and lists all the upcoming events and activities and who to contact for more information.
Virtual events, which have been sponsored by UPB, have included everything from trivia and bingo online to pumpkin carving and costume contests that students do their activity at home and post photos on social media.
To help students de-stress leading up to finals, the next drop ship item, set for early December, is a bubble tea tumbler filled with the ingredients for students to make and enjoy bubble tea at home.
The pandemic has limited in-person activity but is has not stopped creative minds from finding and implementing ways to keep students engaged.