Students hope to raise awareness about the rights of children, along with having some fun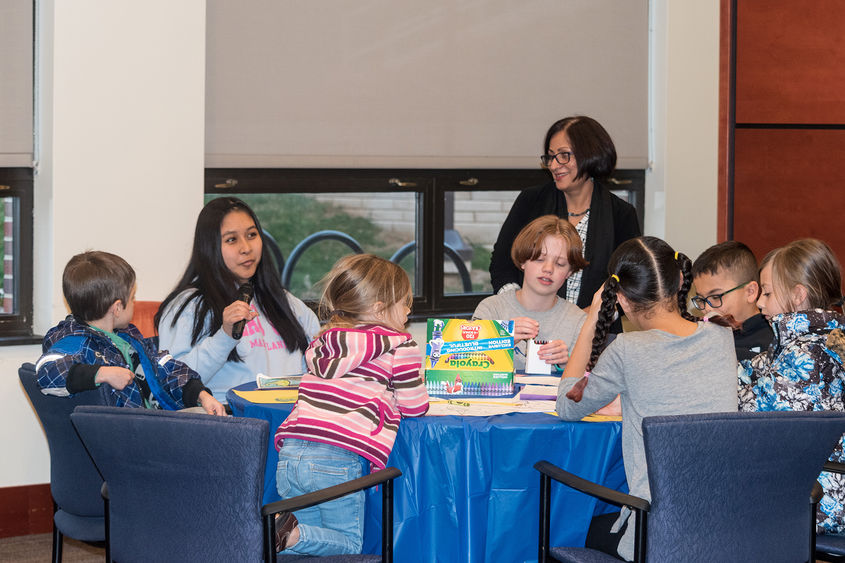 "As adults we can so easily forget what it's like to be a child and how impactful those years are on the person that we become," said Alexandra Pierro, a Penn State York student and one of the organizers of Universal Children's Day. "I believe that Universal Children's Day is a wonderful opportunity to embrace our inner child and develop a sense of respect and appreciation for children as their own unique persons."
For the fourth consecutive year, students enrolled in the Advanced Child Development (HDFS 429) class at Penn State York, have organized Universal Children's Day at the campus. This celebration of children is from 12:15-1:15 p.m. Wednesday, Nov. 13, in the Precision Custom Components (PCC) Community Room in the Joe and Rosie Ruhl Student Community Center on campus. This free event is open to the public. All children attending must be accompanied by an adult.
The HDFS group partners with other campus clubs to create an event that provides activities and information in support of children and their families. The group hopes to draw a large crowd with a variety of hands-on activities including an interactive child-centered reading corner, sensory stations, bracelet-making, and do-it-yourself slime. Information about how Universal Children's Day is celebrated around the world will also be shared.
The United Nations (UN) General Assembly adopted the Declaration of the Rights of the Child on Nov. 20, 1959, and on Nov. 20, 1989, 30 years later, it adopted the Convention on the Rights of the Child. Since 1990, Universal Children's Day also marks the anniversary of the date that the UN General Assembly adopted both the declaration and the convention on children's rights.
Every year on Nov. 20, Universal Children's Day is observed across the world to promote the rights and welfare of children. The purpose of the observance is to bring awareness of children's exploitation and discrimination based on religion, minority status, or disabilities and exposure to violence, war, and armed conflict throughout the world.
"I think Universal Children's Day is important because a large majority of individuals are unaware of the rights children have," said Nikolina Nonkovic, a student and event organizer. "We hope that by exposing our campus to these rights we create at least a little more awareness and advocacy for the children not just in the United States, but around the world." Ashley Koller, another student-organizer said, "I believe Universal Children's Day is important because I have a young child, and I want him to grow up in a world where he knows his rights and he can advocate for other's rights."
All HDFS faculty, especially, Sukhdeep Gill, professor of human development and family studies, and HDFS 429 course instructor, and Amber Seidel, associate professor of human development and family studies, and a faculty adviser for the HDFS/Psychology Club, are supporting the event, along with the rest of the department.
The HDFS major at Penn State York is a multidisciplinary program that examines the development of individuals and families across the life span. It enables students to prepare for professional, managerial, or scientific roles in health and human services professions, in public and nonprofit agencies, and in business and industry, as well as for advanced professional or graduate study. Students obtain a broad background in individual and family development across the life span. Visit the website to learn more about the bachelor of science or associate degree in Human Development and Family Studies (HDFS).