Len Vadas, local golfer, donates clubs to golf team at Penn State York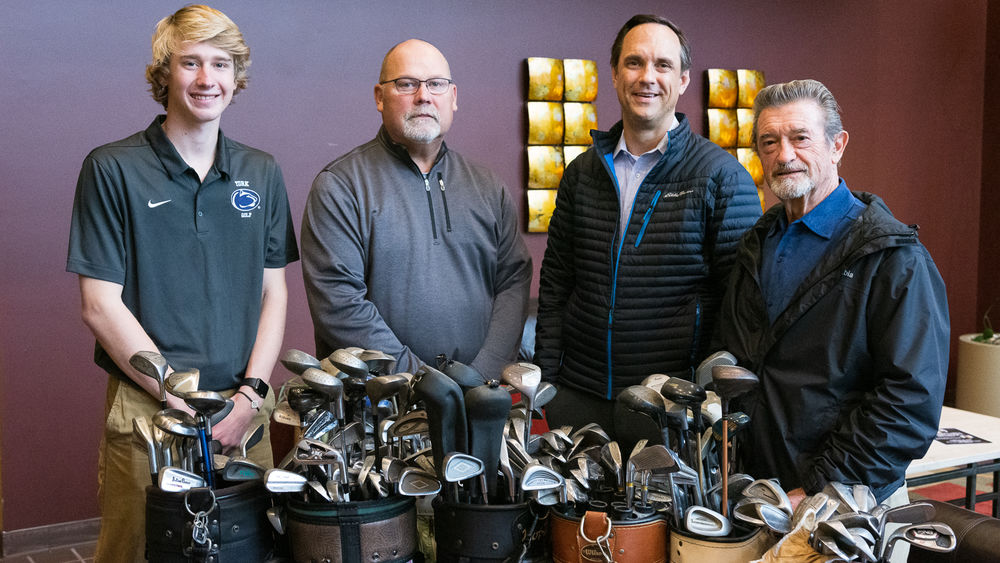 Len Vadas, a skilled local golfer, is passionate about the sport. He has built one of the largest collections of gently used golf clubs in the Susquehanna Valley, and thanks to his generosity, the Penn State York golf team has benefited from his recent donation of more than 200 clubs.
Vadas has a special place in his heart for Penn State York and has donated numerous sets of golf clubs to the campus over the years. Penn State York's golf team is only in its second year, but Vadas has been supporting golf at the campus for a number of years.
"Mr. Vadas is an influential leader in York's golf community," said Joe Downing, the golf coach and associate professor of communication arts and sciences at Penn State York. "Len has always been very gracious in supporting our campus. Now, through his latest, and most significant donation, the campus can offer high-quality golf clubs/sets as an aid to recruit new players to our golf team," Downing said.
Vadas' donations started back when Associate Professor Emeritus of Kinesiology Kenneth Swalgin, taught Golf 1 on campus. In 2015, Vadas donated multiple sets of golf clubs to the University of Zagreb in Croatia, and Swalgin, on a sabbatical, used the clubs when he taught a golf course at the university. Swalgin has since retired but the relationship with Vadas and the campus has continued.
Any golf clubs the team cannot use will be donated to a philanthropic organization.
To learn more about golf at Penn State York, visit the website. In addition to men's and women's golf, the campus offer men's and women's basketball, baseball, men's soccer and women's volleyball.