Graham Center for Innovation and Collaboration offers collaborative spaces and plenty of opportunities for students, faculty, staff and local community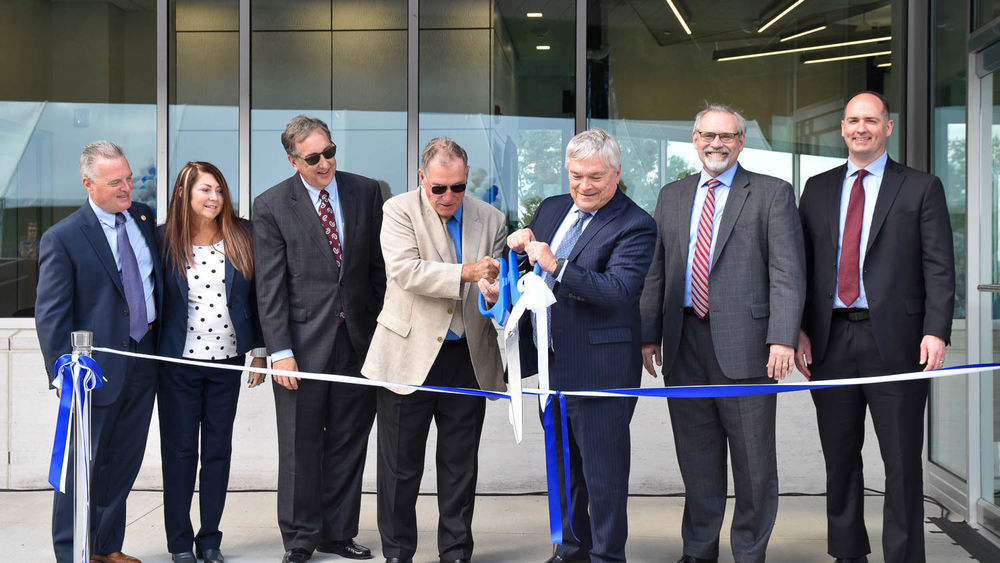 YORK, Pa. — More than 100 members of the campus community and invited guests and dignitaries celebrated the dedication and open house for the new Graham Center for Innovation and Collaboration (The Graham Center) at Penn State York on Sept. 30. Numerous speakers thanked the generous donors who made the building possible, Donald Graham, York business leader and philanthropist, and his wife, Ingrid; John and Maria Polli, local philanthropists; two local foundations, the Powder Mill Foundation and the J. Warehime Foundation; and the University.
Check out photos from the event.
Speakers at the dedication included Chancellor of Penn State York David Christiansen, Penn State President Eric J. Barron, Chairman and Founder of the Graham Group Donald Graham and the Penn State York Student Government Association (SGA) President Sohaib Tariq.  Director of Business Services at Penn State York Holly Gumke served as the emcee.
"The dedication of the Graham Center for Innovation and Collaboration is a transformational moment for Penn State York," said Christiansen. "Beyond serving as the home of the Graham Fellows Program for Entrepreneurial Leadership, it provides students additional opportunities for leadership training," he said.
In 2010, Don Graham approached Penn State York to share his vision for developing a more skilled and innovative workforce in the York community. His philanthropy allowed the campus to create what is now called the Graham Fellows Program for Entrepreneurial Leadership (Graham Fellows Program) and ultimately, along with the help of other donors, led to the new facility on campus.
In his remarks, Graham emphasized the importance of this space on campus, "This space will provide a home for the Fellows program and allow it to expand and function more effectively," he said. "At the same time, it will be home for innovation and collaboration on a larger scale including not only the fellows, but other students, faculty, and community participants. This, in turn, will close the loop by providing more leadership and collaborative experiences for the fellows themselves – a truly win-win proposition."  He also noted that although a Wolverine at heart, he has been made to feel a part of the Penn State family.
President Eric Barron echoed Graham's remarks about the importance of innovation and collaboration as well as providing opportunities for students. "I'm very pleased that this building will serve in the training of the next generation of entrepreneurs, inventors, innovators, and business leaders," he said. As the home for the Graham Fellows, it will provide dedicated space for students, faculty, and corporate partners and solve problems that affect us all."
The 7,945-square-foot, two-story building incorporates an open-concept floor plan and provides flexible space that can accommodate smaller collaborative student group work, individual mentoring sessions, and formal classes or lectures, as well as large events and presentations. Students can take advantage of a variety of collaborative workspaces, spots to connect and state-of-the-art technology. There are spaces for students to meet and engage with members of the local business community, and office space for the director and others associated with the program. The building design incorporates a large amount of glass to allow for breathtaking views and plenty of natural light in the open spaces.
A groundbreaking ceremony for The Graham Center took place on April 17, 2019, with the building being completed in early summer of this year. The building is located prominently on campus, with plenty of parking, to provide visibility to the center's activities and convenient access for corporate partners.  The total project budget, including furniture, fixtures, and equipment, is approximately $5 million.
For students like Sohaib Tariq, a sophomore at Penn State York as well as the president of SGA, and a Graham candidate, there is excitement in seeing the project completed and what lies ahead.
"This new building opens numerous opportunities for students at Penn State York," said Tariq. "Not only does it provide a home for the Graham Fellows Program for Entrepreneurial Leadership, but it also opens a new venue for club meetings, spaces to study, and a place where students can gather. The Nittany Scholars Program, Phi Beta Lambda, and the Multicultural Club have already begun using The Graham Center to gather students."
Tariq also noted his appreciation, "I just want to thank everyone involved in making this a reality. I am truly excited to see the new opportunities this building creates for students at Penn state York."
More than 60 students are part of the Graham Fellows Program and have taken part in a variety of events and activities to prepare them to enter the workforce. Those in the program take advantage of interdisciplinary coursework, mock interviews, workshops in résumé writing, etiquette dining, networking opportunities with local business and, in some cases, internship experiences. The Graham Speaker Series also provides students with opportunities to meet and hear from local and national leaders in a variety of career fields. To learn more about The Graham Center, and see a time-lapse video of the building construction, visit york.psu.edu/grahamcenter.
In addition to providing a home to the Graham Fellows Program, The Graham Center is also home to the Center for Inclusive Leadership (CIL), designed to promote gender equity as a pathway to innovation among undergraduate students at the campus and industry alike. The mission of the CIL is to educate and empower students and emerging leaders, from all backgrounds and experiences, in leadership styles that promote collaborative work and cultivate communities of inclusion, while providing for a more diverse and equitable economy in our region.
Following the ceremony, those in attendance toured the new building and celebrated with Penn State Berkey Creamery ice cream and baked goods.
In the evening, students in the Graham Fellows Program, along with alumni of the program and others involved with it, gathered to celebrate the dedication of the building and network.