Graham Center for Innovation and Collaboration offers collaborative, innovative and entrepreneurial facilities for campus and community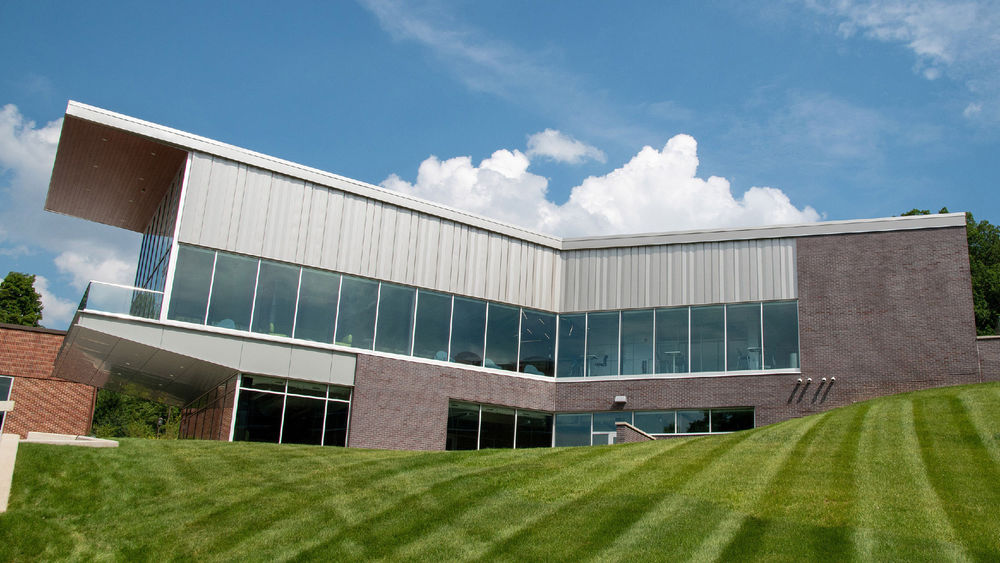 YORK, Pa. — A dedication ceremony and open house for the Graham Center for Innovation and Collaboration are set for 12:30 p.m. on Thursday, Sept. 30, outside the building on the upper part of the Penn State York campus. 
The building was made possible thanks to support from Donald Graham, York business leader and philanthropist, and his wife, Ingrid; John and Maria Polli, local philanthropists; two local foundations, the Powder Mill Foundation and the J. Warehime Foundation; and the University. The ceremony is open to members of the Penn State York community and other invited guests.
"The addition of the almost-8,000-square-foot Graham Center for Innovation and Collaboration is a transformational moment for Penn State York," said Penn State York Chancellor David Christiansen. "It serves as a home for our established Graham Fellows Program for Entrepreneurial Leadership and provides the campus a dedicated space for programming that will prepare students for professional careers upon graduation. The new building will be the primary meeting place for students to collaborate with one another, faculty members and corporate partners on projects that address community needs. We are grateful for the generous support of our donors, who made this building possible."
In addition to Christiansen, speakers at the dedication include Penn State President Eric J. Barron; Chairman and Founder of the Graham Group Donald Graham; and Penn State York Student Government Association (SGA) President Sohaib Tariq. Director of Business Services at Penn State York Holly Gumke is serving as the emcee. Following the ceremony, those in attendance can tour the new building and celebrate with Penn State Berkey Creamery ice cream and baked goods. All those entering the building will need to wear a mask.
The 7,945-square-foot, two-story building incorporates an open-concept floor plan and provides flexible space that can accommodate smaller collaborative student group work, individual mentoring sessions, and formal classes or lectures, as well as large events and presentations. Students can take advantage of a variety of collaborative workspaces, spots to connect, and state-of-the-art technology.  There are spaces for students to meet and engage with members of the local business community, and office space for the director and others associated with the program. The building design incorporates a large amount of glass to allow for breathtaking views and plenty of natural light in the open spaces.
A groundbreaking ceremony for The Graham Center took place on April 17, 2019, with the building being completed in early summer of this year. The Graham Center provides space for current programming and growth in the future. The building is located prominently on campus, with plenty of parking, to provide visibility to the center's activities and convenient access for corporate partners. The total project budget, including furniture, fixtures and equipment, is approximately $5 million.
More than 60 students are part of the Graham Fellows Program and have taken part in a variety of events and activities to prepare them to enter the workforce. The Graham Center is designed to enhance students' career preparation experiences through interdisciplinary coursework, mock interviews, workshops in résumé writing, etiquette dining, networking opportunities with local business and, in some cases, internship experiences. The Graham Speaker Series also provides students with opportunities to meet and hear from local and national leaders in a variety of career fields. To learn more about The Graham Center, and see a timelapse of the building construction, visit york.psu.edu/grahamcenter.
In addition to providing a home to the Graham Fellows Program, The Graham Center is also home to the Center for Inclusive Leadership (CIL), designed to promote gender equity as a pathway to innovation among undergraduate students at the campus and industry alike. The mission of the CIL is to educate and empower students and emerging leaders, from all backgrounds and experiences, in leadership styles that promote collaborative work and cultivate communities of inclusion, while providing for a more diverse and equitable economy in our region.
Support for the Graham Center advances "A Greater Penn State for 21st Century Excellence," a focused campaign that seeks to elevate Penn State's position as a leading public university in a world defined by rapid change and global connections. With the support of alumni and friends, "A Greater Penn State" seeks to fulfill the three key imperatives of a 21st-century public university: keeping the doors to higher education open to hardworking students regardless of financial well-being; creating transformative experiences that go beyond the classroom; and impacting the world by serving communities and fueling discovery, innovation and entrepreneurship. To learn more about "A Greater Penn State for 21st Century Excellence," visit greaterpennstate.psu.edu.
To make a gift to The Graham Center, contact Di Hershey, director of development for Penn State York, at 717-771-4127 or [email protected].