Penn State York groundbreaking signals start of project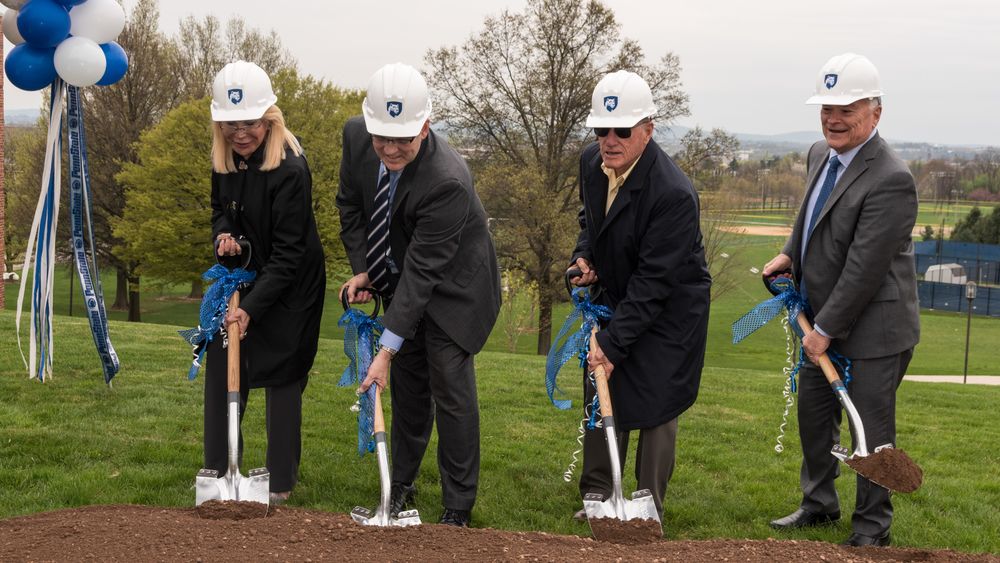 YORK, Pa. — Wielding shovels and wearing hardhats, Penn State President Eric Barron, a group of University and campus representatives and philanthropists — not to mention the Nittany Lion — let the dirt fly during the groundbreaking ceremony for the Graham Center for Innovation and Collaboration.
The ceremony took place April 17 at the building site atop the hill between the Pullo Family Performing Arts Center and the Main Classroom Building on campus. Construction is scheduled to begin May 6 with a completion date in late spring 2020.
Following the ceremony, more than 120 attendees enjoyed Penn State Berkey Creamery ice cream during a reception on the stage of the Pullo Family Performing Arts Center on campus.  View pictures from the groundbreaking ceremony here.
Thanks to generous support from Donald Graham, York business leader and philanthropist; John and Maria Polli, local philanthropists; two local foundations, the Powder Mill Foundation and the J. William Warehime Foundation; and the University, the Graham Center for Entrepreneurial Leadership Studies will have a new home. The total project budget, including furniture, fixtures and equipment, is approximately $5 million.
"The Graham Center for Innovation and Collaboration will provide space for current programming and growth in the future," said  Barron. "It will be located prominently on campus to provide visibility to the center's activities and convenient access for corporate partners."
The 7,945-square-foot, two-story building incorporates an open-concept floor plan to provide flexible space that can accommodate smaller collaborative student group work, individual mentoring sessions, and formal classes or lectures, as well as large events and presentations. There will be space for students to meet and engage with members of the local business community, and office space for the director and others associated with the program. The design incorporates a large amount of glass to allow for plenty of natural light in the open spaces, and breathtaking views.
More than 60 students are part of the Graham Center and have taken part in a variety of events and activities to prepare them to enter the workforce. The Graham Center is designed to enhance students' career preparation experiences through interdisciplinary coursework; mock interviews; workshops in résumé writing and dining etiquette; networking opportunities with local business; and, in some cases, internship experiences. The Graham Speaker Series also provides students with opportunities to meet and hear from local and national leaders in a variety of career fields.
To learn more about the Graham Center, visit york.psu.edu/grahamcenter.