The $13.5 million renovation and addition provides much-needed space for students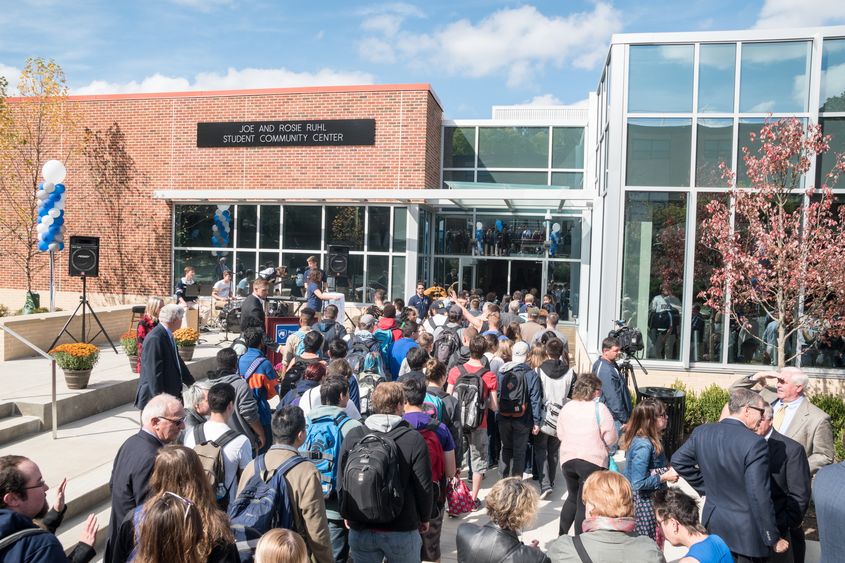 YORK, Pa. — With a rousing "We Are," and music from York's newest students club, the "Baby Blue Band," more than 200 Penn State York students, faculty, staff and invited guests listened to speakers and prepared for the much-awaited opening of the Joe and Rosie Ruhl Student Community Center on Wednesday, Oct. 12.
Construction on the renovation and addition began last fall, and for many students at York, Wednesday marked the first time they had ever been in the building.
A gallery of photos from the grand opening can be viewed online on the Penn State York Facebook page.
Those in attendance heard from David W. Chown, chancellor of Penn State York; Holly Gumke, director of business services; Jennifer Nesbitt, associate professor of English, Patrick Tanner, director of student engagement; and Michelle Lin, Student Government Association president.
"I am glad that the Ruhl building is finally a reality with a 38 percent size increase, brand new fitness center, renovated gym, Student Government Association and club office space, and the re-opening of our kitchen and food service area," said Michelle Lin, Student Government Association president, who represented students at the event.
"Penn State York has always been committed to excellence," Lin continued "We have always valued passion, diversity, and leadership. This new space holds so much potential for our students, clubs and organizations, faculty, and staff members."
Lin also went on to talk about the new space and its focus on students, highlighting the opportunities that will be available for students to meet together, collaborate on creating engaging events, and enjoy time together over a meal in the new food service area, which includes Rosie's and Cup 'O Joe.
"Penn State York has always been committed to excellence. We have always valued passion, diversity, and leadership. This new space holds so much potential for our students, clubs and organizations, faculty, and staff members."

-- Michelle Lin, Student Government Association president
Adding some historical perspective to the day, Jennifer Nesbitt, representing the faculty, shared some words from the original dedication of the student center years ago.
"In 1977, at the original dedication of this community center, Penn State Provost Edward Eddy bewailed the fact that, 'impressionable youngsters,' were spending too much time, 'in a solitary world shared principally with a non-responding talking box.' Since then, progress has been made: The box can now talk back, and, for some of us, her name is Siri," said Nesbitt. "Eddy hoped that this building would foster different kinds of conversations and relationships — the friendships, teams and networks that are the backbone of a thriving university. Today, we rededicate ourselves to values of community that motivated those who broke ground on this building 40 years ago."
Each speaker recognized the importance of the new facility and thanked a variety of people for their support.
Penn State York's Lion Ambassadors were stationed around the building and shared information about the new facilities, visitors were able to tour the building and check out the new equipment, and free Penn State Berkey Creamery ice cream was served to guests by Penn State York students on the patio — another highlight of the day.
Student-athletes from the men's and women's basketball teams, who demonstrated their skills on the court of the refurbished gym, were quick to mention that they were counting the days to before the start of the 2016-17 basketball season in their upgraded home. Both teams played in a variety of locations last season. The men's baseball team practiced in the multi-activity center and members of the soccer team worked out in the fitness center.
The original student center was built when there were 259 students enrolled at the campus. In the fall of 2015, 47 years later, about 1,100 students use that same facility on a regular basis. Current students have the distinction of being the first to enjoy the new facility.
The more than 28,000-square-foot project includes much-needed kinesiology, intramural and athletic spaces in the form of a multi-activity court. This space will also allow for off-season athletic team practice for sports such as baseball, soccer, women's softball, and intramural activities, as well as badminton and ballroom dancing. In addition, a group fitness room, for classes such as yoga and spinning, is included. The project added about 14,000 square feet.
In addition to the other upgrades to the existing building, the campus dining area received a facelift, which was completed previously but remained closed during the building renovation process. The kitchen and food service area, formerly known as the Lion's Den, re-opened as Rosie's, and the new coffee bar area is called Cup O' Joe, named after the late Joe and Rosie Ruhl, who were huge supporters of the campus and whose names appear on the building.
The existing gymnasium, which opened in the fall of 1970, has been refurbished and reflects the Penn State pride that is part of campus athletics. Other upgrades and renovations include an elevator and entrance with a vestibule, new bathrooms, a game room, kinesiology classrooms, and the addition of student services offices, multiple locker rooms, concession stand area, and consolidated, updated and efficient HVAC systems.
Penn State York's student affairs office and athletic coaches will relocate to the new building beginning Oct. 17.