The Joe and Rosie Ruhl Student Community Center opens Oct. 12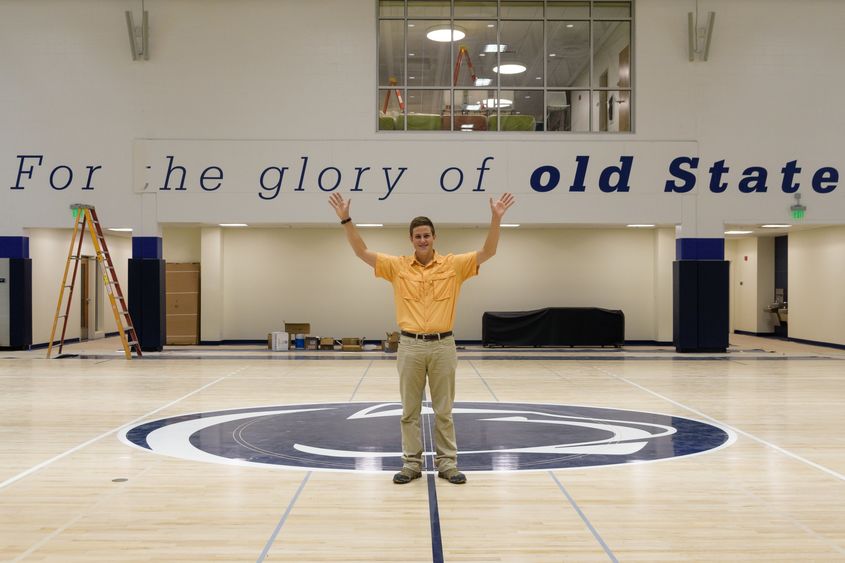 When Luke Marsiglia enters Penn State York's Joe and Rosie Ruhl Student Community Center, not only is he excited about the great new $13.5 million renovation and addition to the facility, he knows exactly what went into it because he was a part of the project. Marsiglia, a York student majoring in electro-mechanical engineering technology (EMET), has been working with Alexander Building Construction Co., as an intern through The Graham Center for Entrepreneurial Leadership Studies (The Graham Center) program at the campus.
"This has been a once-in-a-lifetime experience to work on this project and to learn how Penn State works as a business. I can come back here when I'm 80-years-old to see the building and I know I was a part of it."

-- Luke Marsiglia, a Penn State York student majoring in electro-mechanical engineering technology.
The application process for the internship was competitive and Marsiglia had to wait almost a month to find out he had the job. There was no doubt in the mind of Daniel J. Flickinger, senior project manager, Alexander Construction Co., that Marsiglia was the right person for the job.
"Luke may have been the most prepared internship candidate that I've ever seen with respect to our first interview and meeting," said Flickinger. "I was extremely impressed with his 'portfolio' of projects and hobbies that he presented," he said. "Most construction internship candidates do not prepare themselves in this way, and for Luke, coming from a nonconstruction-related background, I think it showed a genuine interest in the communication of his problem-solving skills and how he felt he could apply them to an internship with Alexander."
Marsiglia, a junior from Fawn Grove, Pennsylvania, began his internship in May of this year. During the summer, he worked full time, and was learning the ropes. Now Marsiglia works in the building on Monday, Wednesday, and Friday. In addition to the internship, Marsiglia takes classes Monday and Wednesday night, and all day on Tuesdays and Thursdays.
"I was a do-it-all guy, working with the architect, getting quotes on a variety of items, measuring the tennis courts, coordinating with contractors for deliveries and installations, and answering a lot of questions," he said. "There was no average day, I could come in and do just about anything."
Amazing is the word Marsiglia uses to describe the transformation of the building he had only been in a few times prior to its closing for the renovation and construction project. The changes to the existing gym, built in 1969, are his favorite part of the building. He likes the fact that an old lion graphic that was painted by a student in 1986 was left on the wall amidst all the modernization -- LED lighting, air conditioning, a new coat of paint, refurbished floors, windows added to bring in natural light, window graphics that represent an athlete from each of the campus sports, and more.
"Everything was old and they really revitalized it," he said. "This is the 'old soul' part of the building and now with everything that has been renovated, it will become the focal point," Marsiglia said.
Marsiglia had exclusive access to the building, and worked alongside members of the Building Alexander Construction crew, outside contractors, and those involved in the project from the campus. He didn't leak any of the secrets of the buildings to his friends, but many of them started treating him a bit like a celebrity because so many people on campus knew him, especially when he walked near the construction site. Marsiglia impressed everyone he worked with.
"Luke has done a fantastic job as the intern for Alexander Building Construction for the Ruhl Student Center project here at Penn State York,' said Holly Gumke, director of business services at York. "Luke's positive attitude and willingness to assist in any way possible has made him an absolute pleasure to work with. It has been incredibly rewarding to work with one of our Penn State York students on such a large scale project, and even more rewarding to see what an exceptional job he's done,' she said.
Gumke also noted that had she not known Marsiglia was a student, she would have assumed he was a full-time member of the Alexander team.
"Luke's work ethic, responsiveness and professionalism have been second to none," she said. "Hats off to Alexander for hiring Luke and for allowing him to showcase his many talents," she said.
Another important part of the work Marsiglia did was a construction update every two weeks that was sent to the University and distributed to a large number of people. He took photos of the progress on the building, mentioned points of interest, and created a one-page document that was professional and informative. According to Flickinger, this was just one more way Marsiglia excelled on the job and displayed his outstanding communication skills.
"Luke is highly motivated. What he lacked in knowledge and understanding of the details of construction management, he made up for with an eagerness to learn. He was able to apply his skills and expertise in other areas toward solving the day-to-day tasks associated with the building industry," said Flickinger.
"Luke was truly an asset to our team and played a key role in meeting our overall project goals. Luke was a great addition to our team and is a testament to the type of individual that can be groomed by the Penn State York programs. He is exactly the type of individual that our company would pursue in our efforts to offer full-time employment."

-- Daniel J. Flickinger, senior project manager, Alexander Construction Co.
Marsiglia says he learned a lot on the job and now knows what he wants to do and, equally as important, what he doesn't want to do.
"I like to work with my hands," he said. "I don't want to be a desk engineer, I want to be able to get in the field managing systems that were engineered, and if there's a problem, I can go in and fix it."
Marsiglia is quick to note that Alexander Construction and The Graham Center have provided him with an amazing opportunity. The Graham Center is a program designed to develop and enhance students' workplace leadership skills. The Graham Center works with students from a variety of academic disciplines to provide them with a set of practical tools that complement the quality education they are receiving at York campus. For Marsiglia, and many other Graham students, that experience has included internship opportunities.
"Being a part of The Graham Center is an outstanding opportunity to develop business skills, learn how to handle yourself in business situations, and build yourself professionally while still in school," he said. "Working through Alexander, I have learned how businesses interact and that professional communication is much more detailed than you might think it would be."
As the new building opens, Marsiglia will move on to a new internship and new professional adventures. To learn more about The Graham Center, visit york.psu.edu/grahamcenter.