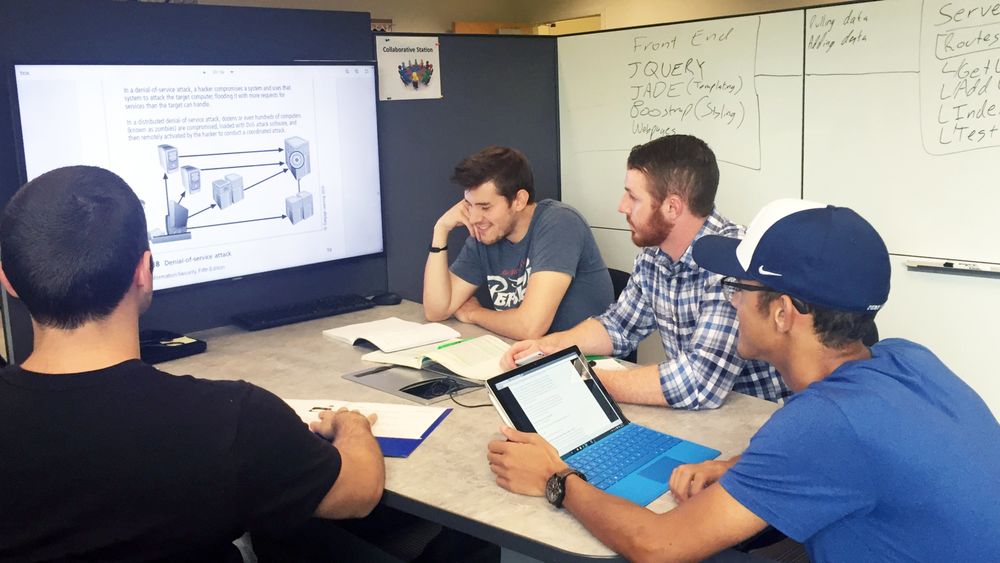 A redesigned student support lab and new learning spaces in the library at Penn State York are providing a more conducive atmosphere and expanded opportunities for collaborative learning and group projects.
The student lab in the M.S. Grumbacher Information Sciences and Technology Center originally had 26 individual workstations in what was a relatively small room, and no more than six to eight students would be seen working in the lab at any given time. The limited use of the computer lab, which most often had students working alone at a workstation in the old fashioned way, necessitated an upgrade, said Joe Royer, assistant director of information technology at York.
The lab is now outfitted with a flexible design to meet the needs of diverse groups of users, offering two collaborative spaces with conference-style tables, whiteboards, and multi-person connectivity to 52-inch LCD displays. Royer said the new workspace is now used almost daily for a variety of projects.
 "More and more curriculums are incorporating collaboration and team-driven efforts for course deliverables. Having adequate space available for this style of work is crucial not only in meeting [student] expectations, but so we can keep them on campus and engage them with other resources that may further enhance their college experience," Royer said.
The redesign project also added new spaces in the main computer lab, library, and student community center. In the library, for example, a One Button Studio for creating multimedia projects was added, along with innovative instructional spaces and updated student work and seating spaces.
The idea for these new spaces came from conversations between Barb Eshbach, head librarian of the Lee R. Glatfelter Library at York, and Lori McCracken, manager of learning spaces for Teaching and Learning with Technology, who visited the York campus on a couple of occasions to discuss new innovations in learning space design.
According to library staff, students have been happy with the improved quality that the One Button Studio has given to their course projects. Students have come into the library almost on a daily basis to use the Macs to work on their multimedia projects as well.
Another area that was upgraded is the Joe and Rosie Ruhl Student Community Center, which underwent a $13.5 million renovation and addition, and features new gym space, a multi-activity center, new fitness center, new office space for student affairs and the student government association, game room, dining facilities, and instructional spaces for kinesiology classes. Kerry Magni, instructor in kinesiology, said the new space doubles as a classroom and fitness studio, with desks and chairs that can be set up and taken down in minutes. She used the available technology for PowerPoint presentations and video in her movement foundations course this spring.
"After teaching in a gym for 25 years, it is a huge improvement and one that I think the students really appreciate," she said.