New facility to be named Graham Center for Innovation and Collaboration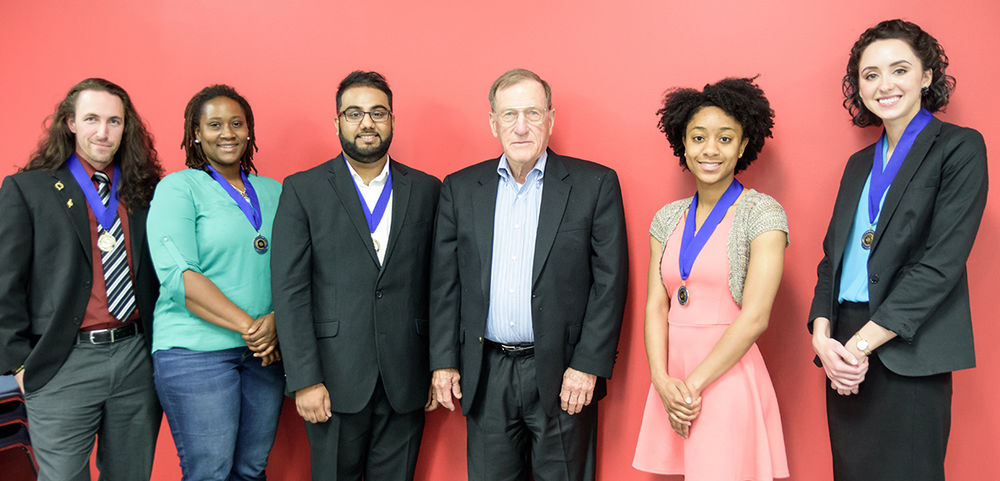 UNIVERSITY PARK, Pa. — Penn State Trustees today (Nov. 10) approved the naming of a new building to be constructed at Penn State York in honor of Don Graham, York business leader, philanthropist, and longtime supporter of Penn State York. Graham has made a major gift to advance entrepreneurship and economic development at the campus and in the community. His gift will provide a dedicated building on campus for The Graham Center for Entrepreneurial Leadership Studies (The Graham Center), which his support helped to found in 2013.
"Mr. Graham's gift will provide much needed collaboration and innovation space for students, faculty and the community, and further support Graham Center programs that develop the entrepreneurial and leadership skills of Penn State York students," said campus Chancellor David W. Chown. "I hope that others who care about developing future leaders for the York workforce will join Don in supporting these exciting efforts."
The new building, which will span over 5,000 square feet, will feature an open-concept floorplan to facilitate collaboration, a meeting space for groups of up to 100, and on-site offices for center staff. The center will be located prominently on campus to provide visibility to the center's activities, as well as convenient access for corporate partners.
More than 50 students are part of The Graham Center and have taken part in a variety of events and activities to prepare them to enter the workforce. The Graham Center is designed to enhance students' career preparation experiences through interdisciplinary coursework, mock interviews, workshops in résumé writing, etiquette dining, networking opportunities with local business and, in some cases, internship experiences. The Graham Speaker Series also provides students with opportunities to meet and hear from local and national leaders in a variety of career fields.
The feasibility study is complete and the next step is architect selection, with design scheduled to begin in early spring 2018. Construction is set to begin in late 2018.
Graham's recent gift demonstrates his continued support to the campus and economic development in the York area. In 2013, Penn State York received the largest gift in its history from Graham to create The Graham Center for Entrepreneurial Leadership Studies (The Graham Center) at Penn State York. A continuation of a successful three-year pilot program, the center continues to enhance students' career preparation.
Graham holds undergraduate and graduate degrees from the University of Michigan, as well as an honorary doctorate. He is the chairman and founder of The Graham Group, a York- and Philadelphia-based organization comprised of several global manufacturing businesses and four independent private equity firms. He founded the company at age 27 in the basement of a rented farmhouse in Dover, Pennsylvania, with no capital and one employee. At age 84, he remains actively involved with The Graham Group.
Gifts from Penn State's alumni and friends have been essential to the success of the University's historic land-grant mission to serve the public good. To fulfill that mission for a new era of rapid change and global connections, the University has begun A Greater Penn State for 21stCentury Excellence, a fast-paced campaign focused on the three key imperatives of a public university. Private support will keep the door to higher education open and enable students to graduate on time and on track to success; create transformative experiences on Penn State campuses and around the globe that tap the full potential of Penn Staters to make a difference; and impact the world through discovery, innovation and entrepreneurship. To learn more, visit greaterpennstate.psu.edu.
Visit the website to learn more about The Graham Center.