Jimmy Clark to host 10th annual event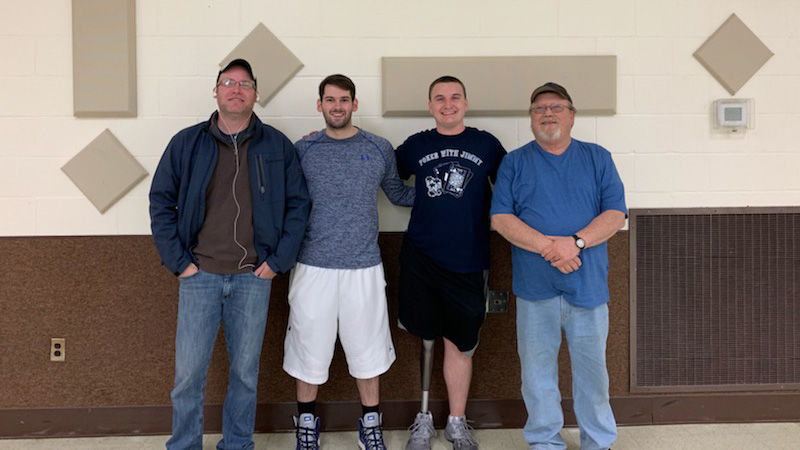 Jimmy Clark loves poker, and 10 years ago he decided to raise money and give back to THON and the Four Diamonds in recognition of all that was done for him when he was battling cancer. Fighting for his life is something Clark, 26, understands well.
Clark will host the 10th annual Poker with Jimmy, a No Limit Texas Hold'em Poker Tournament on Saturday, Nov.16. The tournament has raised more than $80,000 over the past nine years for children battling pediatric cancer through THON and the Four Diamonds Fund at the Penn State Hershey Children's Hospital.
This year's event again takes place at the Goodwill Fire Company, 2318 S. Queen St., York, Pennsylvania. Doors open at 10 a.m. with play beginning at 11 a.m. Visit pokerwithjimmy.com to learn more about the event and to preregister.
This is just one of many events, sponsored by Penn State York Benefiting THON, leading up to the Penn State IFC/Panhellenic Dance Marathon (THON), the 46-hour dance marathon, set for Feb. 21-23, 2020, at the Bryce Jordan Center on the University Park campus of Penn State. In 2019, THON raised $10,621,683.76.
Poker with Jimmy is not a pay-to-play event. Participants can donate if they choose to; the suggested donation is $30. Since all items at the event are donated, all proceeds go to children battling pediatric cancer through THON and the Four Diamonds Fund at The Penn State Hershey Children's Hospital.
Three winners will receive prizes. The first-place winner will win a seven-day Carnival Cruise gift card valued at $1,400. The second place winner can choose from a 4K big screen television or a Barrington premium poker table for 10-players, and the third place winner receives the remaining prize.
"I want to give back for all that I have received."

-- Jimmy Clark, cancer survivor and Penn State graduate
Clark, from Red Lion, Pennsylvania, knows well what it is like to battle cancer. A two-time cancer survivor, he was diagnosed in December 2008 with osteosarcoma, a rare bone cancer in his right leg. He was treated for cancer at The Penn State Hershey Medical Center, and the surgery to remove the tumor and save his leg was done at John Hopkins in Baltimore, Maryland. Clark and his family received positive news on June 18, 2010, when his status was changed to No Evidence of Disease (NED).
While fighting his cancer, Clark and his family have benefited from the generosity of the Four Diamonds Fund. He has undergone more than 20 surgeries and more than 3,500 hours of chemotherapy.
"Battling Cancer has completely changed my life, my views and morals, and made it clear what is important in life," said Clark. "I want to give back for all that I have received."
A 2011 graduate of Red Lion High School, Clark has been involved with THON since his diagnosis in 2008.
While a student at Penn State York, Clark was involved with the campus THON group and, in 2013, was one of the dancers representing Penn State York at THON Weekend.
Clark graduated from Penn State in 2015 with a bachelor's degree in business administration and concentration in entrepreneurship. He works locally in his family's business and continues to give back for all that he received during his battle with cancer.
Anyone interested in supporting the dancers from Penn State York can donate online at https://donate.thon.org/?fuseaction=donorDrive.event&eventID=1875. Checks in support of THON should be made payable to: Penn State Dance Marathon or THON, and sent to Penn State York, 1031 Edgecomb Ave., York, PA 17403. Be sure to note York, Org. 170 in the memo line of the check.
THON is the world's largest student-run philanthropy, engaging more than 16,500 students in the fight against childhood cancer. THON's yearlong fundraising and awareness campaign culminates in a 46-hour no-sitting, no-sleeping dance marathon every February. Since 1977, THON has donated more than $157 million to Four Diamonds at Penn State Hershey Children's Hospital, funding comprehensive care and critical research.