Campus to honor retired men's basketball coach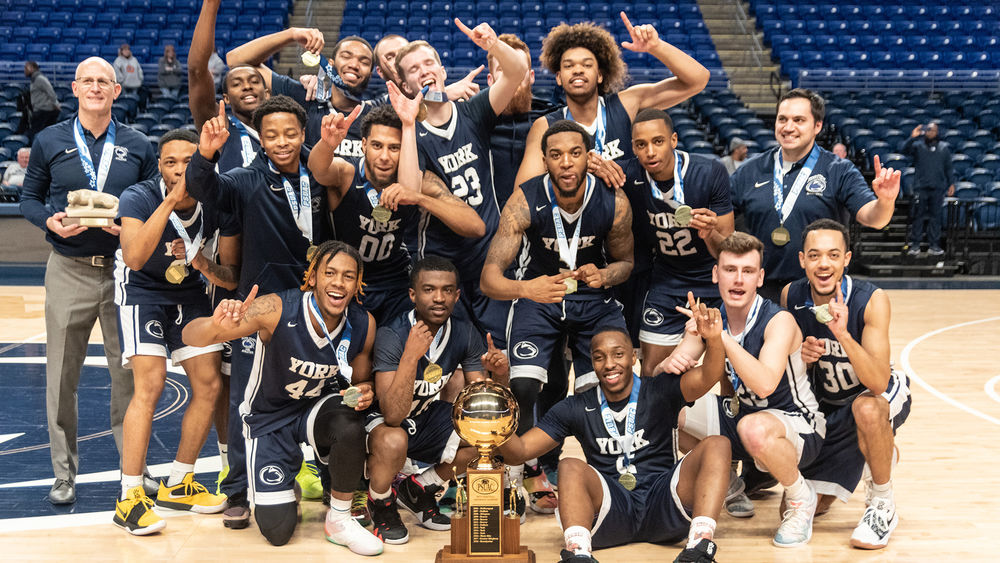 Parrish Petry, Penn State York's recently retired head men's basketball coach, will be honored prior to the men's basketball game on Friday, Dec. 6, and the 2018-19 Penn State University Athletic Conference (PSUAC) banner will be revealed. This is the fourth championship the team has won under his leadership. Parrish Petry Night will start about 7:45 p.m., following the completion of the women's basketball game which begins at 6 p.m., in the gym of the Joe and Rosie Ruhl Student Community Center on campus.
Many former players and alumni as well as many former assistants and fellow coaches will be present to honor Petry.
"We are honored to be able to recognize former Head Men's Basketball Coach Parrish Petry. Coach Petry obviously has achieved many titles and awards on the court, and for that we are extremely grateful," said Jeff Barkdoll, athletic director at Penn State York. "I believe what is even more impressive, is how he has been a mentor and leader to so many of our student-athletes over his years here at the York campus, teaching them life lessons both on and off the court, and modeling a life of integrity, and setting a positive example for each one of them," said Barkdoll.
Barkdoll also noted that heartfelt thanks goes out to Coach Petry's wife, Kristi, and his family, for without their support and sacrifice this all wouldn't have been possible.
A three-time Coach of the Year, winner of four conference championships, five national title appearances, a national game appearance, and 179 wins, Petry has left a legacy in the men's basketball program at York campus.
Petry decided to retire from the head coach position at Penn State York because "it was time." He recently celebrated his 34th wedding anniversary and noted it was time to spend some quality time with his wife and family, who have always supported his passion for coaching basketball.
He became the head men's basketball coach at York in the 2008-09 season, after serving a year as the assistant coach. He built a program over the years that is now recognized for its consistent success.
Petry was first named Coach of the Year in 2012-13, when the men's team won the PSUAC championship for the first time in campus history and earned a trip to the national tournament in the United States Collegiate Athletic Association (USCAA). The PSUAC championship belonged to York again in 2013-14, 2014-15, and 2017-18. Petry earned a second coaching award in 2014-15, and made it a trio of awards by capturing the 2016-17 honor.
Coaching honors are nothing new for Petry; he was voted Coach of the Year four times in York County. Prior to coming to Penn State York, he racked up more than 24 years as a high school coach in both York and Lancaster counties. During his time as the head boys' basketball coach at Red Lion High School, the team enjoyed the greatest success in the history of the school, earning five division championships, playing in two Division III, AAAA finals, three state tournaments, and finishing in the eastern semi-finals in 2004.
Petry also knows what it is like to be a high school student and collegiate athlete. A graduate of West York High School, Petry was a three-sport athlete – basketball, baseball, and football – and earned All-League honors in each sport. He was also voted one of West York's Top Ten Athletes in school history. At Shippensburg University, Petry was a four-year varsity athlete and earned all-conference first team selection in his junior and senior years.
He earned a bachelor of science in mathematics from Shippensburg University and a master's equivalency in education from Millersville University. While coaching, he worked as a mathematics teacher in the Hempfield School District in Lancaster County until he retired last year.
Matt Rotonda, who coached side-by-side with Petry as his assistant since 2011, has been named the new head coach.
To learn more about athletics at Penn State York, visit pennstateyorksports.com. York campus offers baseball, men's and women's basketball, golf for men and women, soccer, and women's volleyball.