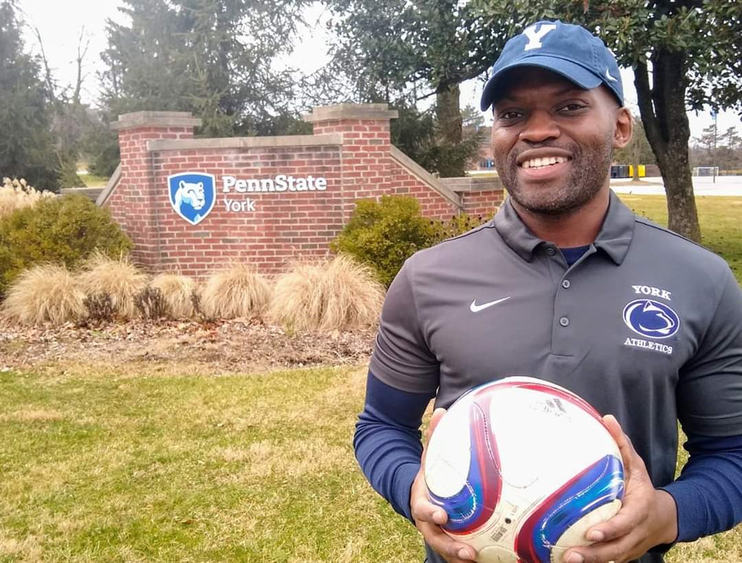 Soji Otuyelu has been named the new head men's soccer coach at Penn State York, according to the athletics department.
"Coach Otuyelo brings a new freshness and passion to Penn State York soccer. I am extremely pleased to add him to our coaching family, and excited for him to interact with our student-athletes, as he brings a strong knowledge of the game of soccer and a well-thought plan on how to institute what he knows into our program," said Jeff Barkdoll, athletic director at Penn State York. "Coach has competed at higher levels of the game, and, as a result, will bring that competitive aspect of the game to our athletes," he said.
Otuyelu is a native of Nigeria and spent most of his younger years there before relocating to the United States, in Boston, Massachusetts. He attended and graduated from Boston English High School, where he was a member of the soccer team.
After graduating from high school, he attended the University of Massachusetts, majoring in industrial engineering, and trained with the Division I University of Massachusetts soccer team as part of the club program. He also played club rugby there. Otuyelu earned a bachelor of science degree in industrial engineering from the University of Massachusetts.
Following graduation, he competed in the Western North Carolina development league, and has been coaching youth and club sports for 14 years, as well as coaching at the high school level.
"I love the sport, the athletes, and the school community in York, and I'm looking forward to seeing our program continue to grow," said Soju Otuyelu, Penn State York's new head soccer coach.
Otuyelu's coaching philosophy is simple: prepare mentally and physically to compete and embrace the challenge through hard work and discipline. This mantra has gotten him through many difficult times.
To learn more about the soccer team at Penn State York, call Otuyelu at 617-461-9382 or email him. For more information on Penn State York Athletics, visit the website.