Dana Vandergrift to lead the York Lady Lions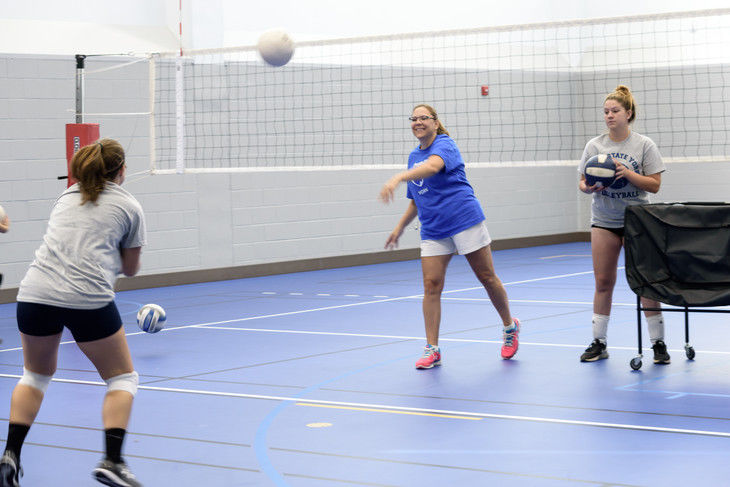 YORK, Pa. — Dana Vandergrift, Penn State York's head women's volleyball coach, is a firm believer in building confidence in her players; there's no room for negativity. Vandergrift, and her 13-member squad, opens the 2017 season at 7 p.m. Tuesday, Sept. 19, at Penn State Schuylkill. York's home opener is at 1 p.m. Saturday, Sept. 23, against Penn State Mont Alto.
"We are very pleased to have Coach Vandergrift join our staff as she brings much experience and passion for the sport of volleyball to our campus," said Jeff Barkdoll, athletic director and head baseball coach at Penn State York. "We searched very hard for the right candidate to bring our women's volleyball program back to life, and I couldn't be more thrilled with the job she is doing as her enthusiasm and passion is now shared by the student athletes she coaches."
Vandergrift brings years of coaching and playing experience to the position at Penn State York, and she has a very specific thing she looks for in her players.
"I look for players that will support each other," she said.
A 1998 graduate of Niagara University in New York, Vandergrift served as an assistant women's volleyball coach there. While at Niagara, an NCAA Division I school, she helped lead the team to the Metro Atlantic Athletic Conference championship game, falling to Siena College, New York, in five games. Her duties at Niagara included running the defense, recruiting, and practice planning. As a player, Vandergrift played a season at NCAA Division I Saint Francis University in Loretta, Pennsylvania, following her four seasons of play at Bishop Guilfoyle High School in Altoona, Pennsylvania.
"I look for players that will support each other."

-- Dana Vandergrift, women's volleyball coach at Penn State York
For Vandergrift, coaching doesn't feel like a job and she loves it. When the opportunity to coach at the York campus became available, she applied and was thrilled to be named the head coach. She has coached both men and women over the years, and locally has coached instructional volleyball for the Police Athletic League (PAL) and the Adams County Athletic League.
With just one returning player, Vandergrift has been spending time in practice working with her team on basic skills and building a strong foundation. Some of her players have never played volleyball and other haven't played since middle school but she is not hampered by that, and is determined to make it work.
Vandergrift calls herself a technical coach and teaches the players where their hands need to be when doing a set or a serve, the importance of calling for the ball, and the significance of knowing where they need to be on the court.
Her goals for the team are simple but important: never settle, never sell yourself short.
"I want the girls to feel like they have accomplished something and have been stretched beyond what they thought they could do," she said. "I want them to take that knowledge and apply it to their future."
In addition to being the head volleyball coach at Penn State York, Vandergrift's day job is with Survivors Inc., Gettysburg, Pennsylvania, where she works as a client service specialist with responsibilities including case management and counseling. The organization deals with domestic violence, sexual assault, and human trafficking.
On a personal note, Vandergrift is married and has four children. She lives in Littlestown, Pennsylvania, where she has made her home for the past 14 years.
In addition to women's volleyball, Penn State York offers baseball, men's and women's basketball, soccer, and women's softball. Learn more about Penn State York athletics at http://pennstateyorksports.com or contact Jeff Barkdoll, athletic director, at 717-718-6776 or [email protected].