Taylor L. Pattillo named head women's softball coach, Ron Schaeffer takes over as head coach for baseball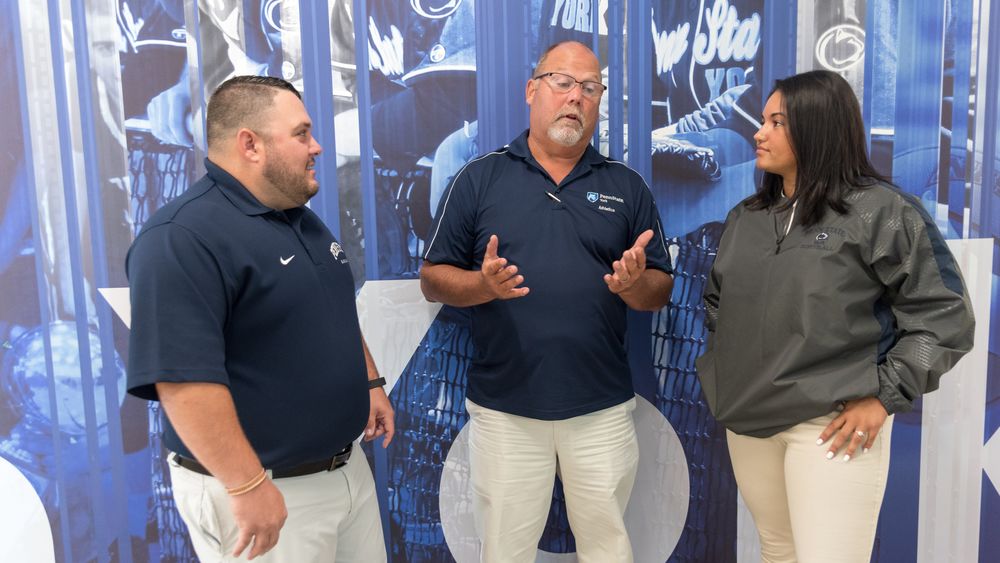 YORK, Pa. — "Watch out this year because Penn State York women's softball is about to do very big things!" That's the word from Taylor L. Pattillo, the new women's softball coach at the campus. Pattillo and Ron Schaeffer, the new head baseball coach on campus, are excited about the opportunity to make their programs shine. Both coaches are on board and in the midst of getting to know their players, the campus, and recruiting.
"Coach Pattillo is a former student and player at Shippensburg University, where she has been the recipient of many awards, including being named to the National Collegiate Athletic Association (NCAA) Division Team and the Pennsylvania State Athletic Conference (PSAC) All-East Team. That in itself will tell you how competitive she was as a player," said Jeff Barkdoll, athletic director at Penn State York. "In addition to her playing experience, Coach Pattillo has worked at Shippensburg as a counselor at their skills camp. I am most certain her passion and eagerness to build our softball program here at York will be a great benefit to our student athletes!"
Softball has been a passion for Pattillo since a very young age, and it has been her dream to be able to give back to the sport. Landing the coaching position at Penn State York is a dream come true for her.
"Excited does not even begin to describe how I feel about this upcoming year," said Pattillo. "I am so thrilled to start working with these young women and winning this year, on and off the field. We are going to work hard … on the field, in the gym, and in the classroom."
Pattillo played softball at Shippensburg University all four years and racked up numerous awards and honors in addition to those mentioned by Barkdoll. Her career batting average was an impressive .332, and her fielding percentage was .967. Her performance at second base was outstanding, and she had an immediate impact on the Shippensburg softball program as a power hitter.
Throughout her college career, she earned 21st place for hitting in the PSAC and was named Player of the Week numerous times. She also was named to the PSAC Eastern Division First Team, National Fastpitch Coaches Association (NFCA) All-Atlantic Second Team, and Daktronics All-Atlantic Region Second Team.
Pattillo is a 2017 graduate of Shippensburg University, where she majored in marketing and supply chain management. She resides in Middletown, Pennsylvania, and is a rental sales representative for Penske Truck Leasing.
Ron Schaeffer
Schaeffer is a 2008 graduate of Penn State, attending the Berks campus, and a 2014 graduate of Penn State's World Campus. At Penn State Berks, he was a three-year starter on the baseball team, and served as captain his junior and senior years. During his junior and senior years, he was the Student Athletes Advisory Committee (SAAC) president. He was the first player to reach 100 career hits in Penn State Berks history. 
After his 2008 graduation, he joined the coaching staff at Penn State Berks from 2008-10 where he worked with hitters and catchers. In his first season, Penn State Berks finished as a North Eastern Athletic Conference (NEAC) runner-up, and in 2009 won the NEAC and advanced to the National Collegiate Athletic Association (NCAA) Baseball Tournament. In his final season in 2010, the team was regular season champions.
"Coach Scaeffer brings a wealth of playing and coaching experience to our baseball program. I am very excited to watch as he applies his passion, enthusiasm and his baseball knowledge," said Barkdoll. "In addition, he is a product of Penn State having played at Berks, so he is very familiar with our Penn State system. I am quite confident our student-athletes will benefit, and our program will grow because of his leadership."
Schaeffer's coaching experience also includes serving as a coach for Berkshire Baseball for eight years, and then in 2009 became a head coach. He finished his career at Berkshire with a record of 163-154-16, with numerous tournament championships and runners-up, along with also capturing the City-County Senior League title in 2012 and league runner-up in 2013. He was also the head Junior Legion coach for Conrad Weiser, where he went 72-26 in three seasons and captured the 2008 Lebanon County Junior Legion Championship. His team advanced to the Pennsylvania State Jr. Legion Eastern Regional's where they lost in the qualifying game in 10 innings to eventual state runner-up, Shillington. He was an assistant coach at Ursinus College during the 2013-14 seasons, where he worked with the catchers and pitchers. Recently, he was the head middle school coach at Governor Mifflin and head senior legion coach for the Shillington Red Sox.
He has also coached high school baseball at the varsity level and has given private lessons. He worked numerous baseball camps and showcases including at Millersville University and Penn State, along with being the bullpen catcher for the Reading Phillies for three seasons. Schaeffer has also been a baseball coordinator and head coach for the Keystone State Games for nine years.
"I am beyond excited to become the next head baseball coach at Penn State York. As a Penn State graduate (Berks and World Campus), baseball player, and former coach, the University has been a huge part of my life. I understand the Penn State philosophy and want to give back to the students and University, the opportunity it gave me, " Schaeffer said.
Schaeffer notes that the goal and challenge is to compete and win the Penn State University Athletic Conference (PSUAC) and give Penn State York its first baseball title.
Besides baseball, Schaeffer enjoys hunting, fishing, and spending time with his wife, Katie, and son. He resides in Sinking Spring, Pennsylvania, and is an admissions counselor for Job Corps.
To learn more about athletics at Penn State York, visit pennstateyorksports.com. In addition to baseball and women's softball, the campus offers men's and women's basketball, golf for men and women, men's soccer and women's volleyball.