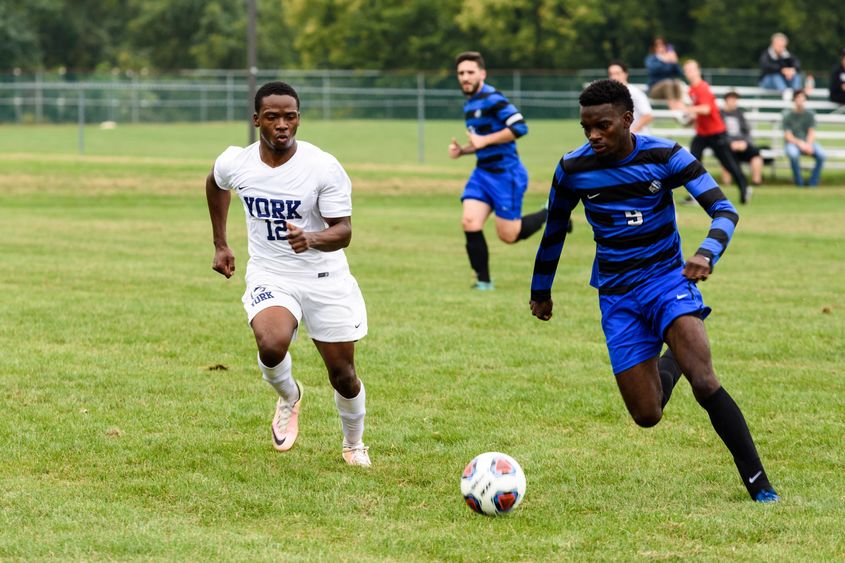 Penn State York student-athletes, Hannah Price, women's volleyball; and Francyou Desse, soccer; were named the winners of the John Fritz Sportsmanship Award given by the Penn State University Athletic Conference (PSUAC). Awards are presented to athletes at each campus.
"The John Fritz Sportsmanship Award is given in honor of John Fritz, retired commissioner of the Penn State University Athletic Conference, who was the epitome of a team player and who had a true love for the Blue and White." said Jeff Barkdoll, athletic director and head baseball coach at Penn State York. "John dedicated himself to the students and their success in athletics for many years and this award is given in his honor, to a male and female student in each sport who represents the values that John holds near and dear to his heart," said Barkdoll.
Price and Desse were nominated for the sportsmanship award by Barkdoll.
"Franc and Hannah are very worthy of receiving this award as they each, in their own way, exemplified what it is to be a team player," said Barkdoll. "Very well done Hananh and Frank."
Barkdoll noted that both players were willing to go the extra mile for the good of the team, and represented Penn State York with pride and dignity on and off the field of competition.
Price is from Dallastown, Pennsylvania, and is a sophomore majoring in letters, arts and sciences. Desse is from Port-Au-Prince, Haiti, and is a senior majoring in information sciences and technology.
In addition to the sportsmanship awards, three other members of the soccer team earned PSUAC honors.
Second team All-Conference honors went to Carter Miller, a freshman from Dallastown, Pennsylvania, majoring in finance; and Harley Winters, a freshman from Columbia, Pennsylvania, majoring in business administration. Honorable mention went to Carlos Robles-Flores, a freshman from Mexico City, Mexico, majoring in international business.
Penn State York has six collegiate sports, baseball, men's and women's basketball, soccer, women's volleyball, and women's softball. Learn more about Penn State York athletics at pennstateyorksports.com or contact Barkdoll at 717-718-6776 or [email protected].