Petry leaves a legacy of success with the men's basketball team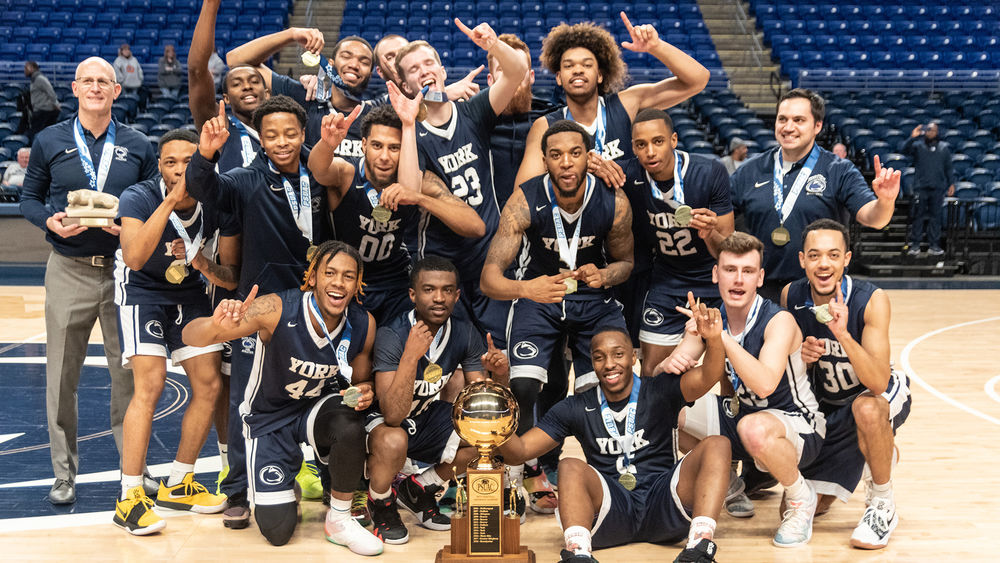 YORK, Pa. — Three-time coach of the year, four conference championships, five national title appearances, a national tournament appearance, and 179 wins — these are major accomplishments and accolades for any coach. For Parrish Petry, however, who recently retired as head men's basketball coach at Penn State York, it has always been about the team, less about his success, and more about his players and assistant coaches.
Petry will be honored prior to the men's basketball game on Dec. 6, when the team's 2018-19 Penn State University Athletic Conference (PSUAC) banner will be revealed. This is the fourth championship the team has won under his leadership. Parrish Petry Night will begin about 7:30 p.m. following the women's basketball game, which begins at 6 p.m.
"I think I speak for our entire campus when I say we will miss Coach Petry, as he has given so much to our campus community, and most importantly to our student-athletes," said Jeff Barkdoll, athletic director at Penn State York. "His dedication to our campus, and specifically our men's basketball program, has resulted in the success of our recruiting and retention efforts, not to mention the success of the athletes who have played under him. We will remain grateful to Coach Petry for all he has done and certainly wish him and his family well in his retirement."
"My message to players was to do what is right in every circumstance, and learn from mistakes; we all make them."

— Parrish Petry, retired head men's basketball coach at Penn State York
Petry decided to retire from the head coach position at Penn State York because "it was time." He recently celebrated his 34th wedding anniversary and noted it was time to spend some quality time with his wife and family, who have always supported his passion for coaching basketball.
"I'll look back at this as a tremendous experience for me," said Petry. "When I coached high school basketball, I helped players make decisions about where to attend college. The Penn State York experience provided an opportunity to deal with young men and help prepare them for real life — marriage, jobs and family.
"My message to players was to do what is right in every circumstance, and learn from mistakes; we all make them."
Players noted that Petry was far more than a basketball coach and helped them to prepare for life. Teaching life's lessons was a part of his coaching style.
"Coach Petry is the best coach I ever had," said Justin Luton, a former basketball player and senior at Penn State York. "I can't thank him enough for the lessons he taught me as a player and a man."
"Coach Petry is my favorite coach I have had through all the sports that I played," said Joey O'Dwyer III, a senior at Penn State York. "He coached me for three years and helped me become a better basketball player but, even more importantly, he has taught me to become a better man in life."
Both Luton and O'Dwyer were part of the 2018-19 team that won the PSUAC championship.
Petry became the head men's basketball coach at York in the 2008-09 season, after serving a year as the assistant coach. He built a program over the years that is now recognized for its consistent success.
He was first named PSUAC Coach of the Year in 2012-13, when the men's team won the PSUAC championship for the first time in campus history, and earned a trip to the national tournament in the United States Collegiate Athletic Association (USCAA). The PSUAC championship belonged to York again in 2013-14, 2014-15 and 2017-18. Petry earned a second coaching award in 2014-15, and made it a trio of awards by capturing the 2016-17 honor.
Coaching honors are nothing new for Petry; he was voted coach of the year four times in York County. Prior to coming to Penn State York, he racked up more than 24 years as a high school coach in both York and Lancaster counties. During his time as the head boys' basketball coach at Red Lion High School, the team enjoyed the greatest success in the history of the school, earning five division championships, playing in two Division 3 AAAA finals, three state tournaments, and finishing in the eastern semi-finals in 2004.
Petry also knows what it is like to be a standout high school and collegiate athlete. A graduate of West York High School, Petry was a three-sport athlete — basketball, baseball and football — and earned all-league honors in each sport. He also was voted one of West York's top 10 athletes in school history. At Shippensburg University, Petry was a four-year varsity athlete and earned all-conference first team selection during his junior and senior years.
He earned a bachelor of science in mathematics from Shippensburg University and a master's equivalency in education from Millersville University. While coaching, he worked as a mathematics teacher in the Hempfield School District in Lancaster County until he retired last year.
Matt Rotonda, who coached side-by-side with Petry as his assistant since 2011, has been named Penn State York's new head men's basketball coach, and Petry is pleased with that decision.
"Coach Rotonda has earned his stripes, and I'm confident he will continue to lead the team to success," he said.