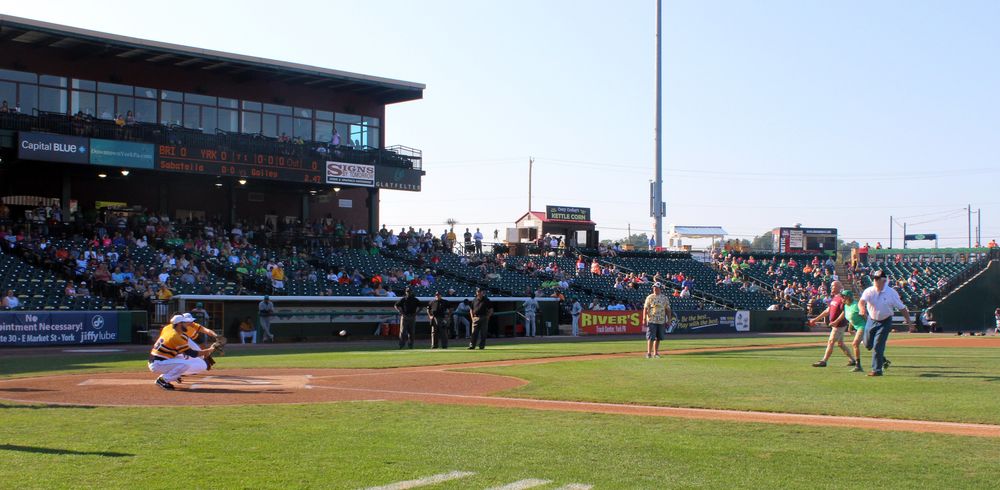 Watch the York Revolution play baseball and wear blue and white, as part of the College Town Takeover, Sunday, Sept. 18, at PeoplesBank Park in York, Pennsylvania. This collaborative effort between Penn State York, Harrisburg Area Community College and York College, is designed to introduce students to the many things available to do in York City, and to encourage businesses to find ways to make York a student-friendly town.
Tickets for the event are on sale in the Penn State York Student Affairs office through Friday, Sept. 16. Tickets prices are $4.
At 12:30 p.m., a student and staff member from each of the participating educational institutions will be honored for their outstanding work. Penn State York will honor Samantha V. Glancey, a Penn State York student, and Jane Emery, a staff member.
Glancey, a junior at Penn State majoring in psychology, was the recipient of the 2016 Eric A. and Josephine S. Walker Award at Penn State York. The Walker Award is the highest honor an undergraduate student at a Commonwealth location can receive. The award recognizes the qualities of outstanding character, scholarship, leadership, and citizenship, and the positive impact the student selected has had on the campus and the University as a whole. Glancey is completing her degree at the University Park campus after spending her first two years at York.
Emery has been advising students for many years and she was recently named the recipient of the National Academic Advising Association (NACADA) Region 2 Certificate of Merit for Advising Administrator Award. Emery, director of advising and career development and coordinator of the Division of Undergraduate Studies (DUS) at Penn State York for the past 10 years, received her award during NACADA's spring conference in Hyattsville, Maryland.
York Mayor Kim Bracey will speak during the pre-game ceremonies and at 12:30 p.m., and the top officials from the three local educational institutions will throw out the first pitches.
In addition, guests have been asked to wear school colors, and members of the York Revolution will wear hats from the three colleges. Attendees can also pick-up information about Penn State York and the other institution involved in the day.