Penn State York honors excellence in teaching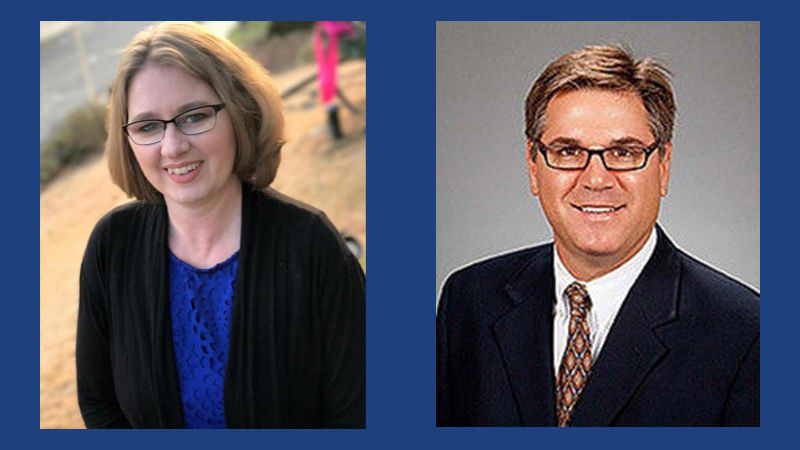 Penn State York has announced the winners of the James H. Burness Award for Excellence in Teaching for 2020. The award is given to one part-time and one full-time member of the Penn State York faculty based on nominations by students and other members of the campus community. This year's recipients are Sonia Molloy, assistant professor of human development and family studies (HDFS), full-time award and Louis Paioletti, adjunct lecturer in marketing and supply chain management, part-time award.
The award is named in honor of the late James H. Burness, in recognition of his outstanding teaching and service to the campus. Burness died in December 1999. The award announcement was delayed in spring due to COVID-19 and the committee was unable to meet and complete their work. The campus awards program normally held in April had to be cancelled due to the pandemic.
"Dr. Molloy and Mr. Paioletti are worthy recipients of the Burness Excellence in Teaching Award, said David Christiansen, chancellor of Penn State York. "They are experienced faculty members committed to the Penn State York mission of undergraduate education, and their dedication to student learning is manifest in all that they do in the classroom."
Molloy, of York, Pennsylvania, was praised for making the student look forward to the HDFS class every day. "This class is engaging, interesting, and open-minded. She allows significant freedom to expressing opinions and greets those comments with the utmost respect and understanding." Molloy was also touted for passion for the subject matter and an attitude that creates an environment where students want to learn more and engage in all activities regarding the class.
Another student noted that Molloy approaches education from a different way. "The lecture time is used for conversing about the subjects we learned about. This helps with the whole learning concept."
Paioletti, of Hershey, Pennsylvania, earned praise for giving lectures that have been realistic and clear, "His speaking style is slow and helpful, as he takes time to pay attention to each student as they ask questions. He is an excellent professor."
Another student said, "Professor Paioletti is clearly very knowledgeable about supply chain management and he is very helpful in explaining concepts in laymen's terms. He makes the content fun and interesting as well. Sometimes I find it is easier to understand certain concepts when he explains it than from the book."
The James H. Burness Award for Excellence in Teaching is given each year.