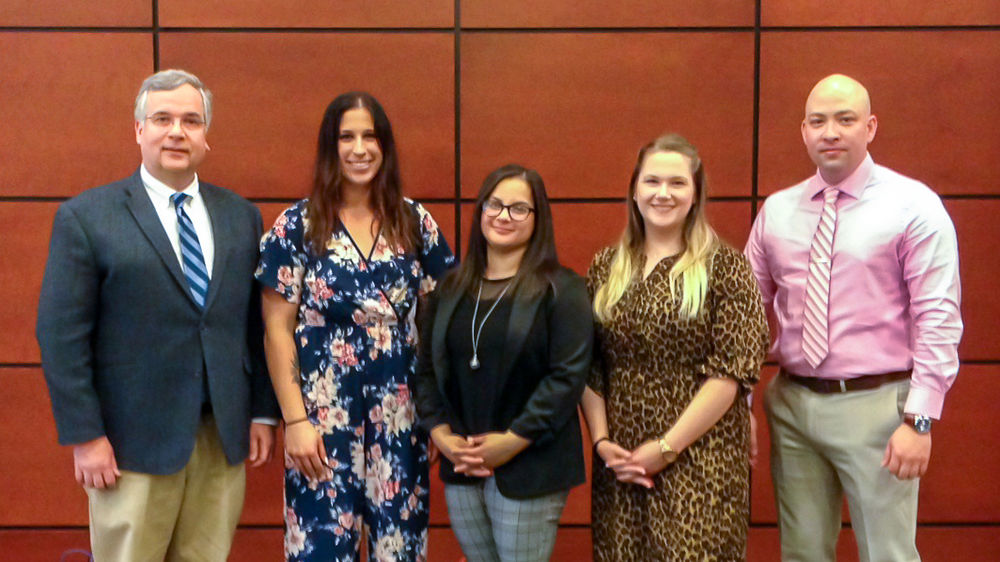 YORK, Pa. — Four outstanding adult students were inducted into the Penn State York Chapter of Alpha Sigma Lambda (ASL) during ceremonies at 5 p.m. on Monday, April 8, in the Community Room of the Joe and Rosie Ruhl Student Community Center on campus. Alpha Sigma Lambda is a national honor society that recognizes the unique achievements demonstrated by adult students in higher education programs.
York students inducted into Alpha Sigma Lambda were James Caswell, Mirta Caswell, Marisa Madole, and Karley Richard. Check out the photos from the Alpha Sigma Lambda ceremony on Flickr.
James and Mirta Caswell
It is truly a family accomplishment for James and Mirta Caswell, husband and wife, as they have each earned Alpha Sigma Lambda honors. James is a full-time student pursuing a bachelor of science in nuclear engineering. He was born in Honolulu, Hawaii, but was raised in Connecticut. He graduated high school with an apprenticeship license in carpentry and construction, and after working in construction for several years, he joined the military. He served in the Marine Corps for six years. Mirta is a full-time student pursuing two degrees, a bachelor of science in human development and family studies and a bachelor of arts in psychology. She was born in Brooklyn, New York, but moved to Pennsylvania and graduated from Hempfield High School in Landisville. She joined the Marine Corps shortly after graduation and served eight and a half years years on active duty. The Caswells are both student-veterans and have two children.
Maris Madole
Madole is a full-time student pursuing a bachelor of science degree in human development and family studies, as well as minors in history and business. She is from Lockport, New York, and moved to York in the summer of 2016. She is looking forward to graduating, getting married, and spending more time with her family.
Karley Richard
Richard graduated earlier this month with a bachelor of science in psychology and was the commencement speaker representing all baccalaureate degree candidates. She graduated Summa Cum Laude, meaning she was in the top 2 percent of her college, and was the student marshal in her degree program. She was born and raised in York and worked in a variety of sales and professional roles prior to returning to college in May 2017.
About Alpha SIgma Lambda
Penn State York began a chapter of Alpha Sigma Lambda in 1991 to recognize the accomplishments of its growing adult student population. Penn State considers an adult learner someone who is 24-years-old or older; a veteran of the armed services; returning to school after four or more years of employment, homemaking or other activity; or a person who assumes multiple adult roles as a parent, spouse/partner, employee and student.
Alpha Sigma Lambda's aim is to recognize the special achievements of adults who accomplish academic excellence while facing competing interests of home and work. ASL encourages many students to continue toward and to earn associate and baccalaureate degrees.
Student members must have completed a minimum of 24 graded semester hour credits or the equivalent, and must be matriculated students in an undergraduate degree program in an institution that is regionally accredited in the United States, or recognized by the ministry of education of the country in which the program operates. These college credits may not include transfer credits. All 24 credits must be taken through and graded at the matriculating institution and must be included in the student's cumulative grade-point average.
At least 12 credits of students' total credits should be earned in courses in liberal arts/sciences, not including applied arts/sciences courses. Accepted transfer courses may be added to the 24 credits earned at the institution until the liberal arts/sciences requirements are fully satisfied.
Student members are selected from the highest 20 percent of the students who have 24 graded credits and are matriculated in an undergraduate degree program. Student members selected must meet minimum GPA requirements from their institution. The cumulative scholastic record of the student, as interpreted by the institution where membership is to be conferred, shall be the basis for computing scholastic eligibility.
Through leadership born of effort, both scholastically and fraternally, Alpha Sigma Lambda inspires its candidates to give of their strengths to their fellow students and communities through their academic achievements.