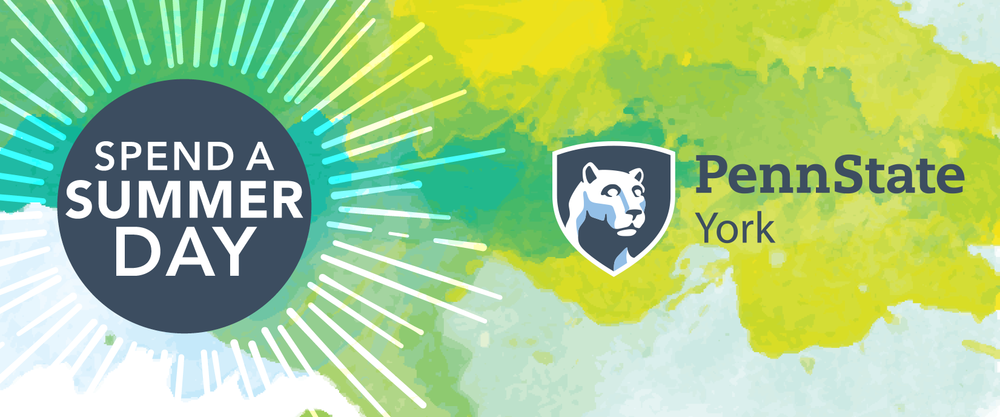 YORK, Pa. — Prospective students and their families can explore the opportunities available at Penn State during two special events at Penn State York in July: Spend a Summer Evening, 6 to 9 p.m. on Tuesday, July 18; and Spend a Summer Day, 9 a.m. to noon on Tuesday, July 25, in the Pullo Family Performing Arts Center theater, second level. Check-in time begins 30 minutes before the program starts.
Attendees will discover the value of a Penn State education, learn about the admissions process, investigate financial aid options, explore academic programs (including certificates and minors), and learn about student life.
While taking a guided campus walking tour, students can catch a glimpse of Penn State York's newly renovated Joe and Rosie Ruhl Student Community Center, which opened in October 2016. The more than 28,000-square-foot project includes renovations and an addition, including much-needed kinesiology, intramural and athletic spaces in the form of a multi-activity court. The space also allows for off-season athletic team practice for sports such as baseball, soccer and intramural activities, as well as badminton and ballroom dancing. In addition, a group fitness room, for classes such as yoga and spinning, is included.
This $13.5 million project adds about 14,000 square feet to the building, an increase of 38 percent in size. Other upgrades to the existing building included a facelift for the campus dining area. The kitchen and food service area, formerly known as the Lion's Den, reopened in fall 2016 as Rosie's, and the new coffee bar included in the renovated space is called Cup O' Joe, named after the late Joe and Rosie Ruhl, who were supporters of the campus and whose names also appear on the building.
In addition to the more than 160 Penn State majors available to start at the campus as part of the 2+2 program, York now offers 10 four-year programs that can completed without leaving the area. The newest four-year programs are psychology, both a bachelor of arts and bachelor of science; and biology, a bachelor of science. Other four-year degrees that can be completed at York are business, communication arts and sciences, electro-mechanical engineering technology, English, human development and family studies, information sciences and technology, and science.
The Penn State name is recognized across the country and around the world. Corporate recruiters ranked Penn State No. 1 in a Wall Street Journal survey. The journal said that Penn State produces the best qualified graduates.
Penn State York is home to about 1,100 commuting students — a student body comprised of a rich blend of cultures, backgrounds, ages, and experiences from the United States and numerous countries around the globe.
For more information about Penn State York or to register or for a Spend a Summer Day or Evening event, contact the Penn State York Office of Admissions at 717-771-4040, 800-PSU-6227, or register on the website.