Austin Lehman and Levi Stein are standouts on York baseball team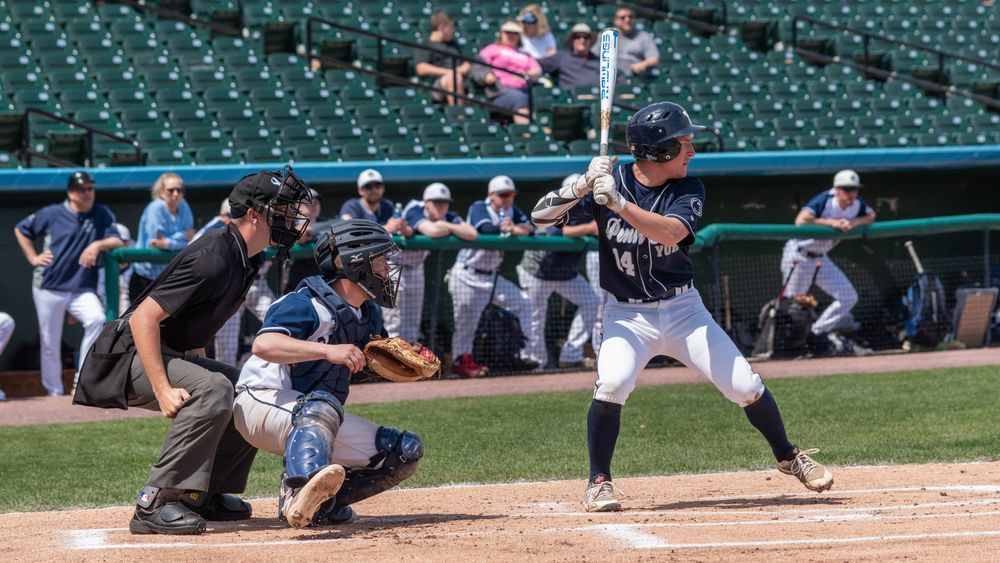 YORK, Pa. — Two Penn State York baseball players have earned awards for their play during the 2018 season. Austin Lehman was named to the Penn State University Athletic Conference (PSUAC) First Team and earned a United States Collegiate Athletic Association (USCAA) All-American Honorable Mention. Levi Stein was named the winner of the John Fritz Sportsmanship Award for baseball.
"For Austin to be named to the PSUAC First Team as a sophomore is nothing short of amazing ... [It is] most deserved, as he works hard every day," said Jeff Barkdoll, head baseball coach at Penn State York and athletic director. "Austin rose to the challenge this year; we needed somebody to step-up and fill the vacated lead off role in the lineup. Austin consistently had quality approaches which resulted in quality at bats for him. He worked the count exceptionally well and did a great job of getting on base and sparking the offense."
Lehman, from Millersburg, Pennsylvania, racked up a .400 batting average which lead the squad, and ranked him tenth in the overall conference. He also boasted a .566 on-base average, and grabbed 21 bases on balls. Lehman, No. 14, was also a fixture on defense as well, playing shortstop.
Levi Stein, a senior from York, was named the 2017-18 John Fritz Sportsmanship Award winner in baseball. The John Fritz Sportsmanship Award is given by the PSUAC in honor of John Fritz, retired PSUAC commissioner, who was considered the epitome of a team player and who had a true love for the Blue and White.
"It is an honor to have Levi as a student-athlete and member of the baseball team here at York,  He is one of the most respectful people I know, always maintaining a positive character and conducting himself with integrity and respect," said Barkdoll. "He is truly worthy of this honor, as he upholds the standards in his academic and athletic roles, and sets a positive example for all student-athletes."
Stein, No. 41, pitched and played in both the infield and outfield. Barkdoll noted that Stein was hard-working and played the game the way it should be played, but not at the cost of others. Stein graduated with a bachelor of science in business in May.
To learn more about athletics at Penn State York, visit pennstateyorksports.com. In addition to baseball, the campus offers men's and women's basketball, soccer, women's softball, women's volleyball and, new for fall 2018, golf for men and women.