Games on April 22 are free and open to the public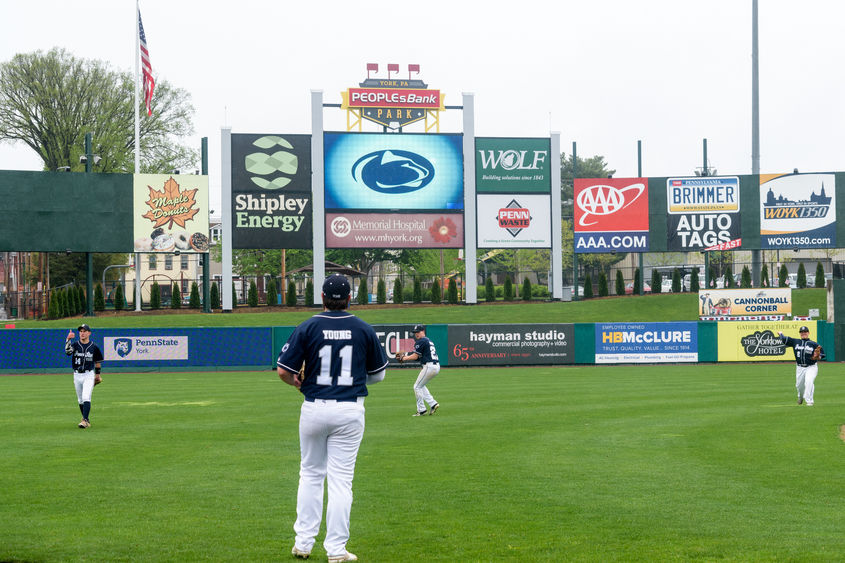 Editor's note: Penn State York will take on Penn State Mont Alto in a single, nine-inning baseball game beginning at 1 p.m. on Sunday, April 22. The matchup was originally scheduled as two, seven-inning games, but due to scheduling issues because of extended inclement weather this spring, it has been decided that this will be a single game.
YORK, Pa. — Don't miss the crack of the bats — catch the Penn State York baseball team in action on Sunday, April 22, when they take to the field at PeoplesBank Park, home of the York Revolution. This doubleheader, at 1 and 3 p.m. against Penn State Mont Alto, is free and open to the public.
"We are excited to once again have the opportunity to play at PeoplesBank Park. For our players to have this experience is what it's all about. It's something that will stay with them for a long time and just makes their overall college athletic experience a little better," said Jeff Barkdoll, head baseball coach and athletic director at Penn State York.
"Future recruits are invited to attend the game and interact with the team. From a recruiting standpoint, it is huge for us to be able to introduce high school players to this venue," he said. "It is also a great day for York and Mont Alto to build and encourage student engagement, which is also essential. This day, all in all, serves so many different areas for us. I am just very grateful to offer this opportunity to our student-athletes!"
Penn State York has played a doubleheader in the ballpark since 2014, and this is an event the campus hopes to continue as an annual tradition.
York offers five collegiate sports in addition to baseball: men's and women's basketball, soccer, women's softball and women's volleyball. To learn more about the athletic programs at the campus, visit pennstateyorksports.com.