Franco Harris, former Nittany Lion gridiron great and Pro Football Hall of Famer to attend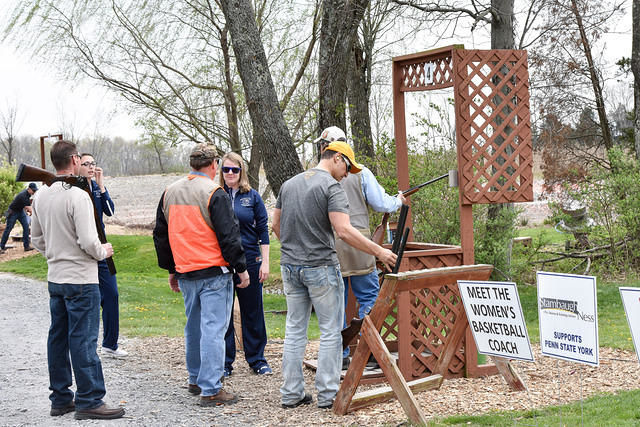 Franco Harris, former Penn State Nittany Lion football player, Steeler Super bowl champ, and Pro Football Hall of Famer, is headed to the area to take part in Penn State York's ninth annual clay shoot event with a shotgun start at 12:30 p.m. Thursday, April 20. The event takes place at Central Penn Sporting Clays (CPSC) in Wellsville, Pennsylvania.
Participants are invited to take aim and shoot for a day of fun that also benefits Penn State York student-athletes. Last year the event raised $15,000. Money raised will be used to help teams purchase new equipment, experience preseason training opportunities, and pay for additional travel expenses for post-season play.
Penn State York offers six intercollegiate sports, baseball, men's and women's basketball, soccer, women's softball, and women's volleyball. Teams play in the Penn State University Athletic Association (PSUAC) and the United States Collegiate Athletic Association (USCAA).
The schedule for the day includes clinics for novice shooters, registration, flurry, archery, and lunch. Following the afternoon of shooting, Harris will share a few words at the tailgate event. Harris will not be signing autographs during this event.
As a courtesy, and for the safety of our shooters, media representatives will not be permitted on the course at any time during the event.
Harris, a high school All-American, headed to college at Penn State in 1969 and majored in hotel and restaurant management. He became a three-year letterman in football as a running back. At Penn State, Harris rushed for 2,002 yards and 24 touchdowns. Major games Harris played in include the 1970 Orange Bowl, the 1972 Cotton Bowl, the Senior Bowl, and the College All-Star Game.
In 1972, Harris was drafted in the first-round as the 13th overall selection by the Pittsburgh Steelers. He ended up playing 12 of his 13 seasons in the NFL with the Steelers. Harris is most known for his "Immaculate Reception," when he caught the winning pass to give Pittsburgh their first playoff win. He played in Pittsburgh until 1983, and then played his final year with the Seattle Seahawks. Throughout his NFL career, he rushed for 12,120 yards and 91 touchdowns. He retired from football in 1985.
Sponsorships are still available for businesses. For a brochure or more information on the event, visit york.psu.edu/clayshoot, call 717-718-6781, or email [email protected]. To learn more about Penn State York athletic programs, the beneficiary of this event, visit the website at sports.york.psu.edu.