Donation drive continues until Nov. 20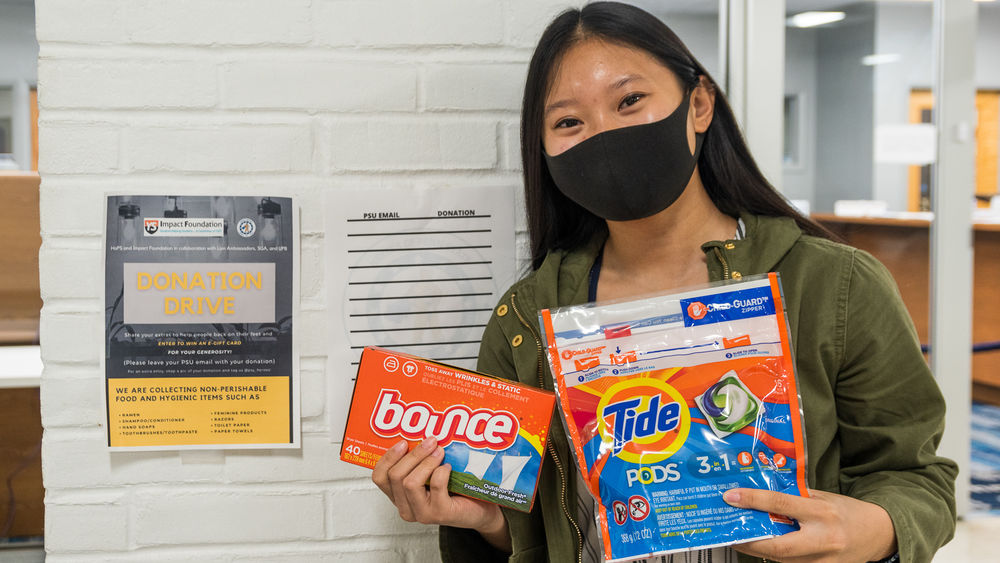 Every donation helps, that's the thought behind the donation drive happening at Penn State York thanks to the efforts of the four campus student groups, the Heroes of Penn State (HoPs), Lion Ambassadors (LAs), Student Government Association (SGA), and the University Programming Board (UPB). The groups are collecting non-perishable food and hygiene items through Nov. 20. The groups are working with the Impact Foundation of the York Suburban Education Fund (YSEF).
"Some people are living paycheck to paycheck," said My-Hoa Do, a Penn State York sophomore, Lion Ambassador, and president of HoPS. "The world really needs some kindness right now and we wanted to do something in the spirit of Thanksgiving," she said.
Students discovered the donation drive thanks to Sweeta Rasiyan, a Penn State York sophomore, HoPs member, and Lion Ambassador, who had worked with the Impact Foundation and YSEF when she was a student at York Suburban High School.
Donations of nonperishable food items such as snack crackers, soup, macaroni and cheese, applesauce, canned spaghetti, pop tarts, and ramen noodles are needed. Personal hygiene items needed include shampoo and conditioner, hand soaps, toothbrushes and toothpaste, feminine products, razors, toilet paper, paper towels, and laundry products.
Donation boxes are located on campus in the Pullo Family Performing Arts Center (The Pullo Center), outside the admissions office in the Main Classroom Building (MCB), the Joe and Rosie Ruhl Student Community Center (Ruhl), and the M.S. Grumbacher Information Sciences and Technology Center (Grumbacher). The donation drive ends at noon on Friday, Nov. 20, and those who wish to donate are asked to have items in the boxes by then.
"We saw a need in the local community, and we wanted to help fill it," said Do. "No donation is too small," she said.