Students play major role in creating campus tour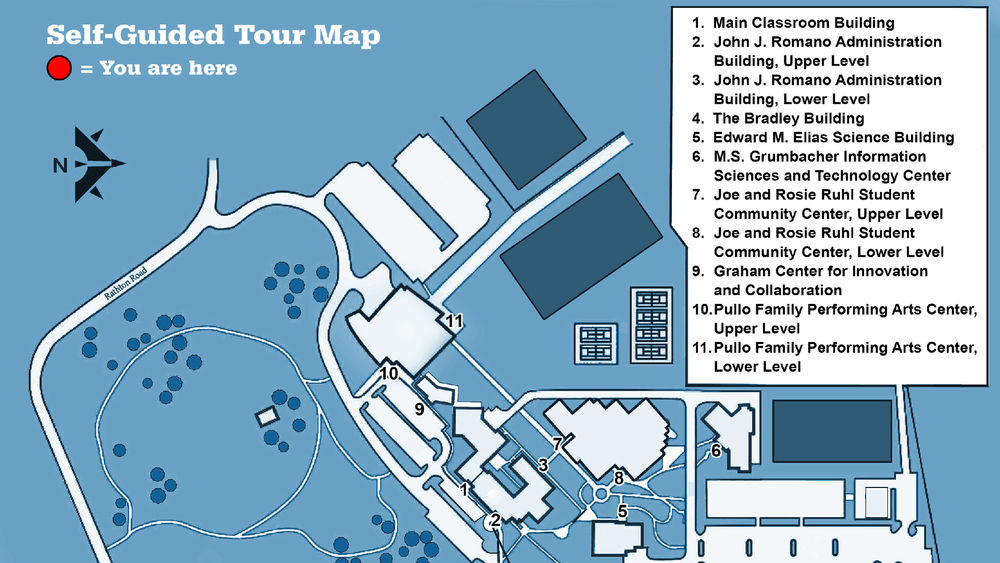 YORK, Pa. — Visitors to Penn State York can now learn more about the campus even when it is closed. Thanks to a group of Lion Ambassadors and Terri Van Slyke, admissions counselor and adviser to the group, the idea of a self-guided tour was born.
Lion Ambassadors are current students who promote the campus to prospective students, their parents, and the community. The group works closely with the admissions office giving campus tours, assisting with on- and off-campus events, and providing guidance to prospective students as they make their college choice for their future. During one of the Lion Ambassadors Executive Board discussions last fall about how to provide opportunities for tours during the pandemic and training for new members, the self-guided tour, using QR codes, surfaced.
"We know prospective students and families walked the campus pre-pandemic on their own in off-hours or weekends when we do not have tour guides available," said Van Slyke. "The pandemic really brought to light the need to deliver further campus information while guests are touring on their own time," she said. Officers in police and public safety had also reported that there were a number of visitors to campus in off hours and on weekends.
A self-proclaimed history nerd, who found inspiration from self-guided tours at historical sites, Van Slyke thought this kind of tour, using QR codes, could work at Penn State York, and students agreed.
"I chose to participate in the self-guided tour because I thought it would be a great way for students to get to know the campus at their own pace," said Madison Forbes, president of the Lion Ambassadors and a senior majoring in human development and family studies at Penn State York. "I thought it was a very important project because many people did not feel comfortable touring the campus with a tour guide because of the pandemic," she said.
Shane Hulbert, another Lion Ambassador, and a sophomore majoring in corporate communications, agreed with Forbes but went a bit further.
"While I enjoy giving the tours in person, due to COVID-19 restrictions I thought that doing it virtually would be very beneficial for the incoming students," said Hulbert. "I think it's very important to get a chance to see the school one way or another, so that students can truly see what Penn State York is all about."
Visitors to campus can take this 11-stop QR code tour to learn more about what Penn State York has to offer. The blue tour-stop signs are located by the main entrances of each building. Those taking this tour can proceed at their own pace and the tour does not need to be scheduled. At the Pullo Family Performing Arts Center (The Pullo Center), the John J. Romano Administration Building (Romano), and the Joe and Rosie Ruhl Student Community Center (Ruhl), there are stops at the upper and lower entrances providing information about the different levels of the buildings. Visitors can use their cellphones' built-in camera app or download a free QR code scanner app to their smart phone, scan the QR code, and follow the maps and audio clips to tour the campus. Further instructions are available here.
Nine other Lion Ambassadors lent their voices to the tour: Fatin Alashoor, Abbie Hornberger, Brice Leidy, Caitlin Noble, Sweeta Rasiyan, Andrew Russo, Srishti Singh, Charissa Trout and Samantha Wolgamuth.
In addition to the Lion Ambassadors, Alex Koontz, a Penn State York senior majoring in information sciences and technology, along with a web assistant, did the web development and graphic design for the project. Koontz developed the QR codes, designed signs, and modified the campus map to become the self-guided tour map complete with a numbered legend and building locations. The self-guided tour would not have been possible without his work, and the efforts of the Lion Ambassadors and their adviser.