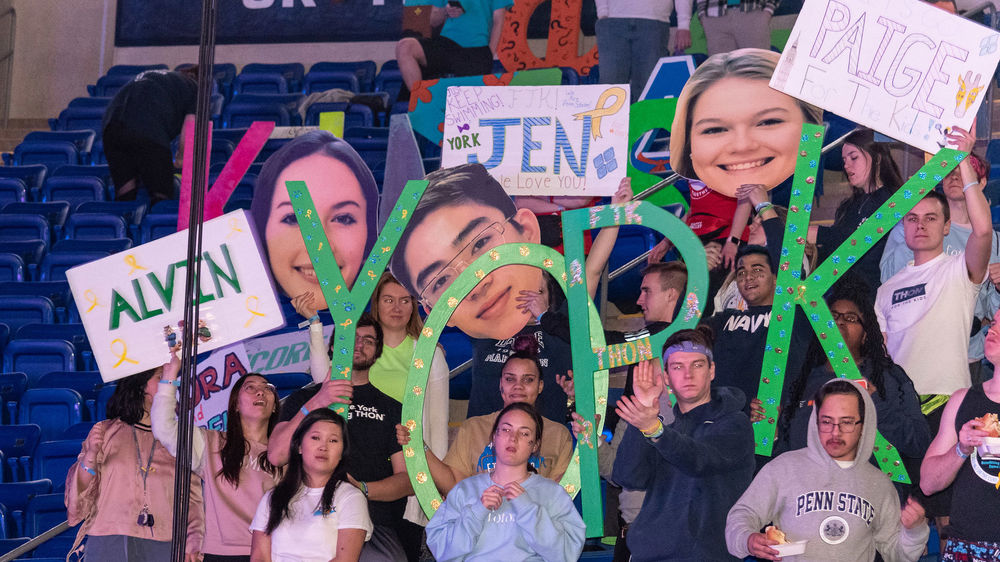 YORK, Pa. -- Penn State York Benefiting THON raised $15,417.97 at the end of THON weekend 2020, surpassing the $13,887.38 total at the end of the weekend in 2019. York's funds were a part of the $11,696,942.38 raised by the University to help cover the treatment costs for pediatric cancer patients as well as support cancer research.  Since 1977, THON has raised more than $168 million for Four Diamonds at Penn State Hershey's Children's Hospital.
View photos from the weekend on Flickr.
York's THON group of about 25 students supported dancers Paige Barlow, Alvin Chen and Jen Taylor from the campus, along with all those dancing Feb. 21-23 at the Bryce Jordan Center on the University Park campus. The three dancers were selected to represent the York campus and be a part of the dance marathon based on a variety of criteria, including the number of spirit points earned since last September through participation in fundraising and other activities for THON.
Fundraising efforts for the campus THON committee over the past year included dine outs; the "Poker with Jimmy" poker tournament hosted by cancer survivor Jimmy Clark; a blood drive with the American Red Cross; chocolate and popcorn sales; and writing THONvelopes, solicitation letters to family and friends.
THON is the largest student-run philanthropy in the world, and the weekend dance marathon is the culmination of a yearlong fundraising effort. The 2020 theme at THON was "Journey Together." THON's mission is to provide emotional and financial support, spread awareness, and ensure funding for critical research -- all in pursuit of a cure.