THON Weekend is set for Feb. 15-17 at the Bryce Jordan Center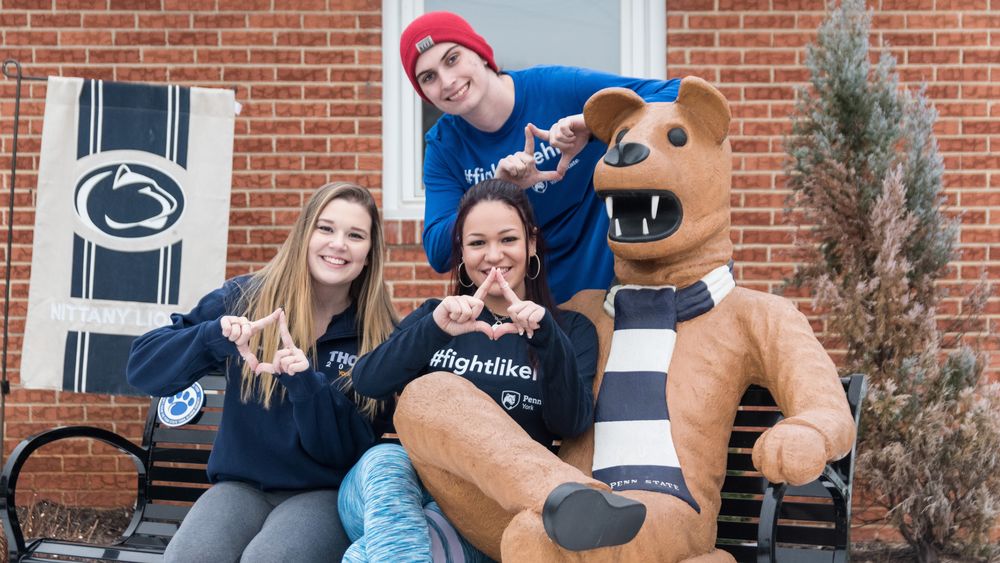 YORK, Pa. — Mother, uncle, friend — each of Penn State York's THON dancers has experienced cancer though the loss of someone they knew well. Justin Neal lost his mother to cervical cancer eight years ago. Yaribeth Ocasio lost her uncle to prostate cancer, and Kelsey Haines lost a friend and former Penn State York student to leukemia. All three will represent their campus in the fight against pediatric cancer at the Penn State IFC/Panhellenic Dance Marathon, affectionately known as THON, Feb. 15-17 at the Bryce Jordan Center.
Haines, Neal and Ocasio, along with more than 750 other dancers from across the University, won't be sitting or sleeping for the entire weekend. In fact, the dancers will be on their feet for 46 hours to raise funds to support innovative and sustainable pediatric cancer research at Penn State Hershey Children's Hospital. Since pairing in 1977, THON has raised more than $157 million for the Four Diamonds Fund, its sole beneficiary. Four Diamonds fills in the funding gaps that insurance leaves for the patients it serves, enabling families to focus on caring for their children. This year's event begins at 6 p.m. on Friday, Feb. 15, at the Bryce Jordan Center at University Park, and ends 46 hours later, at 4 p.m. on Sunday, Feb. 17.
The three dancers from the York campus were selected to represent Penn State York Benefiting THON, based on a variety of criteria, including the number of spirit points earned since last September through participation in fundraising and other activities for THON. THON is the largest student-run philanthropy in the world, and the weekend dance marathon is the culmination of a yearlong fundraising effort.   This year's theme is "Shape the Moment."
"I didn't really understand the significance of Stage 4. My mother received chemotherapy treatments but in October 2011 lost her battle with cancer. I am dancing to honor her and to show my support for every person who is currently in the midst of their own battle with cancer."

— Justin Neal, Penn State York student and THON dancer
Fundraising efforts for the campus THON committee over the past year included dine outs; the Poker with Jimmy poker tournament hosted by cancer survivor Jimmy Clark; a blood drive with the American Red Cross; chocolate and popcorn sales; and writing THONvelopes — letters to family and friends seeking THON donations.  
Haines, a junior at Penn State York, and Thalia Splawn, a senior, both majoring in human development and family studies, have led the group throughout the year with the help of other student captains and members interested in finding a cure for pediatric cancer.  
In addition to raising money, THON enables campus students to raise spirits by sponsoring families dealing with cancer. The York campus sponsors Autumn Foller, 15, who was diagnosed with leukemia in 2012 and is now in remission.
Students involved in THON met weekly throughout the year and will make the trip to University Park to cheer on York's dancers and all those who are participating For The Kids (FTK) during the 46-hour event.  
All three York dancers are excited about spending time with the children and their families at THON, their own family members, and members of the campus organization.
Justin Neal
Neal was in fifth grade, age 10, when his mother, Melissa Neal, received the diagnosis that she had Stage 4 cervical cancer. It was right around Christmas and his family was in shock.
"I didn't really understand the significance of Stage 4," he remembers. "My mother received chemotherapy treatments but in October 2011 lost her battle with cancer. I am dancing to honor her and to show my support for every person who is currently in the midst of their own battle with cancer."
A freshman at Penn State York majoring in environmental resource management, Neal is a 2017 graduate of Central York High School. 
While he didn't participate in any THON events in high school, Neal heard about THON from a family member who had previously danced, and he made a goal to try and earn a spot dancing for Penn State York.
Since September, Neal has worked on a variety of THON events, led the blood drive with the American Red Cross, and participated in all the events Penn State York Benefiting THON sponsored.
To prepare for 46 hours on his feet, Neal has been spending lots of time at the gym and cutting caffeine from his diet. His biggest concern is how to handle the fatigue that comes with staying awake and active for 46 hours. He is looking forward to interacting with all his fellow dancers and enjoying the fun atmosphere at THON.
Yaribeth Ocasio
Ocasio's inspiration for dancing at THON is her late uncle, Denis Martinez. He was diagnosed with Stage 4 prostate cancer at age 35, and this was her family's first experience with cancer. They worked together as a family to try and find the best treatments and doctors for him, which included traveling to Texas for chemotherapy, but despite their efforts, just three years later he died.  
"I am dancing for the kids as well as for my family, because my family has been a victim of cancer," Ocasio said. 
A 2017 graduate of the International School of Phnom Penh in Phnom Pehn, Cambodia, Ocasio's hometown is Sanford, Florida. She is a sophomore at Penn State York majoring in accounting.
Ocasio is from a military family, and her parents are deployed in Cambodia and Germany.
"I will not be able to physically see my parents during THON, but they will be supporting me through the phone as well as with letters," said Ocasio,
This is her second year participating in York's THON group, and she is serving as the group's treasurer. Her responsibilities include making sure that checks and other financial information makes its way to THON at University Park. After attending THON last year and seeing the total amount of money raised, she applied to be treasurer.
Ocasio is drinking plenty of water, eating healthier, and doing lots of exercise to prepare for the 46-hour event. Her biggest concern is how she will stay motivated throughout the entire 46 hours, but she also is confident that her fellow dancers and THON members will keep her dancing for this great cause. She is looking forward to seeing all the different bands that perform throughout the weekend and the reveal of the final dollar amount raised this year.   
Kelsey Haines
Haines, a Dover Area High School graduate, was inspired to dance by the late Maddie Hill, who battled cancer three times. As a student at Dover at the time, Haines watched as the community rallied around Hill, who lost her battle with cancer in 2016 when she was a student at Penn State York. Haines participated in several 12-hour mini-THONs but has never been on her feet for 46 hours.
"I saw how an entire community came together to support one amazing girl, and I wanted to be a part of that," said Haines. "After getting accepted to Penn State, I immediately joined THON and got super involved."
During the past few years, Haines was a general THON member, secretary, and this year serves as the primary chair. Haines watched her friends dance and decided she wanted to have that experience.
As the primary chair for Penn State York Benefiting THON, Haines has been involved in all fundraising efforts and has kept the group on track throughout the year by answering questions and leading weekly meetings.
"I want to dance for those kids who can't, and those who lost their battles. I want to dance for my best friends; Thalia Splawn, a pediatric cancer survivor, and for the amazing Maddie Hill."
In preparation for the big dance, Haines is eating healthier, staying hydrated, has cut caffeine, and is keeping a positive attitude. Her biggest concern about THON Weekend is handling the pain her body will be going through and handling her emotions. She is looking forward to having fun and seeing the yearlong efforts of the York THON Committee come to life.
All three dancers have family members attending THON to support them, in addition to the York THON members, THON families, other dancers, and all those spectators at the big dance.
Donations for THON 2019 in support of York's three dancers can still be made. Donate online. Donations made to Penn State York Benefiting York THON will be credited to the campus and then added to the final total at University Park. Checks in support of THON should be made payable to: Penn State Dance Marathon or THON, and sent to Penn State York, 1031 Edgecomb Ave., York, PA 17403, and must be received no later than Feb. 13. Please be sure to note "York, Org. 170" in the memo line of the check.
THON is the world's largest student-run philanthropy, engaging more than 16,500 students and 25,000 alumni in the fight against childhood cancer. THON's yearlong fundraising and awareness campaign culminates in a 46-hour no-sitting, no-sleeping dance marathon every February. Since 1977, THON has donated more than $157 million to Four Diamonds at Penn State Hershey Children's Hospital, funding comprehensive care and critical research.