THON weekend is set for Feb. 21-23 at the Bryce Jordan Center and more than 750 students and others will dance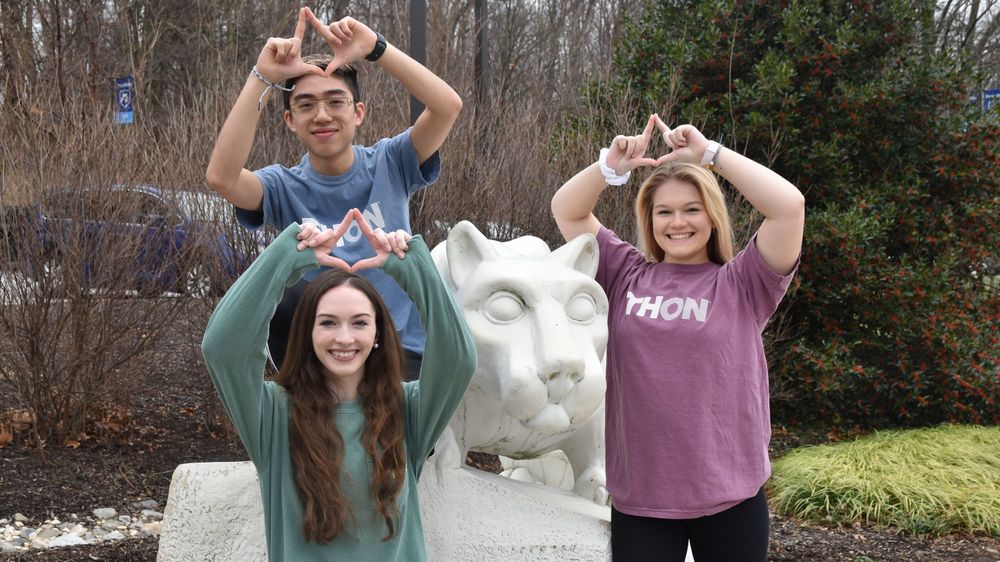 Paige Barlow was 9 years old when she lost her mother to brain cancer. She watched for three years as her mother battled cancer and felt the impact it had on her family – both emotionally and financially. Barlow, 18; along with Alvin Chen, 19; and Jennifer Taylor, 19; will represent Penn State York in the fight against pediatric cancer at the Penn State IFC/Panhellenic Dance Marathon, affectionately known as THON, Feb. 21-23 at the Bryce Jordan Center on the University Park campus.
"I want to dance to make a sacrifice. Standing and dancing for 46 hours with no sleep is a very small part of the pain that my mom went through." 

— Paige Barlow, freshman in genetics and developmental biology at Penn State York
The impact of cancer has touched each of York's dancers. Barlow lost her mom, Taylor lost her uncle to prostrate cancer and her mother battled and beat skin cancer. Chen is inspired by a friend's family who has experienced the life-changing results of fighting cancer. York's dancers will join more than 750 other dancers who won't be sitting or sleeping for the entire weekend. In fact, the dancers will be on their feet for 46 hours to raise funds to support innovative and sustainable pediatric cancer research at Penn State Hershey Children's Hospital. Since pairing in 1977, THON has raised more than $168 million for Four Diamonds, its sole beneficiary.
Four Diamonds fills in the funding gaps that insurance leaves for the patients it serves, enabling families to focus on caring for their children. This year's event begins at 6 p.m. on Friday, Feb. 21, at the Bryce Jordan Center on the University Park campus, and ends 46 hours later, on Sunday, Feb. 23 at 4 p.m. 
The three dancers were selected to represent Penn State York Benefiting THON based on a variety of criteria, including the number of spirit points earned since last September through participation in fundraising and other activities for THON. THON is the largest student-run philanthropy in the world, and the weekend dance marathon is the culmination of a yearlong fundraising effort. This year's theme at THON is "Journey Together"
Fundraising efforts for the campus THON committee over the past year included dine outs, the Poker with Jimmy poker tournament hosted by cancer survivor Jimmy Clark, a blood drive with the American Red Cross, chocolate and popcorn sales, and writing THONvelopes, solicitation letters, to family and friends. 
Jelena Young, a junior at Penn State York majoring in human development and family studies, and Lilian LeVan, a junior majoring in biology, have led the group throughout the year with the help of other student captains and members interested in finding a cure for pediatric cancer. 
In addition to raising money, THON enables campus students to raise spirits by sponsoring families dealing with cancer. The York campus sponsors Autumn Foller, 16, who was diagnosed with leukemia in 2012 and is in remission.
Students involved in THON met weekly throughout the year and will make the trip to University Park to cheer on York's dancers and all those who are participating For The Kids (FTK) during the 46-hour event. 
All three York dancers are excited about spending time with the children and their families at THON, their own family members, and members of the campus organization. The dancers know this is a once-in-a-lifetime experience, and a privilege.
Paige Barlow
Barlow remembers watching her mom struggle with personality changes, mood swings, strong medications, radiation, chemotherapy, and losing her hair. The hair loss was something her mother, Claire, didn't take lightly.
"I want to dance to make a sacrifice," said Barlow. "Standing and dancing for 46 hours with no sleep is a very small part of the pain that my mom went through," she said.
During this time, Barlow's dad was working extra hours, and her 17-year-old sister, Hannah, was taking care of her and her little brother, while also being enrolled full time at Penn State York. Barlow remembers her family's struggles, and hopes that by raising money at THON, the financial burden will be removed so other families don't experience what her family did.
A freshman at Penn State York majoring in genetics and developmental biology,  Barlow is a 2019 graduate of Dallastown Area High School. In high school, Barlow participated in Mini-THON all four years. She hadn't really heard about THON since she was born in Worksop, Nottinghamshire, United Kingdom, but when her family moved here, she saw college students on the side of the street holding signs that read, "Help Kids Fight Cancer: Penn State THON."  She never really understood what it all meant until high school when she participated in her first Mini-THON.
"I knew when I came to Penn State that THON was something I wanted to be a part of," said Barlow. "THON is pretty much the only reason I decided on Penn State over any other school. With a major in genetics and developmental biology, I hope to one day work with pediatric cancer patients," she said. "THON holds a spot very close to my heart, and I feel as though my journey to becoming a pediatric oncologist would be incomplete without participating in THON."
Since September, Barlow has worked on a variety of THON events, and participated in all the events Penn State York Benefiting THON sponsored.
To prepare for 46 hours on her feet, Barlow has started cutting caffeine from her diet and is doing strength training to build up her cardiovascular muscle. Her biggest concern is being able to complete the 46 hours without any physical issues.  She's also a little concerned about putting herself outside her comfort zone and introducing herself to new people.  Barlow is looking forward to representing York and dancing for someone so important to her, her mom.
Alvin Chen
Chen's desires to dance at THON to represent the families and kids going through difficult times. Being close with a friend's family that has been affected by cancer has motivated him to become a dancer at THON.
"Pediatric cancer is a horrible disease that affects many," said Chen. "It can be life-changing to most families and it follows with a massive financial and emotional burden," he said. "I am willing to do anything in order to raise money and find a cure."
A 2019 graduate of Central York High School, York, Pennsylvania, Chen first found out about THON through the school's Mini-THON.  He participated in the event where students danced for 12 hours, not 46.
Once he was introduced to THON, he knew it was something he wanted to continue to do.  Since Chen was actually born in New York, New York, he was not truly familiar with THON until high school.
A freshman at Penn State York majoring in computer science, he has been involved throughout the year with the variety of events and fundraisers sponsored by Penn State York Benefiting THON.
To prepare for THON, Chen has been working out at the gym regularly to enhance his endurance, has cut his caffeine intake, and has been drinking plenty of water.  Chen believes that staying active and healthy are key factors that will help him get through the 46 hours.
His biggest concern is being able to stay awake and on his feet all 46 hours.  He is looking forward to meeting many great people and seeing the smiles on the faces of the THON families as they see all the dancers supporting them.  He is also excited to see the fundraised total at the end of the dance marathon.
Jennifer Taylor
Taylor, a 2018 graduate of Hereford High School in Maryland, is dancing to honor her Uncle Gary, who died of prostate cancer, and her mom who battled and beat skin cancer.
"I want to show people that, no matter their background, what they are going through, or what will come in the future, you can put care into the world and truly make it better," she said. "THON gives so many students that opportunity, to not only change the world, but change people's lives."
A sophomore at Penn State York, Taylor will complete an associate degree in business administration in May. Since she went to high school in Maryland, Taylor only heard about THON from another THON member and Penn State York student, Samantha Anderson. Anderson also went to high school in Maryland and shared her interest in THON with Taylor, who joined. For Taylor, THON and Penn state academics made Penn State York great choice for her.
In addition to being a THON member for two years, Taylor also took on the responsibility of serving as secretary this year. She takes minutes and provides critical information to THON members with emails and other correspondence. 
To prepare for THON, Taylor has started running again to gain muscle. She ran cross-country in high school, so it was a natural for her to return to that sport to build strength. She is also doing abdominal and leg workouts to help her build endurance to stand for long periods of time. Like her fellow dancers, she is eating healthier and drinking plenty of water.
She too is worried about not being able to complete all 46 hours but is hopeful that the good company provided by fellow dancers and members of the THON group, good food, and good purpose will make it all worth it. Taylor attended THON last year, so she knows all the activities and excitement involved with it.  She is looking forward to meeting, seeing and hearing stories from THON families and other THON dancers.
"I am excited about just being in the moment," said Taylor. "The whole vibe last year was amazing, even in the dragging hours. The music and overall entertainment was a blast from the stands, so I know it will feel even more exciting on the floor.  It is such a privilege to dance."
All three dancers have devoted a great deal of time throughout the year to make it to THON weekend as a dancer. They have family members or friends attending THON to support them, in addition to the York THON members, THON families, other dancers, and all those spectators at the big dance.
Anyone interested in supporting the dancers from Penn State York can donate online. Checks in support of THON should be made payable to Penn State Dance Marathon or THON, and sent to Penn State York, 1031 Edgecomb Ave., York, PA 17403 and must be received no later than noon on Feb. 20. Be sure to note York, Org. 170 in the memo line of the check.
THON is a student-run philanthropy committed to enhancing the lives of children and families impacted by childhood cancer.  Its mission is to provide emotional and financial support, spread awareness, and ensure funding for critical research - all in pursuit of a cure.