THON Weekend set for Feb. 17-19 in the Bryce Jordan Center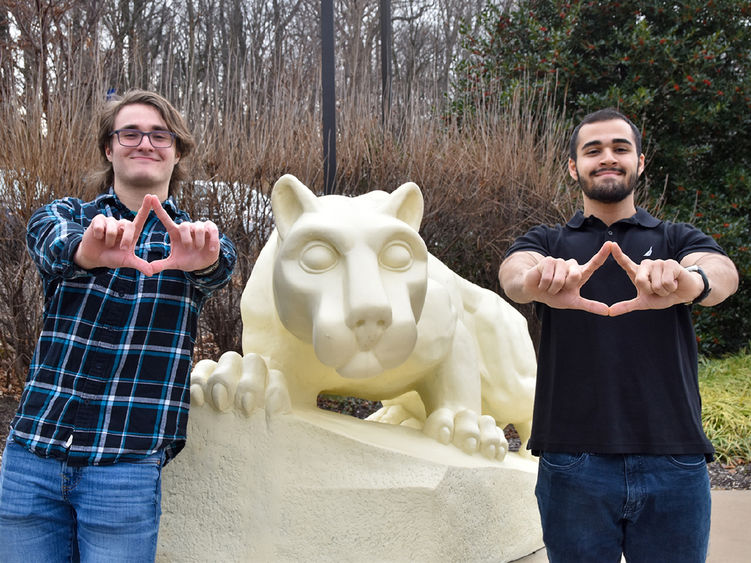 YORK, Pa. — Omar Elhasany and Domenic Sciortino, students at Penn State York, met last fall and little did they know they would share a once-in-a-lifetime experience. Sciortino and Elhasany will represent Penn State York at the Penn State IFC/Panhellenic Dance Marathon, set for Feb. 17-19 at the Bryce Jordan Center on the University Park campus.
Both Elhasany and Sciortino also attended York Suburban High School several years apart. Sciortino, 19, is a freshman, and Elhasany, 21, is a senior at Penn State York.
York's dancers will join more than 750 pairs of dancers who will not be sitting or sleeping for the entire weekend. In fact, the dancers will be on their feet for 46 hours to raise funds to support innovative and sustainable pediatric cancer research at Penn State Health Children's Hospital. Since pairing in 1977, THON has raised more than $204 million for the Four Diamonds Fund, its sole beneficiary.
The Four Diamonds Fund fills in the funding gaps that insurance leaves for the patients it serves, enabling families to focus on caring for their children. This year's event begins at 6 p.m. on Friday, Feb. 17, at the Bryce Jordan Center and ends 46 hours later, at 4 p.m. on Sunday, Feb. 19. "Foster The Magic" is the theme for THON 2023, and this year marks the event's 51st anniversary.
The two dancers selected to represent Penn State York Benefiting THON at THON Weekend were chosen based on a variety of criteria, including participation in fundraising and other activities. THON is the largest student-run philanthropy in the world, and the weekend dance marathon is the culmination of yearlong fundraising efforts.
Fundraising efforts for the campus THON committee over the past year included dine outs, snack sales, chocolate sales, a gift-wrapping event, and writing and sending solicitation letters to family and friends.
Cassidie Crebs, a sophomore at Penn State York majoring in political science with a human development and family studies minor, is the Penn State York Benefiting THON chair. Lyndsey Ridenour, a sophomore majoring in human development and family studies with a minor in psychology, is the York THON co-chair. Both women have led the group throughout the year with the help of other student captains and members interested in finding a cure for pediatric cancer.
Students involved in THON met weekly throughout the year and will make the trip to University Park for THON Weekend to cheer on York's dancers and all those who are participating For The Kids (FTK) during the 46-hour event.
Both York dancers are looking forward to spending time with the children and their families at THON, their own family members, and members of the campus organization. The dancers know this is a once-in-a-lifetime experience, and a privilege.
Omar Elhasany
Elhasany, who has a dual major in business with a management option and project and supply chain management, has been a THON member since his freshman year. He served as York's THON chair last year and helped with a variety of fundraising activities and events over the years. He also is familiar with THON because he participated in Mini-THON at his high school, which was a 12-hour event.
Elhasany also cheered on his brother Moustafa, who was one of the dancers representing the York campus at THON 2022.
For Elhasany, dancing at THON was something he always wanted to do.
"I've been wanting to do it for a while now, but I never had the privilege because every time something came up. I wasn't selected freshman year, then COVID-19 happened, and last year I was the York THON chair, so I couldn't dance," said Elhasany. "It is my last year, so I wanted to do something special."
To prepare for the event, Elhasany is doing plenty of cardio training and building up his will power. His biggest concern is not being able to complete the entire 46 hours. What he is most looking forward to is completing the big dance and keeping up his energy level.
Domenic Sciortino
Sciortino is a freshman majoring in psychology and this is his first year participating in THON at the collegiate level and his first time attending THON Weekend. He is familiar with THON because of Mini-THON at his high school. At York, he has been involved with all fundraising activities and organized a hair-cutting event at his father's business, Barberama in York, where a percentage of sales were donated to THON.
"I want to dance at THON because I want to express my gratitude for the amount of support that everyone brings in to this organization," Sciortino said.
To prepare for THON Weekend, Sciortino has been working to increase his stamina though cardio training. His biggest concern about completing THON is surviving the dance floor.
"I am looking forward to the crowd cheering me on for one of the greatest causes I know and this once-in-a-lifetime experience," he said.
Both dancers have devoted a great deal of time throughout the year to make it to THON Weekend as a dancer. They will have friends and some family members attending THON to support them, in addition to the York THON members, THON families, other dancers, and all those spectators at the big dance.
THON is committed to enhancing the lives of children and families impacted by childhood cancer. THON's mission is to provide emotional and financial support, spread awareness, and ensure funding for critical research — all in pursuit of a cure. 
There is still time to donate to THON and help Penn State York reach its monetary goal.
Donations can be made online here. This link goes directly to a page for Penn State York Benefiting THON.
Checks in support of THON should be made payable to Penn State Dance Marathon or THON, and sent to: Penn State York, 1031 Edgecomb Ave., York, PA 17403, or drop the check in Barb Dennis' mailbox in the mailroom at Penn State York no later than noon on Feb. 15, 2023.  
Be sure to note 'York, Org. 170' in the memo line of the check. Online donations can be made until midnight on Saturday, Feb. 18, 2023.