Ceremony set for Jan. 24 at Penn State York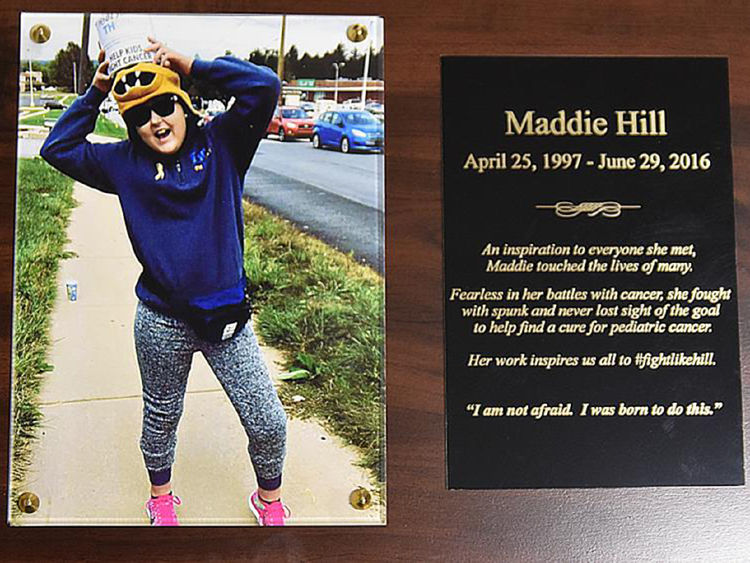 YORK, Pa. — Wearing T-shirts featuring the initials 'MH' and the words 'FIGHT LIKE HILL', Penn State York students, including members of Penn State York Benefiting THON, the men's and women's basketball teams, the Student Government Association, athletic staff, and more will honor the late Maddie Hill and her battle with cancer. The ceremony is set for Tuesday, Jan. 24, during the annual Maddie Hill Basketball Game.
Hill serves as an inspiration for many people in the York area and across the state for those who are involved with the Penn State Dance Marathon, affectionately known as "THON." The fighting words, "Fight like Hill," remind people of Hill's vigilant battle against pediatric cancer. She died on June 29, 2016, after battling cancer three times.
This is the sixth time a game honoring her is being held; it could not happen in 2021 because of the COVID-19 pandemic. The ceremony, at about 7:30 p.m., will be held between the women's and men's basketball games in the campus gym in the Joe and Rosie Ruhl Student Community Center (The Ruhl Center). Several speakers will share a few words in remembrance of Hill during the brief ceremony.
The women play at 6 p.m. and the men play at 8 p.m. when they take on Penn State Hazleton. The event and basketball games are free and open to the public. 
Hill was a Penn State York student majoring in human development and family studies, a Penn State York Benefiting THON member, a Four Diamonds Child, Blue & White Society member, and an inspiration to everyone she met, according to members of the York THON group and York campus faculty and staff. In the days that led up to her death, Hill studied and did classwork from a bed in the Penn State Hershey Children's Hospital.
A 2015 graduate of Dover High School, Hill was an outstanding soccer player and athlete. Penn State York does not have a women's soccer team so when discussion began about what to do to honor her back in 2016, Terri Van Slyke, former admissions counselor and women's basketball coach at Penn State York, and Jeff Barkdoll, who was the interim athletic director at the campus at that time, suggested honoring her at a basketball game. The York THON group agreed, and Hill was honored for the first time at a Dec. 2, 2016, event. Van Slyke has since left the campus and Barkdoll is the full-time athletic director at Penn State York.
In addition, as a permanent tribute to Hill, a plaque honoring her is displayed in the Student Affairs office located in The Ruhl Center. This office area, which offers a variety of student services, is also the home to the Student Government Association, who sponsors the T-shirts to honor her.
The phrase, "Fight like Hill," became the mantra of Dover community members and others as they supported Hill in her battles with cancer. The phrase lives on as a symbol of Hill's tenacity and determination. Her love of THON and work to find a cure for pediatric cancer was vigilant. The T-shirt for this year was designed by Dylan Dawson, a member of the York THON group and a Penn State York student.
Checks written in support of THON can be made at the basketball game and should be made payable to: Penn State Dance Marathon or THON, with a note in the memo line to Org. 170. Donations can also be made online at https://donate.thon.org/?fuseaction=donorDrive.event&eventID=2967. This link goes directly to a page for Penn State York Benefiting THON.
THON Weekend is set for Feb. 17-19 at the Bryce Jordan Center in State College. The theme for THON Weekend 2023 is "Foster the Magic" as the event celebrates its 51st anniversary. Dancers representing Penn State York at THON 2023 are Omar Elhasany and Domenic Sciortino.
THON is the world's largest student-run philanthropy, engaging more than 16,500 students and 25,000 alumni in the fight against childhood cancer. THON's yearlong fundraising and awareness campaign culminates in a 46-hour, no-sitting, no-sleeping dance marathon every February. Since 1977, THON has donated more than $200 million to Four Diamonds at the Penn State Hershey Children's Hospital, funding comprehensive care and critical research.