Grant provides additional opportunities for students in The Graham Center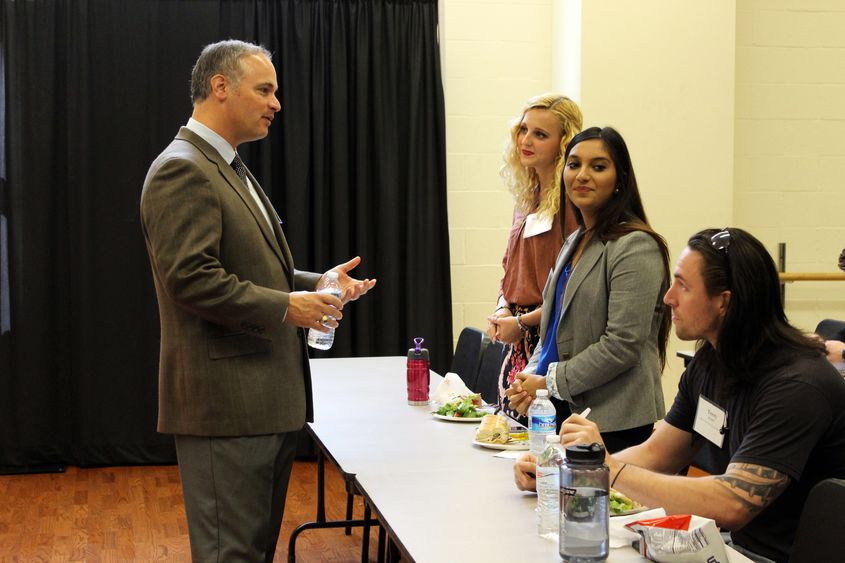 YORK, Pa. — Penn State York is the recipient of a $50,000 seed grant to expand entrepreneurial endeavors through the Invent Penn State initiative. York is one of six campuses recently named as part of the newest wave of entrepreneurial sites across the Commonwealth that are poised to become economic strengths in their region.

"This is a great opportunity for our Graham students to have a valuable learning experience," said David W. Chown, chancellor of Penn State York. "They will be getting in on the ground floor of the design and implementation of a nonprofit startup in the York community."

Invent Penn State is a Commonwealth-wide initiative that blends entrepreneurship-focused academic programs, business startup training and incubation, funding, and key regional partnerships together for the benefit of Pennsylvania and beyond. These six new awards follow on the heels of six similar $50,000 grants awarded to Penn State campuses in 2015.

York's project, Makerspace and Business Challenge, provides for an expansion of The Graham Center for Entrepreneurial Leadership Studies (The Graham Center), which will allow Graham students to engage in the various business, planning, and municipal aspects of the design of Working Class, a centrally located makerspace in downtown York. The facility, which is expected to open to the public in 2017 in the Rudy Art Glass building, will provide more than 13,000 square feet of shop space, tools, and classes on a membership basis. Working Class is designed for community members to build artisan-style skills to work and develop individual enterprising endeavors. The project, funded at $25,000, will be under the auspices of and in collaboration with a community consortium already committed to Working Class.

The Graham Center at Penn State York was made possible by a generous gift from York business entrepreneur Donald Graham. The vision and purpose of The Graham Center is to develop students with entrepreneurial leadership skills, rather than graduates seeking to start new companies. The Graham Center works with students from a variety of academic disciplines to provide them with a set of practical tools that complement the quality education they are receiving at Penn State York. Students participate in a variety of activities, including mock interviews, résumé reviews, professional presence and dining etiquette programs, networking events, leadership skills training, and extensive opportunities for internships. They are exposed to local and national leaders from a wide array of professions through The Graham Speakers Series, and are encouraged to demonstrate their networking skills during the Corporate Partner Dinner. Students will also complete Graham Center curriculum requirements designed to familiarize them with concepts ranging from ethics to entrepreneurship.

"Working Class is thrilled to collaborate with Penn State York, The Graham Center, and most importantly, Graham students, in the creation of York's first community makerspace," said Erin Casey, Working Class co-founder and president.

"We believe that the intersection of students, community and industry working together is where real learning occurs," said Patrick Sells, Working Class co-founder and secretary. "The support of established and esteemed educational partners like Penn State York and the contribution of its students is key to creating this type of hands-on learning resource embedded in our community."
Another facet of the grant, funded at $25,000, is to provide support for a business challenge event for entrepreneurial student teams. The seed money would support five student projects and permit the campus to make cash awards to as many as five student projects.

"We are looking forward to welcoming burgeoning student entrepreneurs from across the Mid-Atlantic region to our campus," said Robert Farrell, director of academic affairs at Penn State York, who authored the seed grant proposal for the campus.

Students will be asked to provide strategic solutions to complex business problems that are presented to them. The York campus will host the competition during the 2016-17 academic year.

"The process for awarding these six additional grants was very competitive," said Madlyn Hanes, vice president for Commonwealth Campuses. "I congratulate the recipients who share a deep commitment to the economic well-being of their communities. They are connecting the talent of Penn State faculty and students with community partners to bring innovation and entrepreneurial activity to the regions we serve. The Invent Penn State initiative is a powerful driver of economic development."

Other campuses in addition to Penn State York that are receiving funding in this latest round include: Altoona, Berks, Great Valley, Schuylkill, and Shenango.

Prior to this round of funding the Penn State campuses of Abington, Behrend, Harrisburg, Lehigh Valley and New Kensington received seed-grant awards for collaborative economic ventures on their campuses and within their communities.

To learn more about The Graham Center visit york.psu.edu/grahamcenter, and for information about Working Class, visit www.workingclassyork.com.

For more information on Invent Penn State, visit www.invent.psu.edu.