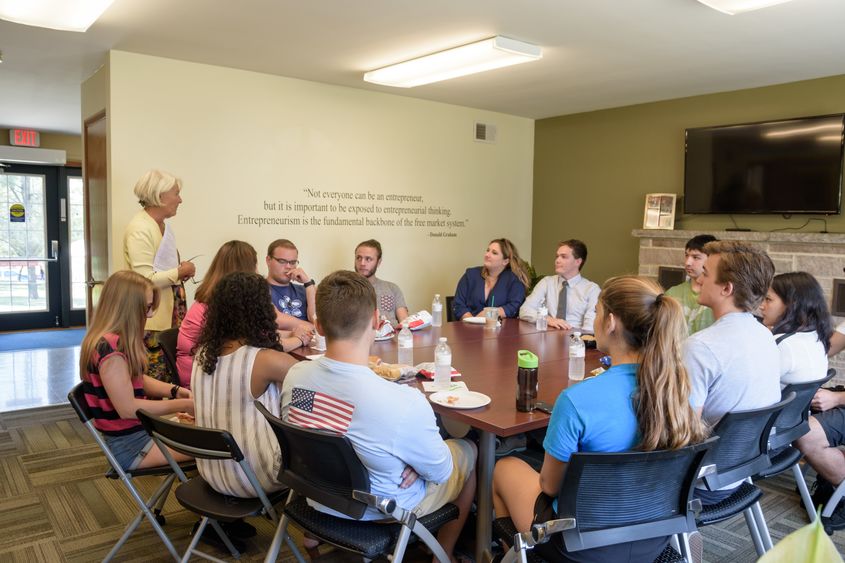 YORK, Pa. — Penn State York students who want to learn more about The Graham Center for Entrepreneurial Leadership Studies at Penn State York should plan to attend a question-and-answer session at noon on Tuesday, Sept. 5, in The Bradley Building on campus. Lunch will be provided.
"Students who have heard about The Graham Center may not have the full picture of all of the opportunities available to them as Graham students," said Jody Keller, executive-in-residence at The Graham Center. "We'll answer specific questions, and attendees will benefit from hearing questions from others and will meet other potential applicants to the program."
The Graham Center works with students from a variety of academic disciplines to provide them with a set of practical tools that complement the quality education they are receiving at Penn State York. The Graham Center is designed to enhance students' career preparation experiences through interdisciplinary coursework, mock interviews, workshops in résumé writing, etiquette dining, networking opportunities with local business, and, in some cases, internship experiences. The Graham Speaker Series also provides students with opportunities to meet and hear from local and national leaders in a variety of career fields.
The Graham Center was made possible by a generous gift from York business entrepreneur Donald Graham, chairman and founder of The Graham Group. The Graham Center continues to grow, and is providing a variety of new opportunities thanks to a seed grant from Invent Penn State. In October 2016, Penn State President Barron awarded Penn State York $50,000 as a part of the Invent Penn State initiative.
Invent Penn State is focused on leveraging Penn State's research, knowledge and entrepreneurial spirit to bring to market needed ideas, products and services. Since 2015, the University has provided funding for 17 innovation hubs in campus communities across Pennsylvania, which provides combinations of startup accelerators, co-working space, makerspaces and pitch competitions.
Penn State York's innovation hub includes the Working Class Makerspace and a Start-Up (Business) Challenge. Facilitated by The Graham Center, Graham students will soon be able to utilize Working Class, a centrally located makerspace in downtown York. A ribbon-cutting to celebrate the successful initiatives took place in early August 2017.
Working Class, a centrally located makerspace in downtown York, is expected to open to the public in fall 2017 in the Rudy Art Glass building. The facility will provide more than 13,000 square feet of shop space, tools and classes on a membership basis. Graham students will have the opportunity to engage in the various business, planning and municipal aspects of the design of Working Class. Working Class is designed for community members to build artisan-style skills to work and develop individual enterprising endeavors. The Penn State project, funded at $25,000, is under the auspices of, and in collaboration with, a community consortium already committed to Working Class.
The seed grant also funded Start-Up Challenge, an annual business pitch competition. The first Start-Up Challenge, held in 2016-17, was an undergraduate competition, where entrepreneurial teams took their ideas from the concept phase through a feasibility study and market analysis to prototypes. Undergraduate students across all programs at Penn State York, which included active Graham Center students, were invited to participate. All teams had faculty and corporate advisers. Plans are underway for the 2017-18 competition.
To learn more about The Graham Center, visit york.psu.edu/grahamcenter or contact Keller at j[email protected]. For information about Working Class, visit www.workingclassyork.com.
Invent Penn State is a Commonwealth-wide initiative to spur economic development, job creation, and student career success. Invent Penn State blends entrepreneurship-focused academic programs, business startup training and incubation, funding for commercialization, and University-community collaborations to facilitate the challenging process of turning research discoveries into valuable products and services that can benefit Pennsylvanians and humankind. Learn more at invent.psu.edu.