Luke Marsiglia considers his opportunities on campus a once-in-a-lifetime experience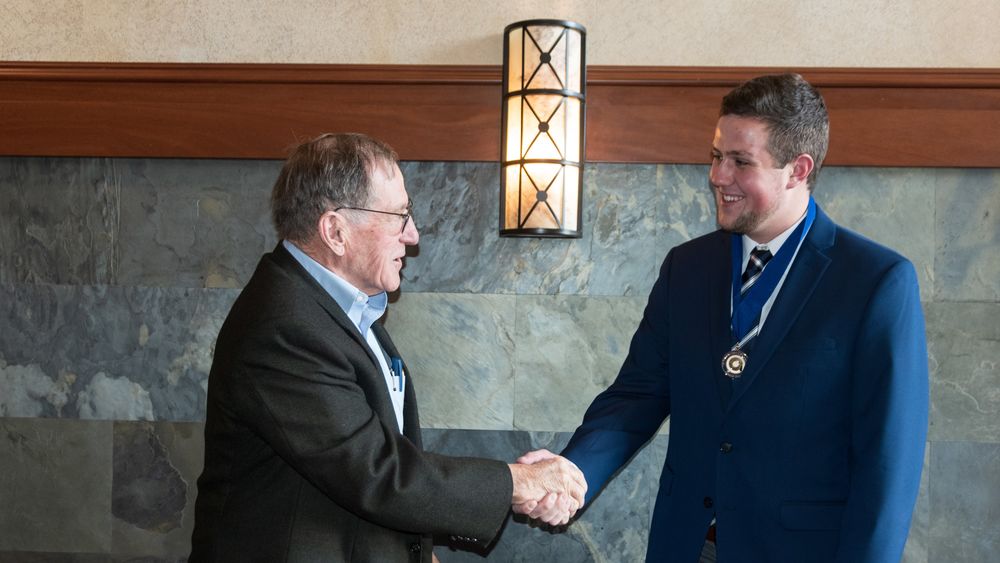 YORK, Pa. — Like most college students, Luke Marsiglia will remember his college years fondly, but unlike most, the evidence of his work will remain at Penn State York forever. Marsiglia, who will graduate on Friday, Dec. 14, with a bachelor of science in electro-mechanical engineering technology, had the unique experience of being a part of the construction of the renovated and expanded student center, which opened in 2016. At age 22, Marsiglia is leaving a legacy at Penn State York.
Marsiglia worked on the almost $14 million project as part of an internship with Alexander Building Construction, made possible through the Graham Center for Entrepreneurial Leadership Studies (The Graham Center) at Penn State York. The Graham Center is a program designed to develop and enhance students' workplace leadership skills. The center works with students from a variety of academic disciplines to provide them with a set of practical tools that complement the quality education they are receiving at York campus.
The internship with Alexander was all-inclusive. Marsiglia worked with the architects to obtain quotes on a variety of items, coordinated with contractors for deliveries and installations, and answered lots of questions. He was a part of the team. When the building opened in October 2016, Marsiglia had insider information and could share with friends and others the intricate details of how the student center was built and what role he played in its completion.
Marsiglia still stands by a quote he gave two years ago when the building opened.
"I can come back here when I am 80-years-old to see the building and say I was a part of it." said Marsiglia. "This has been a once-in-a-lifetime experience to work on this project and to learn how Penn State works as a business."
In addition to his internship with Alexander Construction, Marsiglia worked at TekGard in Emigsville, Pennsylvania, and at Graham Engineering in York. Both opportunities were made possible through The Graham Center.
"Overall, The Graham Center really is an invaluable opportunity," said Marsiglia. "The hands-on experience and chance to make connections is just amazing," Marsiglia said.
He is quick to note that he didn't start at Penn State York as an EMET major, although he always knew he wanted to go into a tech field. He started his college career in the Division of Undergraduate Studies, because he had not yet decided on a major. His experience in class led him to pursue the EMET degree.
"My dad works at a power company in Maryland, and I worked with him and my grandfather on projects as I was growing up," he said.
Marsiglia, from Fawn Grove, Pennsylvania, decided to attend Penn State York because when he came for a campus visit, "It just felt right." He also knew the Penn State name would be recognized no matter where he applied for a job after graduation.
Marsiglia's hard work didn't go unnoticed on campus. An engineering faculty member had this to say about him:
"Luke represents all the positives a Penn State York experience can provide. He has embraced the opportunities in the classroom to learn and pushed himself beyond his comfort zone to reach for experiences like The Graham Center for Entrepreneurial Leadership to hone his skills and broaden his capabilities to become a highly sought-after professional," said Amy Harmon-Krtanjek, lecturer in engineering and the interim director of The Graham Center.  "Luke sets a high standard for the possibilities for students at Penn State York. We are proud of his accomplishments and look forward to watching his career soar." 
Marsiglia's brother, Conner, is also a student at Penn State York, and is majoring in information sciences and technology, and is part of The Graham Center, thanks to his brother's encouragement. Interest in the tech field seems to run in the family.
Marsiglia isn't giving himself much of a break after graduation; he begins a full-time position as an associate electrical engineer on Dec. 18 at Graham Engineering in York.
Penn State York's commencement speaker for the ceremony is state Rep. Carol Hill-Evans, 95th Legislative District, York, Pennsylvania. Hill-Evans was elected to the state legislature on Nov. 8, 2016, and was recently re-elected to continue her work. Her priorities for improving the lives of residents in the 95th District include job creation, raising the minimum wage, economic development, and fighting for increased funding for education and mental health resources, specifically for veterans.
Hill-Evans has a close connection to Penn State York, and in November spoke to the Penn State Council of Commonwealth Student Governments meeting held on campus, which included more than 200 students from across the Commonwealth. She shared her story and encouraged students to pursue their dreams and reminded them that hard work pays off.  
A Penn State York alumna, Hill-Evans pursued her degrees as an adult learner. She earned an associate of science degree in business administration in 1999 and a bachelor of science in business in 2001. She credits her positive experiences at Penn State York for leading her to a career in public service. A native of York, she also is a graduate of the York City School District.
Hill-Evans continues to enjoy meeting constituents and serving her community. She resides in York with her husband, William. Together they are parents to five adult children and 11 grandchildren. Hill-Evans, as a former Penn State Master Gardener, enjoys gardening, and she also loves to bake. At every opportunity she quotes Henry David Thoreau, who encourages us to "Go confidently in the direction of your dreams! Live the life you've imagined." Visit york.psu.edu for her complete bio.
In addition to hearing from Hill-Evans, Penn State York will continue its open microphone tradition when graduates can speak to the audience for a moment. A graduating senior in Penn State York's associate degree programs, Isaac Lee Strausbaugh, business administration, Windsor, Pennsylvania; the top senior in baccalaureate programs, Stephanie Goddard, magna cum laude, human development and family studies, Hellam, Pennsylvania; and a top master's degree graduate, Ashley Marie de Salis, master of education in teaching and curriculum, Gettysburg, Pennsylvania, will also say a few words.
A total of 50 degrees will be awarded during the ceremony. Penn State York will award six master of education in teaching and curriculum degrees, 36 baccalaureate degrees, and five associate degrees. Three students who earned their degrees at another Penn State location will return to York to receive a degree during the ceremony.
For those who cannot attend the event, Penn State York's commencement can be viewed on Comcast Cable Channel 18 or streaming live on the campus website.