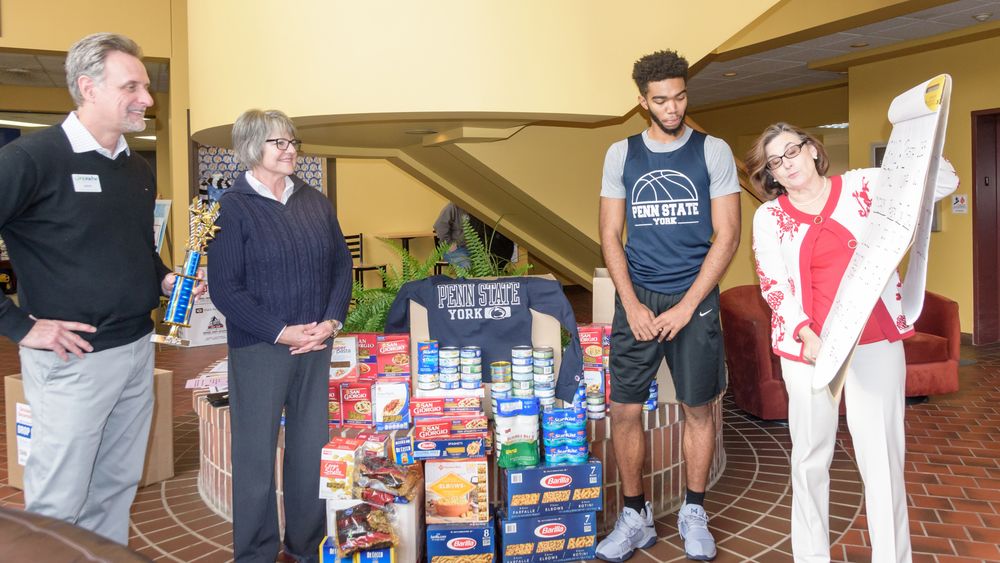 YORK, Pa. — What do you do with 233 pounds of pasta and 60 pounds of tuna? Penn State York student-athletes, faculty and staff, and the Osher Lifelong Learning Institute (OLLI) at Penn State York donated these items to Lifepath Christian Ministries (formerly the York Rescue Mission) in York, Pennsylvania. The three groups took part in a friendly competition with OLLI emerging the winner. The truth is, everyone was a winner, and Lifepath will use the food items collected to help feed many people in need across York County.
OLLI piled up a total of 106 pounds of food, faculty and staff gathered 96 pounds, and student-athletes collected 91 pounds to reach a grand total of 293 pounds.
"The food collected will be used to stock our food pantry to be used in the prepared meals that we serve to the public in our kitchen," said Dave Cook, manager, corporate and community engagement, Lifepath Christian Ministries. "It will also be used with the other groups and churches we partner with that have outreaches in York City and county."
View photos from the food drive.
Lifepath Christian Ministries serves homeless, hungry and hurting neighbors in York, Pennsylvania, and the surrounding community. In 2016, Lifepath served 158,404 meals, provided 27,581 nights of shelter, 18,334 pounds of shoes, and 87,920 pounds of books to local people in need, regardless of religious affiliation.
The food drive challenge began in October and continued until the end of November, and was part of Lifepath's fall food drive. The campus effort was coordinated by Ann Fetterman, lecturer in English, who plans a variety of volunteer activities on campus and has a passion for giving back to the community. Activities throughout the year include a number of different campus groups.
Fetterman hopes to keep the campus a part of this food drive on an annual basis.