Penn State York team has brightened the holidays for a variety of groups over the years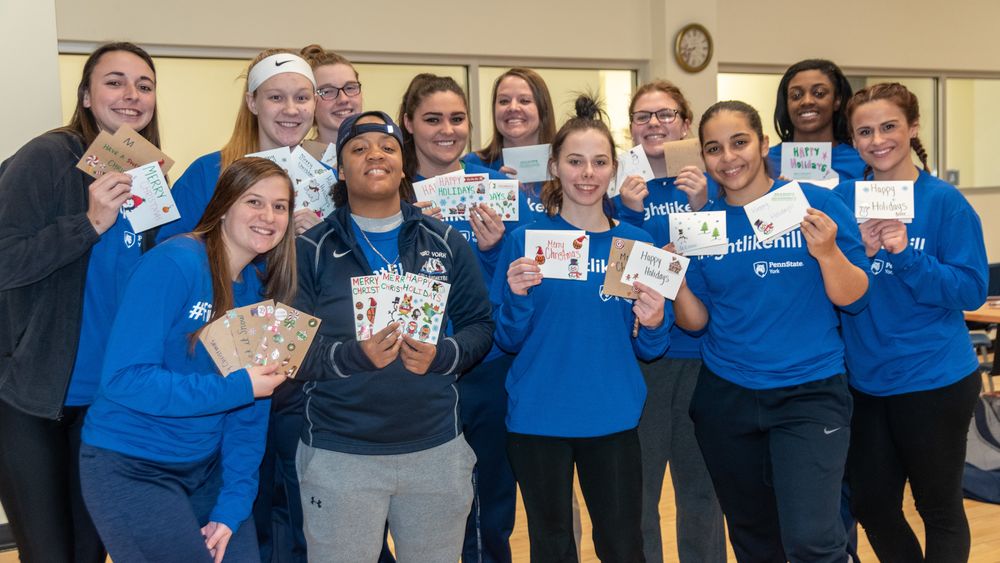 YORK, Pa. — Members of the Penn State York women's basketball team put their artistic skills to work and created cards for children who are hospitalized for the holidays. They sent the cards out through the Cards for Hospitalized Kids organization in Chicago.
The team met following the Dec. 7 basketball game honoring Maddie Hill, a Penn State York student who died of cancer in 2016. The campus honored Hill in a ceremony between the women's and men's games. This special night is an annual event.
"Every year we try to make holiday cards to send to someone that doesn't have an opportunity to be home for the holidays," said Terri VanSlyke, head women's basketball coach and an admissions counselor at York campus. "We decided to spend some time after our #Fightlikehill game to make the cards. Our players really enjoyed the idea of using this also as a way to honor Maddie."
This isn't the first time the team has shared messages of hope to those who are hospitalized for the holidays. They have created cards over the past few years for a variety of groups, including members of the active duty military, veterans in veterans' hospitals, former players overseas, and older adults in assisted living homes.
"I asked our players what they wanted to do this year, and they said they really wanted to send them to hospitalized kids," she said.
"We just wanted to show some holiday spirit to some awesome kids who deserve the best Christmas ever," said Charizma Johnson, a Penn State York senior majoring in business, and a guard on the basketball team. "We chose them to give the cards to this year to continue supporting Maddie and everyone who battles cancer and any other diseases who shouldn't have to."
VanSlyke did some research and discovered the Cards for Hospitalized Kids (CFHK) organization, which fit well with what the players wanted to do.   
CFHK was founded by Jen Rubino. In 2006 at just 11 years old, Rubino was recovering from serious surgery when a card from a stranger arrived for her at the hospital. As a hospitalized kid, the card lifted her spirits and inspired her. In March 2011, she and her friends began making cards to distribute to sick children in local hospitals, messages of inspiration, encouragement, hope and love. That September, she founded Cards for Hospitalized Kids, and to date, the nonprofit has sent cards to more than 100,000 kids in hospitals in all 50 states. To learn more about the organization, and Rubino's inspiring story, visit the website.
"Knowing you are giving back to these kids is a good feeling especially around the time that they need it the most," said Janelle Kress, a sophomore at Penn State York majoring in project and supply chain management and a guard on the basketball team.
The women's basketball team plans to continue sharing positive messages and hope for those who can't be home for the holidays. Learn more about the team online.
In addition to women's basketball, Penn State York offers baseball, men's basketball, golf, soccer, women's softball, and women's volleyball. Visit pennstateyorksports.com for information about athletic programs.