Team heads to the United States Collegiate Athletic Association National Tournament March 3-6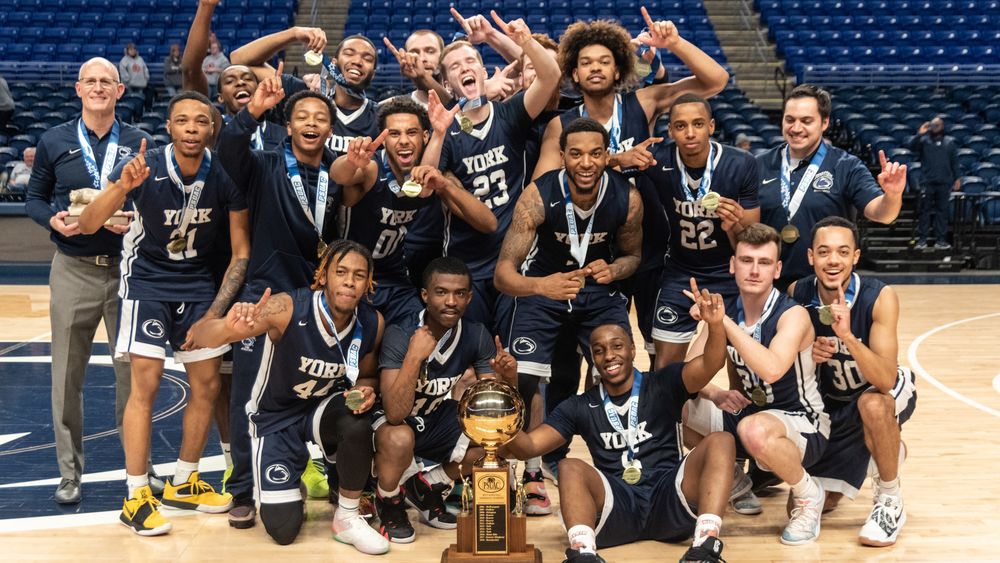 YORK, Pa. — Penn State York men's basketball, the No. 2 seed in the East, took down No. 1 seed Penn State Wilkes-Barre, 57-56, in overtime to win its fourth Penn State University Athletic Conference (PSUAC) Championship at the Bryce Jordan Center at University Park on Sunday, Feb. 24. York pulled out a last second win when Justin Luton, Baltimore, Maryland, senior and First-Team All-Conference player, tipped in an Anthony Bennett Jr., Aberdeen, Maryland, miss with one second left in overtime play.
The team now moves on to the United States Collegiate Athletic Association (USCAA) National Tournament at 2 p.m. on Sunday, March 3, to Wednesday, March 6 at Penn State Fayette. A link to the live stream of the game can be found at www.theuscaa.com.
"This year's exciting win in the PSUAC Championship game was surely the most rewarding of our four titles," said Parrish Petry, head men's basketball coach at Penn State York. "This was the first time we were the underdog and we were able to avenge some regular season losses in the playoff run capped with another victory at the Bryce Jordan Center to win our fourth title in the past seven years," he said.
York jumped out on top from the start, opening the game on a 9–0 tear, and led by as many as 11 points midway through the first half. Wilkes-Barre closed the half on a 10–1 run however, to go into the break on top, 27–26.
In a game where the two teams would combine for 57 personal fouls, multiple players from each team fouled out as the back-and-forth second half progressed. Wilkes-Barre extended a lead up to 7 points with 12:30 to play on the clock, but then Bennett keyed an 11–0 York run to momentarily retake the lead.
Derrick Hoffman, Manchester, scored York's final six points in regulation, with a three-point play putting his team up 53–52 with 41 seconds to play. Wilkes-Barre's Khalil White missed a three-point attempt, but Hoffman was whistled for his fifth foul boxing out William Pierce for the rebound with 24 seconds to go. Pierce made one of his two free throws to tie the score, setting up one more possession for York. York held the ball for the last shot and ran an isolation play for point guard Larry Rascoe, Harrisburg. Rascoe was able to get separation from his defender, but his jump shot from just past the foul line rattled off the rim and the two teams headed to overtime.
Neither team found much space to run or shoot the ball well, combining to go just 3–33 from beyond the three-point line. All three of those makes were by White, who led all players with 30 points. White, a transfer who played for Penn State York last season, consistently got into the lane and drew contact as the referees called a very close game, making 17–19 free throws.
Penn State York had the most success getting the ball into the paint, and were led by seniors Hoffman (14 points, 8 rebounds) and Bennett, who recorded 14 points, 7 rebounds, and 2 steals in 33 minutes off the bench. Luton scored 10 points while also pulling down 4 rebounds and blocking 2 shots.
Sahnei Day, Philadelphia, had 30 minutes in a reserve role, scoring 8 points, while Saion Blaney, Westminster, Maryland, may have played his 28 most important minutes off the bench this season, grabbing 10 rebounds with Penn State York's other big men in foul trouble. Starter Michael Coleman, York, scored 6 points, and recorded 4 rebounds and 2 blocks before being whistled for a succession of touchy fouls and exiting with 12 minutes to play.
York hasn't won the PSUAC Championship since 2015, when the team won its third straight conference championship. As winners of the conference tournament, York receives an automatic bid to the USCAA National Championship Tournament in Uniontown, Pennsylvania.
"The USCAA national tournament is always a great experience and really puts icing on the cake to a fabulous season," said Coach Petry. "We have been here before and I'm sure these guys will again rise to the occasion and represent Penn State-York with class."
In York's last trip to the USCAA Tourney in 2017, the team knocked off the No. 3 and No. 2 seed before ultimately falling, 80–76 in overtime, to Berkeley College, New York, in a championship game for the ages. During that run, Luton, a sophomore at the time, tied a tournament record with 7 blocks during the semifinal win over Central Penn College while also pulling down a game-high 12 rebounds. In the 2017 championship game, Luton recorded a full line of 6 blocks, 5 rebounds, 2 points, 2 steals, and 2 assists.
Entering the 2019 tournament, Berkeley has won four straight national championships and is the No. 1 seed again, while York is the No. 9 seed taking on Central Penn College, seeded at No. 8.