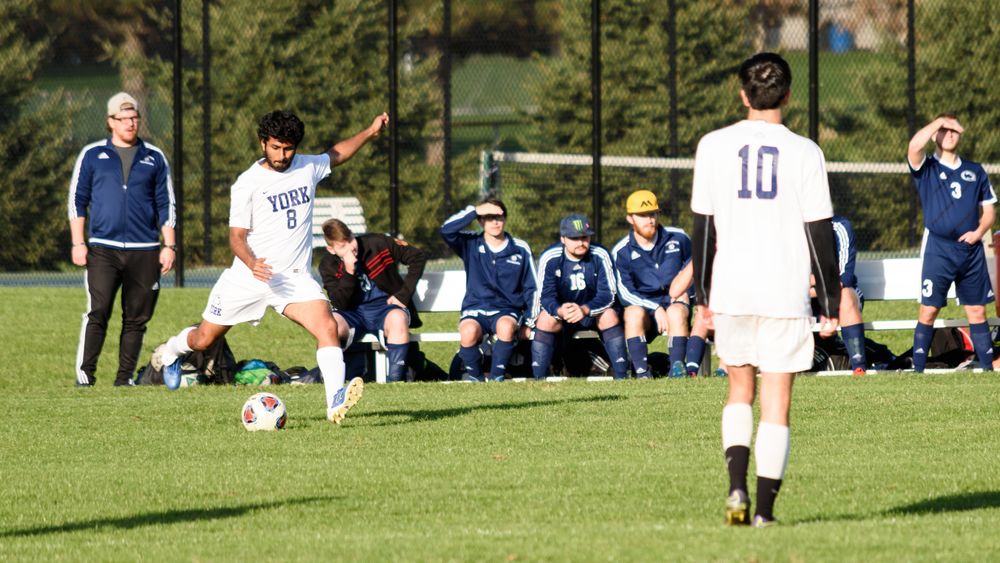 YORK, Pa. — In a hard-fought battle, Penn State York was unable to stay alive in the Penn State University Athletic Conference soccer playoffs, falling to Penn State New Kensington 2-1 at home Oct. 25 in the conference quarterfinals. Tim Weikert took his team to the playoffs in just his second year as head coach.
"I'm proud of where we ended the regular season and that we made it to the playoffs," said Weikert. "We had hoped for a different outcome in this game. It's a hard pill to swallow," he said. "We faced some hardships and injuries but we've improved every day, and certainly have something to build on for next year."
"I'm proud of where we ended the regular season and that we made it to the playoffs."

— Tim Weikert

Penn State York Head Soccer Coach
The first score in the game came in the 25th minute when New Kensington's Pascal Bikamura headed the ball into the net off the corner kick by New Kensington player Paul Kozuch. New Kensington scored again in the second half at the 58th minute with an unassisted shot by Ryan Stanga. At the 82nd minute, York scored when Fabian Vilca, Rosario, Argentina, San Jose High School, put the ball in the net thanks to a cross bounce off a New Kensington defender. York played feverishly through the end of the game but was unable to even the score.
New Kensington continues on in the playoffs to take on Penn State Brandywine on Saturday, Oct. 28, at Brandywine.
Penn State York finished the regular season at 5-3-1 record. York's regular season statistical leaders include freshman Carter Miller, York, Pennsylvania, Dallastown High School, and his 12 goals; and freshman Carlos Robles-Flores, Mexico City, Mexico, Springville High School, with nine goals. Casey Tober, Littlestown, Pennsylvania, Littlestown Senior High School, scored seven times in just eight games, and Maskim Zingman, Minsk, Belarus, Ridgewood High School, played every minute in goal throughout the regular season, recording 78 saves in 12 games.
York's coaching staff looks forward to next season. Weikert, along with his entire coaching staff, Paul Ambrose, Ethan Fair and Nick Ridolfi, are former Penn State York students and soccer players.
"It's like a family here. We all played for Penn State York and continue have a love of the game," he said.
In addition to soccer, Penn State York offers baseball, men's and women's basketball, women's softball, and women's volleyball. Learn more about Penn State York athletics at http://pennstateyorksports.com or contact Jeff Barkdoll, athletic director, at 717-718-6776 or [email protected].