Concert features three bands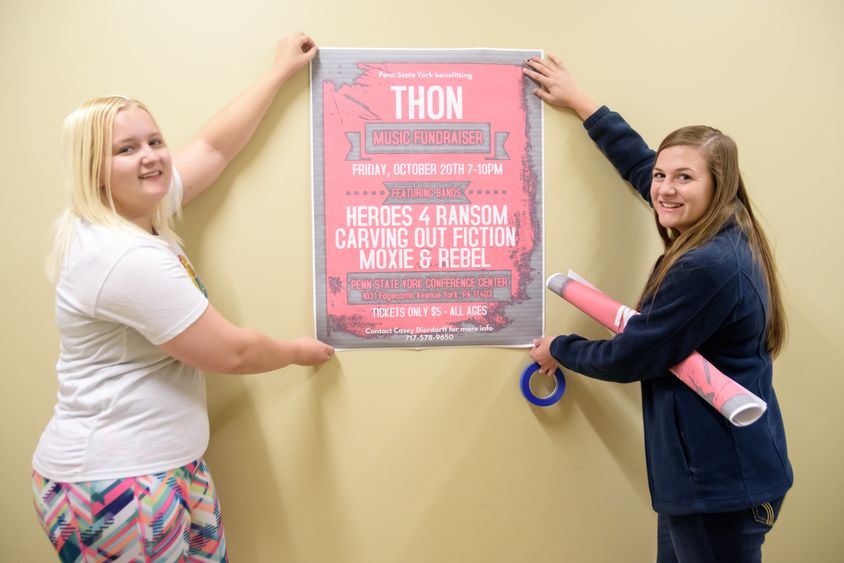 YORK, Pa. — Tickets are on sale now for Penn State York Benefiting THON's band concert featuring three rock bands — Heroes 4 Ransom, Carving Out Fiction, and Moxie & Rebel — set for 7-10 p.m. on Friday, Oct. 20 in the conference center of the Main Classroom Building.
Proceeds from the event go to the campus THON committee's effort to raise money to find a cure for pediatric cancer through THON, the Penn State Dance Marathon. Tickets are $5, and can be purchased from campus THON members or at the door the night of the show.
"I believe that people should attend this event because it can bring the community together through music for a great cause," said Casey Dierdorff, a Penn State York student and the primary chair for Penn State Benefiting THON. Dierdorff organized the benefit concert.
All three bands are from Pennsylvania — York, Lancaster and Williamsport —and are donating their talents so that all proceeds benefit THON. In addition to ticket sales, snacks will also be sold and the bands will sell merchandise with a portion of their sales going to THON.
For more information or tickets, contact Dierdorff at (717) 578-9650 or [email protected].
The band concert is just one of many events, sponsored by Penn State York Benefiting THON, leading up to THON, the 46-hour Penn State IFC/Panhellenic Dance Marathon, set for Feb. 16-18, 2018, at the Bryce Jordan Center on Penn State's University Park campus.
During THON Weekend, hundreds of dancers will be on their feet — no sitting or sleeping for the entire 46-hour event — which raises funds to support innovative and sustainable pediatric cancer research at Penn State Hershey Children's Hospital. Since pairing in 1977, THON has raised more than $146 million for the Four Diamonds Fund, its sole beneficiary. Four Diamonds fills in the funding gaps that insurance leaves for the patients it serves, enabling families to focus on caring for their children. THON is the world's largest student-run philanthropy, engaging more than 15,000 students in the fight against childhood cancer.
THON 2018 begins at 6 p.m. on Friday, Feb. 16, at the Bryce Jordan Center on the University Park campus, and ends 46 hours later, at 4 p.m. on Sunday, Feb. 18.
Another upcoming event, sponsored by Penn State York Benefiting THON, is "Poker with Jimmy," set for Sunday, Nov. 5, at the Goodwill Fire Company in York. Visit pokerwithjimmy.com for more details.
Anyone interested in supporting the dancers from Penn State York can donate online at http://giveto.psu.edu/THON-York. Please click on "Donate Now." Donations made to Penn State York Benefiting THON will be credited to the campus and then added to the final total at University Park. Checks in support of THON should be made payable to: Penn State Dance Marathon or THON, and sent to Penn State York, 1031 Edgecomb Ave., York, PA 17403. Please be sure to note "York, Org. 170" in the memo line of the check.