Next ConnectEd event, The IKEA Effect, set for Sept. 27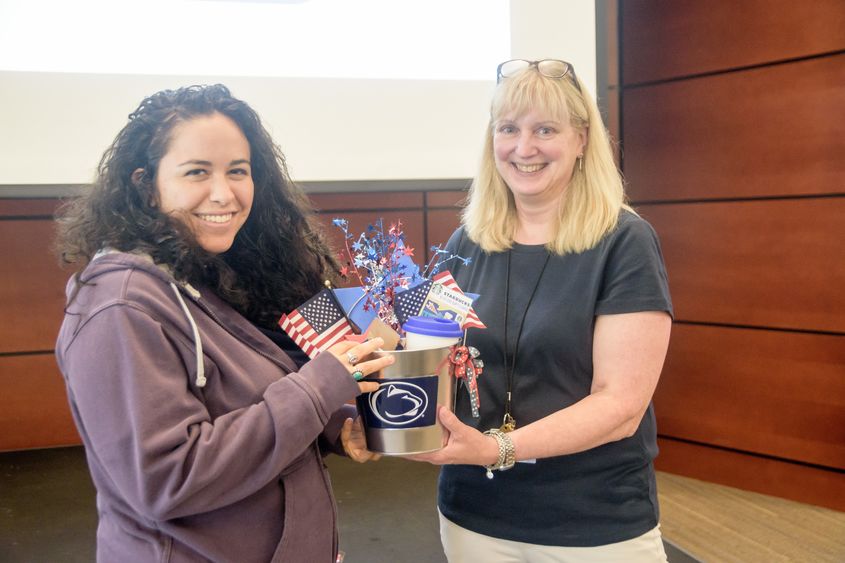 YORK, Pa. — Penn State York celebrated Constitution Day with a trivia event on Monday, Sept. 18, and while the group was small, those who attended had an opportunity to test their knowledge of U.S. history and have some fun. Valerie Carrington, a Penn State York student majoring in English, was the winner of a bucket of patriotic prize items, and a Starbucks gift card.
Constitution Day commemorates the formation and signing of the U.S. Constitution on Sept. 17, 1787, and celebrates the birthday of the government of the United States of America. This is the fourth year for the WE ARE the People trivia event at Penn State York.
Trivia participants used clickers, to remain anonymous, and did their best to answer 20 questions offered in a PowerPoint presentation. The questions were taken from the civics portion of the Naturalization Test to become an American citizen. There are 100 questions in the naturalization test, and during their interviews, applicants are asked up to 10 questions from that list. They must answer six questions correctly to pass the civics test.
Participants in the trivia contest kept track of how many of the 20 questions they answered correctly, with the hope of answering at least 12 questions right. This number corresponds to the same percentage of questions actual applicants have to answer correctly in order to pass the naturalization test. The current national pass rate is 91 percent, and although the small group did not beat the average, they learned a lot.
This civic and social literacy event is offered as part of the Penn State York library's ConnectED program. ConnectED events are based on one of the five literacies of PA Forward, an initiative of the Pennsylvania Library Association.
The next ConnectEd event, The IKEA Effect, is set for noon Sept. 27, in the Lee R. Glatfelter Library on campus. Participants will put together an IKEA cabinet while discussing the research article, "The IKEA Effect: When Labor Leads to Love." One lucky Penn State York student will win the cabinet at the end of the event.