Campus makes history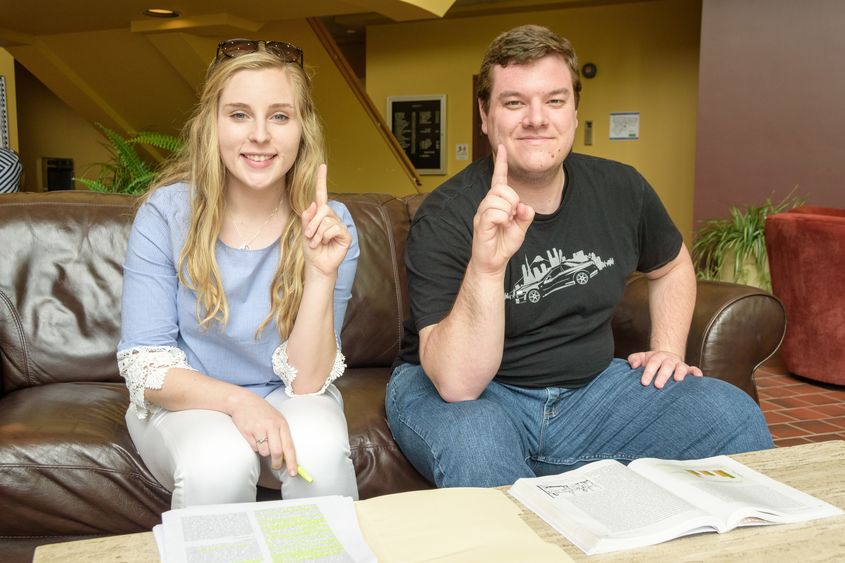 YORK, Pa. — Graduation is exciting enough, but for Samantha Lynn Crist and Daniel S. Skroly, they are making history by becoming the first graduates in the psychology program at Penn State York. Crist will receive a bachelor of science and Skroly will receive a bachelor of arts during the 47th annual spring commencement on Friday, May 5. The ceremony, at 6 p.m. in the Pullo Family Performing Arts Center on campus, is free and open to the public.
The convenience of being able to earn a Penn State degree close to home was important to both students, and they each found their program both challenging and rewarding. York campus offers both the bachelor of arts and bachelor of science in psychology.
For Crist, Penn State York was not where she originally started her college career. After attending another larger University, she discovered that a big campus was not for her; she was excited to discover York's psychology program. She was able to be closer to home and commute from Gettysburg, Pennsylvania, as well as save some money.
A graduate of Gettysburg High School, Crist has completed the psychology program with highest distinction. Her favorite classes included abnormal psychology and applied social psychology, each course providing her with important information and skills.
"I have been given a lot of great opportunities in the time I've spent at Penn State York, but the best is by far the independent research I have been able to do this semester," said Crist. "I have learned so much about the research process and I have really enjoyed every step of it so far." Crist believes her research work will benefit her when she applies to graduate school in the future.
She plans to work for the next year while applying to graduate school this fall, and her ultimate goal is a earning a doctorate in clinical psychology.
For someone who was nervous about finding a new school after leaving her original one, Crist said, "I have found Penn State York to be an extremely welcoming and comfortable environment for me, for which I am extremely grateful."
Just like Crist, Skroly was happy to be able to complete a Penn State degree close to home. A resident of East Prospect, Pennsylvania, he was able to pursue his bachelor of arts degree in psychology while gaining valuable work experience.
Skroly's favorite class, like Crist, was abnormal psychology. "It was a class full of wonderful discussions and talked about my favorite part of psychology," he said.
One of Skroly's fondest memories at Penn State York was using kiwi fruit to demonstrate brain geography in a neurological basis of human behavior class with Alyssa Dietz, assistant professor of psychology.
His plans for the future include working for the county crisis center at York Hospital before attending graduate school to obtain a doctorate in psychology.
Both Crist and Skroly will have plenty of family and friends to cheer them on as they make campus history.
Shannon McCully, manager, industrial engineering, supporting global marketing and sales at Walt Disney Parks and Resorts in Orlando, Florida, is the commencement speaker. A 1996 graduate of Penn State with a bachelor of science in industrial engineering, McCully began her career with Walt Disney Parks and Resorts in June 1996, just a month after graduating from the University.
In her first job at Disney she supported a variety of client areas, including theme parks, and helped open The Walt Disney Studios in Paris, France. She moved to operations measurement in 2004 supporting Magic Kingdom Park and was then promoted to team lead, supporting all four theme parks. During her time in operations, her office was above the bakery on Main Street USA, where she could see Cinderella Castle and smell chocolate chip cookies baking. She returned to the industrial engineering department in 2013.
McCully's ties to Penn State are strong and she calls her decision to attend Penn State "the best decision I ever made." While a student, McCully completed a co-op program with Hershey Chocolate industrial engineering and has the claim to fame on her résumé of working for both the sweetest place on earth and the happiest place on earth. One of the first things she did when she reached Florida back in 1996 was to join the Penn State Alumni Association Central Florida Chapter. In 2003, McCully graduated from the University of Florida with a master of business administration degree.
She also has a connection to Penn State York. She took several summer courses, and was grateful to have the opportunity to take Penn State classes close to home. In addition, McCully has spoken to students as part of the speakers series with The Graham Center for Entrepreneurial Leadership Studies (The Graham Center) at Penn State York, and shared her story about the path to her career with Disney, and what the company looks for when hiring employees.
McCully also participates in the Penn State York Fire and Ice alumni event at Epcot. Thanks to the York connection, she was able to have the Nittany Lion attend her wedding ceremony a few years ago. Even though McCully was not a full-time student at Penn State York, the campus holds a special place in her heart.
A native of Baltimore, Maryland, McCully attended Milford Mill High School. She moved to Glen Rock, Pennsylvania, and her parents still live nearby in Stewartstown, Pennsylvania.
McCully resides in Orlando with her husband, Steve Carsella, who also works for Disney.
In addition to McCully, commencement speakers include the following students: top senior in Penn State York's associate degree program, Megan McWilliams Sheely, human development and family studies, with highest distinction, York, Pennsylvania; top seniors in baccalaureate programs, Emily Ann Freiert, communication arts and sciences, with highest distinction, a minor in English and a Graham Fellow, Hanover, Pennsylvania; and Terry Lee Knarr, electro-mechanical engineering technology, with highest distinction, Graham Fellow and a veteran, Mount Wolf, Pennsylvania; and a top master's degree graduate, Caitlyn Pohlman, master of education in teaching and curriculum, East Berlin, Pennsylvania.
A total of 74 degrees will be awarded during the ceremony. Penn State York will award seven master of education in teaching and curriculum degrees, 59 baccalaureate degrees, and eight associate degrees. Three students who earned their degrees at another Penn State location will return to York to receive a degree during the ceremony, and they are included in the above number of degrees to be awarded.
For those who cannot attend the event, Penn State York's commencement can be viewed on Comcast cable channel 18, streaming live on the campus website, and, for the first time, streaming via Facebook Live.
To learn more about the psychology programs at Penn State York, visit the psychology website.