Jessica Popp to graduate with a degree in human development and family studies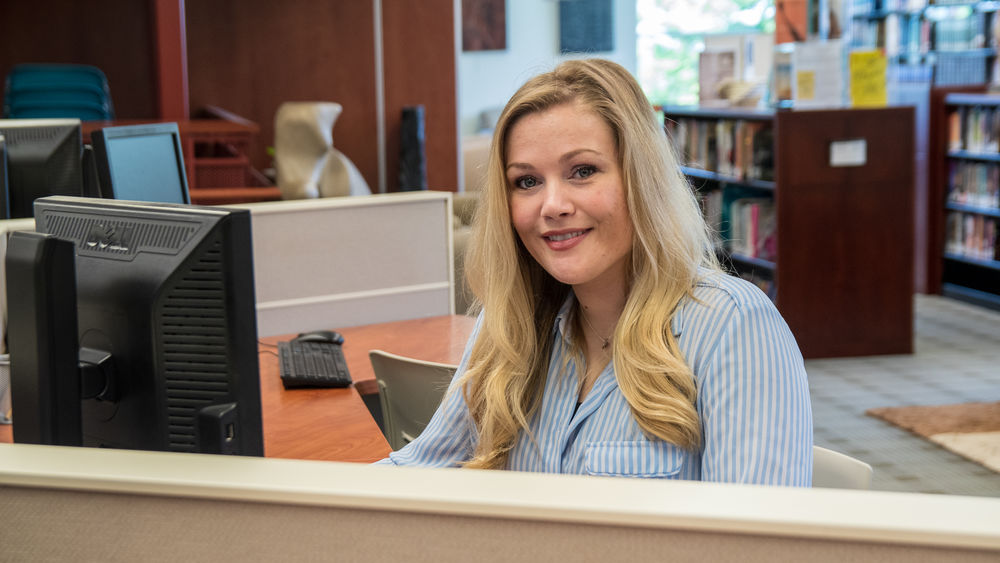 YORK, Pa. — For Penn State York student Jessica Popp, the Lee R. Glatfelter Library became "her place." The senior, who will graduate Friday with a bachelor of science degree in human development and family studies (HDFS), took advantage of all the resources, databases and help that was available. Popp will complete her goal of earning a degree during the campus' 49th annual spring commencement ceremony on May 3. The ceremony, set for 6 p.m. in the Pullo Family Performing Arts Center (The Pullo Center) on campus, is free and open to the public.
For those who cannot attend the event, Penn State York's commencement can be viewed on Comcast cable channel 18 or streaming live on the campus website.
Popp, a graduate of Littlestown Area Senior High School, in Littlestown, Pennsylvania, decided to attend Penn State York because she wanted to earn a prestigious degree but needed to do it on a budget. She has worked since she was 14 years old and knew that in order to achieve her goal, she would need to work hard. Throughout her college career, Popp worked various jobs for small-business owners but is quick to express her gratitude for scholarships and grants that also made it possible for her to stay in school.
A first-generation college student, Penn State was the only place Popp applied, and once she took an HDFS class, she knew that was the field she wanted to pursue.
"I have always been intrigued with the human services field," said Popp. "I fell in love with research, and the HDFS program is multidisciplinary, so there are a lot of avenues to pursue with the degree."
In addition to attending classes in her major, Popp was able to put that love of research to work and helped an HDFS faculty member with the Diabetes Expo hosted on the campus.
"Jessica has grown a lot over her time here at Penn State York. One area I have enjoyed seeing her bloom was in her interest in research. She recognizes the importance of looking up primary sources and delving into where ideas come from," said Amber Seidel, assistant professor of human development and family studies at Penn State York.
"As part of her interest, she volunteered at the Diabetes Expo held on campus and assisted in running a booth measuring balance. Being a part of data collection is a great experience, and the older adults commented on how her smile and attitude was great as they were navigating how to participate in the study," added Seidel.
As part of her major, Popp did an internship at Harrisburg Abraxas Student Academy, where she worked as a teacher and counselor providing services to adjudicated youth. Although this was not a paid internship, Popp notes that she gained valuable experience that will help her in her career.
Popp also served as the president of the HDFS Club and helped organize the annual candlelight vigil for child abuse awareness and prevention last month. She also participated in the event last year. The club has done this event since 2011. 
"Each year at Penn State York, our campus unifies to bring awareness and education to the community on various aspects of child abuse," said Popp. "April is Child Abuse Awareness Month, but our efforts to raise awareness should be in place all year long. As human service professionals, we strive to protect children every day. We share knowledge on prevention and intervention to re-build lives and reduce the risks associated with abuse."
Although Popp supported herself through college, she is quick to note that without all the support of family and friends, she would not have been able to complete her degree.
"I look forward to seeing who Jessica becomes moving forward," said Seidel.
Popp hopes to continue working in the education field and is confident that her Penn State degree will help her in achieving her career goals.
The human development and family studies major provides a foundation for students interested in working in a wide range of human services with many different groups of people — from infants to the elderly — and with many different kinds of families. It prepares students to become leaders in human services, developing new models to prevent and treat social and mental health problems, and becoming advocates for new social policies and programs. The campus offers both an associate and baccalaureate degree that can be completed without leaving York. To learn more about this degree, visit the HDFS website.
Commencement speaker
William T. Yanavitch II is the chief human resources officer for Kinsley and the executive-in-residence for the Graham Center for Entrepreneurial Leadership Studies at Penn State York. He recently was appointed to the chief human resources position at Kinsley, a York-based, family owned business with interests in construction, manufacturing, real estate, and professional services. The company was founded in 1960.
In his role as the executive-in residence for The Graham Center at Penn State York, Yanavitch serves as the program's community connection with area businesses and organizations and he works to develop partnerships with them. He supports and promotes this entrepreneurial leadership program that helps prepare students for the workforce. In addition to his presence in the community, Yanavitch works with students on campus and serves as a mentor to guide them and prepare them for their careers. Thanks to his efforts, the program continues to grow.
Yanavitch has extensive experience in the strategic human resources field, and his career has included owning his own consulting company, Yanavitch & Associates LLC, and serving for 16 years as an executive officer and senior vice president of human resources and administration for Glatfelter, a $1 billion New York Stock Exchange-listed global producer of fiber-based engineered materials.
An advocate and friend to Penn State York, Yanavitch has served on the Penn State York Advisory Board since 2012 and the Graham Advisory Board since its inception.
A Pennsylvania native, born in Towanda, Yanavitch grew up in Waverly, New York. He is a graduate of Cornell University, where he earned a bachelor of science degree in industrial and labor relations. His extended education includes executive leadership programs at the Center for Creative Leadership, Dale Carnegie, and he is a certified DISC facilitator.
Active in the community, Yanavitch serves as the chairman of the Tocqueville Society for the United Way of York, past chairman of the trustees for Junior Achievement of South Central Pennsylvania, vice chairman for the York County Economic Alliance, chairman elect of the Cultural Alliance of York County, director of WellSpan Health Foundation, and a director with Penn Mar.
In 2012, Yanavitch received the Community Builder Award given by the United Way of York, an organization which he served for many years. In 2016, the York SHRM Society recognized him as the Community HR Professional of the Year.
Yanavitch resides in York with his wife, Kimberly, a Penn State graduate. He is the proud father of three children, Vanessa, Michael and Nicholas, and has two grandsons.
In addition to hearing from Yanavitch, Penn State York will continue its open microphone tradition when graduates can speak to the audience for a moment. The top senior attending in Penn State York's associate degree programs, Matthew C. Leubecker, associate in mechanical engineering technology, York, Pennsylvania; the top senior in baccalaureate programs, Karley Leah Richard, psychology, York, Pennsylvania; and a top master's degree graduate, Andrew Wood Campbell, master of education in teaching and curriculum, Hanover, Pennsylvania, also will say a few words.
A total of 73 degrees will be awarded during the ceremony. Penn State York will award three master of education in teaching and curriculum degrees, one master of engineering in electrical engineering, 62 baccalaureate degrees, and seven associate degrees. Nine students who earned their degrees at another Penn State location will return to York to receive a degree during the ceremony.