Mindy Gruzin's journey continues — to medical school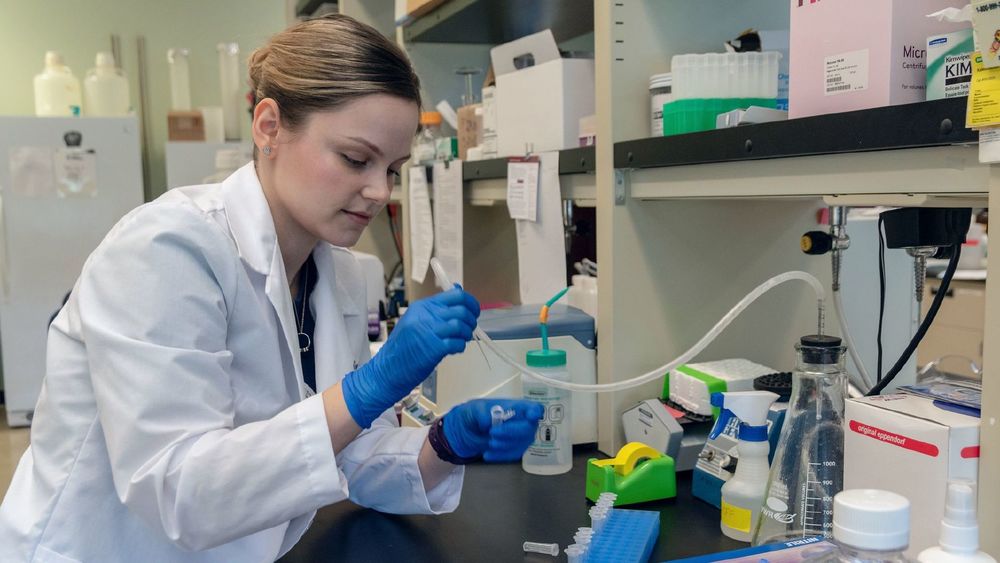 YORK, Pa. — Five minutes before a mock interview with LeighAnn Fry, career services coordinator and academic adviser at Penn State York, senior Mindy Gruzin found out that she received a full-ride scholarship to Geisinger Commonwealth School of Medicine.  Pretty exciting news for any college senior.
Gruzin, who graduated from Penn State York on May 9 with a bachelor of science in psychology and a minor in biology, will head to Scranton, Pennsylvania, at the end of the summer to pursue internal medicine and primary care.
"This is the beginning, not the end," said Gruzin.  "I want to go where I can make a difference and all that I have been able to experience at Penn State York has prepared me for it," she said.
An adult student, Gruzin' s journey, prior to her college career, involved a variety of experiences which have ultimately prepared her for this next step in life.  She is committed to making a difference and helping others.
"This is the beginning, not the end. I want to go where I can make a difference and all that I have been able to experience at Penn State York has prepared me for it."

— Mindy Gruzin, Penn State York graduate
As a child, Gruzin grew up in foster care and spent some time in a large orphanage, Villa Maria, in Baltimore, Maryland. Part of her experience there was shared in a York campus-wide activity last December, called "Operation Holiday Shoebox," a project that provided toys and other items for needy children. Gruzin and members of the Biology Club joined with the campus community to gather 80 boxes for children.
"This does have an impact," said Gruzin, 33, who still has her own shoebox and a few items from it.  "From my experience, kids really do benefit from this; I know I did. Your small act of kindness can have a long-lasting impact."
Gruzin graduated high school at age 16 and began working a variety of jobs, including waitressing. She eventually attended Medix in Towson, Maryland, to become a medical assistant. Along the way, Gruzin had a son; and decided she wanted to do more.  Watching doctors interact with their patients and develop special connections with them inspired Gruzin. Her goal, she said, was to care for people and do good.
At age 27, she studied biology at Harrisburg Area Community College (HACC) York campus, and then transferred to Penn State York, thanks to an articulation agreement that allows HACC credits to be used toward a Penn State degree. It was then that Gruzin's real growth began, she said, and her interest in both psychology and biology was revealed.
"I decided on a psychology degree because I realized that it might be my only opportunity to get a meaningful background in psychology as an aspiring doctor," said Gruzin. "As you may know, psychosocial factors contribute significantly to health status, so I felt this would provide me with a good base understanding, and there would be plenty of time for more biology in med school."
Gruzin's arrival at Penn State York also provided her with the opportunity to meet and work with Jessica Petko, assistant professor of biology, on Petko's spider research. Petko offered Gruzin time in the lab, and plenty of encouragement. Gruzin became a part of the Petko Lab, and throughout her time at the campus worked on a variety of research projects.
"Mindy is one in a million, and I am so lucky she agreed to do research with me, especially considering her research with me didn't count toward her biology minor or psychology major," said Petko. "She has been 'all in' from day one, applying for every research grant and scholarship that came across our emails. She was awarded every single one."
These included funds from Penn State, the Rodney Erickson Discovery Grant and Student Engagement Network Grant; the Pennsylvania Academy of Science, and the American Arachnological Society. Her research award totaled more than $6,000 to aid in completion of her research.
Gruzin's project with Petko examining the expression of a set of neurotransmitter receptors in spiders in the lab, in which she helped establish several new techniques in the spider lab. In a second project, Gruzin studied neurotransmitter adaptations to the stress of starvation in the spiders. Juan Sanchez, a Penn State York biology major, also helped her with this project and Gruzin served as his mentor. Together they raised more than 300 spiders in various experimental conditions and were processing the samples for analysis when the COVID-19 pandemic happened. Sanchez said that they will continue the project when students can return to campus.
Gruzin was able to merge research with her classwork and projects in psychology. She combined biology with neuropsychology as part of a class project that focused on abnormal neurological development, neurotransmitters, and related behaviors in a spider model. In this capstone psychology course, PSYCH 490, taught by Mark Casteel, professor of psychology, Gruzin was encouraged to focus on how her career interests would integrate with her major and minor. This project helped Gruzin decide she wanted to pursue internal medicine.
"There is a significant amount of overlapping territory in psych and biology," said Gruzin. "Psychology is the second most common major for premed students, and there's good reason for it," she said.
As an outcome of her research experience, Gruzin also coauthored an article with Petko and fellow student Madison Winkowski, who also recently graduated. The article, "Developmental expression of doublesex-related transcripts in the common house spider, Parasteatoda tepidarium," was published in the journal Gene Expression Patterns.
"York campus allowed me to build relationships with everyone I met, it felt like family. The people made all the difference."

— Mindy Gruzin
Gruzin graduated summa cum laude and also was named the recipient of the Eric A. and Josephine S. Walker Award, the most prestigious student award on campus. This award is given annually to a full-time student who exhibits outstanding qualities of character, scholarship, leadership and citizenship. Gruzin was recognized for her outstanding work in the classroom, on undergraduate research projects with faculty, and her efforts on campus to make Penn State York a better place.
For Gruzin, Penn State York was a place where she made friends, built relationships, and grew.
"I don't have just one positive memory. York campus allowed me to build relationships with everyone I met, it felt like family. The people made all the difference," said Gruzin.
Although it was difficult not being able to return to campus after spring break because of the University's transition to remote learning, Gruzin said she has fond memories she will hold on to for years to come. Gruzin, her son, and her boyfriend tuned into the Penn State Virtual Spring Commencement and celebrated her accomplishments and those of all the graduates. 
"The virtual commencement wasn't the commencement we all imagined with photos with family and friends, but it was no less significant, and we earned our Penn State degrees," said Gruzin. "I am very thankful for the University providing the ceremony and for all the opportunities I had at Penn State York."