Performances set for April 19 and 20 on the stage of the Pullo Family Performing Arts Center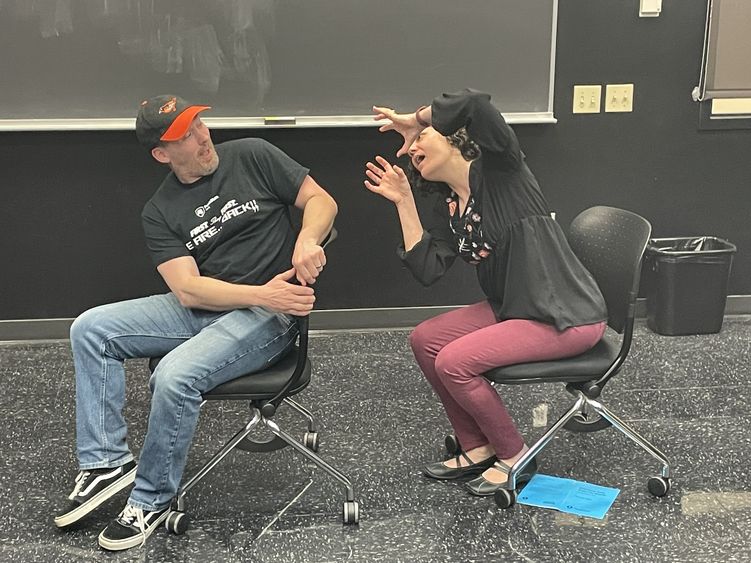 YORK, Pa. — Being eaten by a shark is not something to laugh about, but the Penn Players at Penn State York will change your mind when they take to the stage to perform the comedy show, "Everyone Gets Eaten by Sharks," by Marshall Pailet. Performances are free but donations will be accepted to support the club.
Performances are set for Wednesday April 19 at 12:15-1 p.m. and 6:30-7:25 p.m.; and again, on Thursday, April 20 at 12:15 p.m., in the theater of the Pullo Family Performing Arts Center at Penn State York.
Cast members include Hunter Cameron, Jesse Coulter, Logan Flores, Gavin Franz, Corinne Oswald, Charley Pero and Rachel Wojnarski, Penn State York students; and Anne Vardo-Zalik, associate professor of biology and Penn Players adviser.
About the show
The premise behind the show is that most people, if not everyone, will eventually be eaten by sharks. To postpone the inevitable (and get a great deal on a timeshare) people are invited to join Adventure Dan on a tour through shark-infested scenarios to avoid — such as kayaking with meat paddles, night-swimming after prom, or genetically engineering sharks for science. According to the play description, only three things in life are certain: taxes, death and specifically death by shark. The play is described as a delightfully madcap comedy the audience is sure to devour ... unless it devours them first.
The Penn Players
The Penn Players presents several plays and performances throughout the year at the Pullo Family Performing Arts Center. In addition, the club travels to local theaters and enjoys dramatic presentations and theatrical events. For more information or to become a part of the group, email Anne Vardo-Zalik, club adviser, at [email protected].