Tickets for all performances are on sale now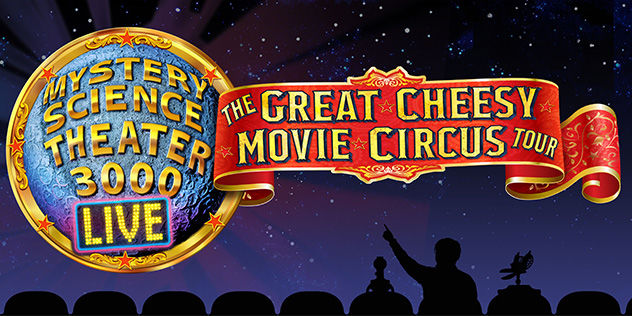 YORK, Pa. — A variety of entertainment — including Mystery Science Theater 3000 Live, "Kathy Najimy Live" — which includes a screening of the Halloween classic movie "Hocus Pocus" — Taylor Dane, Cirque Mei, "The Golden Girls Show," and "Dinosaur World Live" — is coming up for the Pullo Family Performing Arts Center at Penn State York's 2019-20 season.
Tickets for all events are on sale now and can be purchased by visiting The Pullo Center box office, visiting the center's website, or calling 717-505-8900.
September
The Pullo Center season opens with Mystery Science Theater 3000 Live at 7:30 p.m. on Saturday, Sept. 14. This Peabody Award-winning hit TV comedy comes to York with an all-new Mystery Science Theater 3000 Live: The Great Cheesy Movie Circus Tour. Join creator and original host Joel Hodgson in his final tour and the world's greatest — and only — movie-riffing robots, Tom Servo, Crow and Gypsy, as they take you on an exhilarating roller coaster ride through some of the cheesiest films ever made.
Later in September, "Xanadu" takes to the stage at 7:30 p.m. on Friday, Sept. 27. "Xanadu," the hilarious, roller-skating musical adventure hailed by The New Yorker as "the most fun you'll have on Broadway," returns in a national tour with some fierce new twists.
"Kindred Spirits," with Amy Bruni and Adam Berry, will appear at 7:30 p.m. on Sept. 29. Bruni and Berry are the stars and executive producers of "Kindred Spirits" on the Travel Channel and formally partners on the SYFY channel original series "Ghost Hunters." Dive deep into their history and adventures as real-life paranormal investigators.  
October
October brings four performances to The Pullo Center stage, beginning with Sean "Sticks" Larkin at 7:30 p.m. on Thursday, Oct. 3. Larkin is a co-host/analyst on the A&E hit TV show "Live PD" and the host of his own A&E show, "PD Cam." This insightful, entertaining, live event — part moderated conversation and part audience Q&A — lifts the veil off policing tactics and challenges in America.
"Kathy Najimy Live" with a screening of "Hocus Pocus" is set for 7:30 p.m. Saturday, Oct. 12. Join actress Kathy Najimy for a live discussion and Q&A before a screening of the classic Halloween movie "Hocus Pocus." Get into the Halloween spirit by bringing the Sanderson sisters back to life one more time. Najimy will tell behind-the-scenes stories and answer questions from the audience before a showing of the must-see movie of the season.
Traditional and contemporary Chinese circus acts in a colorful and lively celebration of the internationally renowned Chinese circus arts from the People's Republic of China and Hebei Province, are featured in Cirque Mei, set for 7:30 p.m. on Thursday, Oct. 1. The performance features a company of 48 elite circus artists and acrobats.
Finishing out the October performances, Taylor Dayne takes to the stage at 7:30 p.m. on Sunday, Oct. 20. The illustrious singer is an American pop icon with a career spanning three decades. Dane's groundbreaking debut single, "Tell It to My Heart," turned her into an overnight international star in 1987. She followed the smash hit with 17 Top 20 singles over the course of her career, including No. 1 hits, "Love Will Lead You Back," "Prove Your Love," and "I'll Always Love You."
December
Celebrate the holiday season at The Pullo Center with two performances. The Moscow Ballet's "Great Russian Nutcracker" returns at 7 p.m. on Wednesday, Dec. 4. Step into a simpler time filled with sweet dreams and Christmas magic. With world-class artists, more than 200 dazzling costumes, stunning sets, towering puppets and soaring birds, don't miss your chance to ring in the holidays with this acclaimed Christmas extravaganza.
The celebration continues with "The Ten Tenors — Home for the Holidays," at 7:30 p.m. on Sunday, Dec. 8. With a generous mix of festive favorites and modern holidays hits, The Ten Tenors will walk the audience through a musical winter wonderland that truly captures the essence of the holidays for the whole family.  The performance also includes many of the rock and classical songs that have made this group world famous.
February 2020
The new year opens with "Dinosaur World Live" at 4 p.m. on Saturday, Feb. 1, 2020, and offers an opportunity to dare to experience the dangers and delights of  this roaringly interactive show for the whole family. Audience members can grab their compasses and join other intrepid explorers across uncharted territories to discover a prehistoric world of astonishing life-like dinosaurs.
"The Music of Sam Cooke," starring Bradd Marquis, is set for 7:30 p.m. on Saturday, Feb. 8. This new show depicts the life and music of one of America's most iconic and talented performers, the legendary Sam Cooke. The rip-roaring soulful performance includes a live big band.
"That Golden Girls Show!" set for 7:30 p.m. Sunday, Feb. 16, is a brand-new show that parodies classic "Golden Girls" moments — with puppets! Get set for an evening of cheesecake, laughter, jazzercise, shoulder pads, sex, and the elegant art of the quick-witted put down.
March 2020
"The Greatest Love of All: A Tribute to Whitney Houston" comes to The Pullo Center at 7:30 p.m. on Saturday, March 7. Houston's musical legacy is brought to life in this critically acclaimed stage show described as "mind-blowingly spot on." Be stunned by the breathtaking vocals of Belinda Davids.
April 2020
"Andrew McCarthy Live" with a screening of "Weekend at Bernie's," at 7:30 p.m. on Thursday, April 2, closes out the season. McCarthy is a director, an award-winning travel writer, and an actor — now is your chance to see him live on stage. Enjoy a screening of the classic hit film "Weekend at Bernie's," followed by a moderated discussion and Q&A with the audience.
For more information and for a full listing of upcoming events, including ticket prices, visit The Pullo Center website.