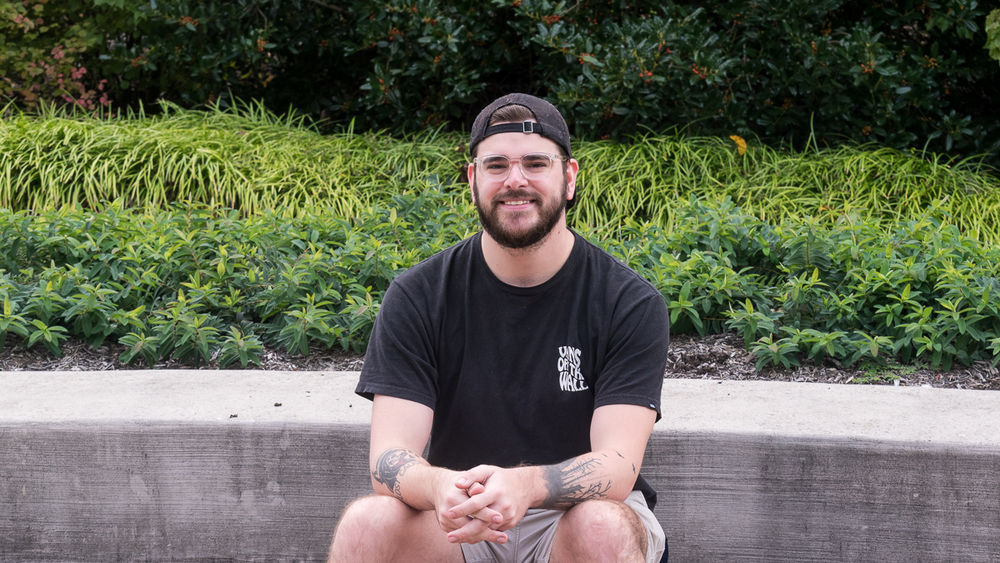 Attending Penn State was something Cameron Flemmens, 26, a senior majoring in electro-mechanical engineering technology at Penn State York, had always wanted to do.  A student-veteran, who is set to graduate in May 2021, Flemmens has reaped the benefits of the G.I. Bill, as well as the services provided at the campus to assist veterans and nontraditional students.
Born and raised in York, Pennsylvania, Flemmens only applied to Penn State when he completed his military service. Being a part of the local campus in York -- that was close to home and offered small classes -- was just what he wanted.
"The faculty and staff here are great at making time for nontraditional students, like me, and they are committed to our success," he said.  "The G.I. Bill is extremely beneficial; my tuition is paid on time and I don't have to balance schoolwork with a job," said Flemmens.
Across all of Penn State's campuses, more than 5.600 current Penn State students benefit from the G.I. Bill as veterans, active-duty service members, or military dependents.
Flemmens served four years in the Marines and reached the rank of Sergeant/E5.  He worked in personnel management, not a traditional deployment in North Carolina, where he served most of his time, and also Japan, Malaysia and the Philippines  It was during this time, Flemmens discovered that working a desk job was not for him.  Although he was very good at his job, he realized that he was better at hands-on work and building things.
His first class at Penn State York, Cornerstone Engineering Design (EDSGN 100), with Andrea Giorgioni, assistant teaching professor in engineering, paved the way to Flemmens becoming an engineering major.  
"I really pushed myself and ultimately decided that engineering was for me," he said.  "I get a lot more out of my classes because I'm older, and I have developed a work ethic and time management skills," he said.  "I've never had to stay up all night studying."
Since that time, Flemmens has taken a variety of courses and notes that the faculty members are all extremely knowledgeable and he is not only learning new things but also learning how to apply what he has learned.
One of Flemmens' favorite faculty members is Amy Harmon Krtanjek, lecturer in engineering at Penn State York, who Flemmens notes is very accessible and really wants us to succeed.
Krtanjek has positive things to say about Flemmens.
"Cameron brings valuable leadership, discipline and teamwork skills to his course work and our campus.  In class, his focus and curiosity results in achieving high academic success," said Krtanjek.
"Our campus benefits through his leadership of the campus' Student Veterans of America (SVA), York Chapter, that gives his fellow veterans a sense of belonging and community that help them navigate a path to post-service careers. I am proud that in addition to a full course load and activities, that Cameron also finds time to share his passion for engineering by volunteering as a mentor to a local high school robotics team," she said.
She also called Flemmens a model for how our student-veterans enhance our community and continue to serve, through connecting others and sharing their experience and skills.
"Our student-veterans are consistently at the top of my classes in their skills, motivation and commitment to their development and support to others," said Krtanjek.
Flemmens, a 2012 graduate of Central York High School, is carrying 23 credits this semester, a tall task for any student.
In addition to serving as president of the SVA on campus, Flemmens also is a part of the Robotic Football Team Club and works on programming for veterans.  Unfortunately, due to COVID-19, the SVA group will not be sponsoring a Toys for Tots collection on campus as they have in years past.
Flemmens is on track to graduate in May 2021, and he is thankful for all the support he has received along the way from the G.I. Bill to the caring and concern of faculty and staff at Penn State York.
At Penn State York, the campus has chosen to recognize nontraditional students and student-veterans with a handwritten note and a special gift. Students recently received the following note:
"We are celebrating your hard work and dedication during National Adult and Veteran Student Week. We recognize that being an adult student comes with its share of challenges. We are sending good thoughts your way and hoping that you believe in yourself as much as we believe in you. There will be a gift arriving in your mailbox next week.  Keep up the good work!"
The more than 100 nontraditional learners and veterans will receive a travel mug at their homes. A gathering of students, via Zoom, is set for to share Friday, Nov. 20 from 10:30 to 11:30 a.m., where they can connect and share a cup of coffee together in their new travel mugs.
The sentiment expressed on the veteran's page of the website sums up the feeling of the campus concerning student-veterans, "You served us, now let Penn State York serve you."  To learn more about services for veterans at Penn State York, contact Christina Lee, VA certifying official, at [email protected], call 717-771-4040, or visit the website.  
For adults looking to learn more about going back to school, contact Erin Nelsen, admissions counselor, at [email protected], call 717-771-4114, or visit the adult learner website.