Penn State York to celebrate Military Appreciation Month with several progams in November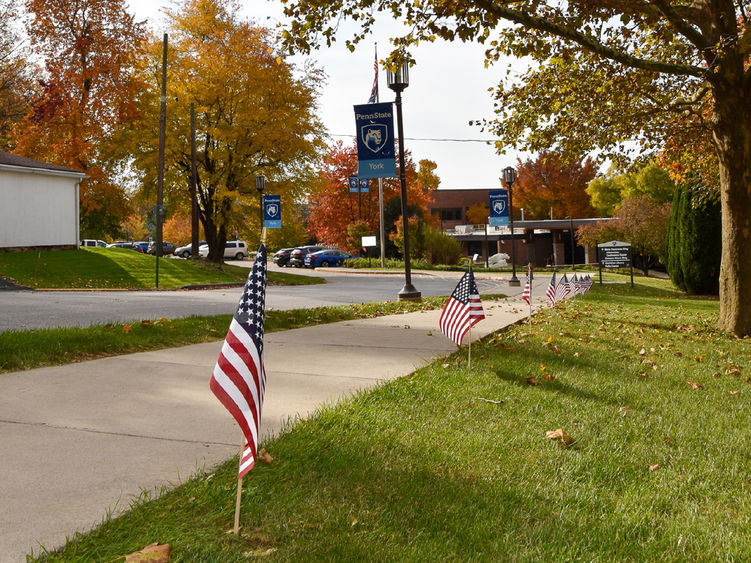 YORK, Pa. — Eugene McFeely, senior director for Veterans Affairs and Services at Penn State, will talk about the military and veteran community that lives in Pennsylvania and how to become a veteran ally when Penn State York celebrates Military Appreciation Month in November. His presentation, Penn State Military Cultural Competency Training — Be a Veteran Ally, is set for Wednesday, Nov. 2, from 12:15 to 2:15 p.m. in Polli Hall, Graham Center for Innovation and Collaboration. The event is open to the campus community.
The program is being brought to campus thanks to the efforts of Christina Lee, veterans certifying official and administrative assistant in admissions, and Jane Pflaum, administrative support coordinator in the chancellor's office and co-chair of the Diversity Equity and Inclusion committee on campus. Lee and Pflaum, together with representatives of the Student Veterans of America chapter on campus decided this training would be helpful to the campus community.
"I had recently taken the training and learned so much, particularly the misconceptions many people have about military service members and and veteran and the challenges they face," said Lee. "I immediately thought this training would be beneficial to members of our campus community and suggested that we contact Eugene about bringing the training to campus."
McFeely will discuss why it is important to understand the military veteran culture, including student-veterans, and how to close any gaps that exist between service members, veterans, and civilians. In addition, he will discuss military services and experience as well as military and veteran stereotypes and myths, including veteran experiences and challenges.
He will answer questions such as:
What challenges do veterans experience?
How are veterans different for you and me, if at all?
How do I engage and talk with veterans?
What challenges do veterans experience while serving or as they transition back to civilian life?
This event is co-sponsored by the Diversity, Equity, and Inclusion Committee and the Student Veterans of America, York Chapter. For more information, please email Christina Lee at [email protected] or Jane Pflaum at  [email protected].
Student-veteran Panel
Penn State York student-veterans will share their military experiences and answer questions from those in attendance during the Penn State York Veterans Day Celebration from 12:15 to 1:15 p.m. Tuesday, Nov. 8, in the conference center of the Main Classroom Building.
This program is another opportunity for members of the campus community to hear from veterans. This event is sponsored by the SVA and is open to the campus community.
For more information, please email Christina Lee [email protected].
Veterans Day Flag Display
In honor of all veterans, American flags will be placed at campus entrances on Friday, Nov. 11. The flags will be displayed from early morning until the end of the day. This has become an annual event on campus and a very visible way to remember veterans, past and present.