Appreciation event set for Nov. 15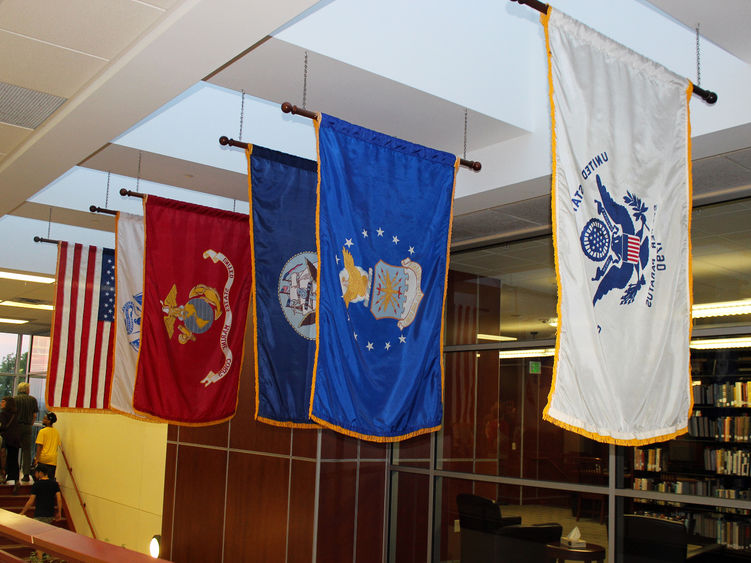 YORK, Pa. — In the early hours of the morning on Veterans Day, a group of Penn State York staff gathered to place 144 American flags at campus entrances in honor of all veterans. The crew included Mike Brodbeck, Joel Gugino, Bob Lehman, Deb Martin, Katie Schwienteck, and Joe Royer. In addition to this visual display of support, an appreciation event for veterans is set for Monday, Nov. 15, from 4 to 6 p.m. This event is free and open to the public, but registration is required at Penn State York's Veterans Appreciation Event registration.
The program will feature presentations from five panelists, discussing issues important to veterans and their families. The idea for the Veterans Appreciation Event came from brainstorming by a small group of faculty and staff members who expressed interest in working with Christina Lee, Penn State York veterans certifying official, to host an event for veterans on campus. 
Jared Posedenti, a student-veteran and president of the campus chapter of the Student Veterans of America (SVA), suggested the event be used as an opportunity to not only honor veterans but to provide them with resources. The decision was made gather a panel of presenters that included veterans and those who serve veterans and service members.
Some of the panelists have a connection to Penn State York or graduated from campus. Topics including VA benefits, resources related to mental health and readjustment to civilian life, and financial resources specific to veterans will be discussed. Those who are veterans may also share their personal experiences.
Panelists are:
Kevin Smyers, retired U.S. Marine with more than 24 years of active duty and civilian service. Myers is the deputy director of York County Department of Veterans Affairs, serving veterans and family members for the past five years.
Gail Hrobuchak, VetSuccess on-campus counselor at Harrisburg Area Community College (HACC), VA Veteran Readiness and Employment Program (VR & E).
Mark Askey, veteran outreach program specialist at the Harrisburg Vet Center, specializing in readjustment counseling services.
Christine Smith, retired Army First Sergeant with 32 years of service. She served as a medic/nurse with many deployments overseas. She also worked as a veteran service officer for more than 14 years with the York County VA and Veterans of Foreign Wars, helping and advocating for veterans to receive their VA benefits. She is also a Penn State York graduate and helped get the initial Student Veterans of America Association (SVA) established at Penn State York. 
Tyler Spencer, Penn State York graduate and mortgage loan originator at Capital Bank, Phoenix, Maryland.
As part of the event, a light dinner will be served.
The program to honor veterans is sponsored by the Penn State York Chapter of SVA, the Penn State York Veteran Affiliate Program of the Penn State York Alumni Society, and the Lee R. Glatfelter Library.
For more information, please contact Christina Lee at 717-718-6704 or [email protected].