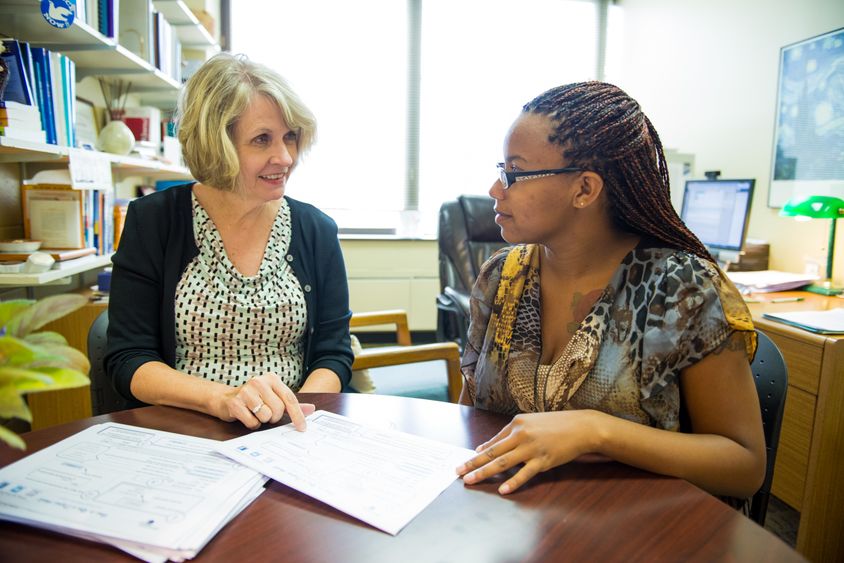 YORK, Pa. — Advising students is something that Jane Emery does very well, so well in fact that she was recently named the recipient of the National Academic Advising Association (NACADA) Region 2 Certificate of Merit for Advising Administrator Award. Emery, director of advising and career development and coordinator of the Division of Undergraduate Studies (DUS) at Penn State York for the past 10 years, received her award during NACADA's spring conference in Hyattsville, Maryland.
"Jane is never too busy to stop and have a conversation with a student or a colleague about any issue, or just to say hello. Her kind demeanor and friendly, approachable tone has allowed her to cultivate lasting and trusting relationships with the students whom we serve," said Robert Farrell, director of academic affairs at Penn State York. "As an enthusiastic supporter of various campus events, her high visibility profile has contributed to her successful interaction with the students. Succinctly, Jane is an outstanding campus citizen and exemplifies the qualities expected of a NACADA award recipient."

Prior to serving in her current position at the York campus, Emery worked as a DUS adviser. The Advising and Career Development office integrates academic advising with career development and is housed within academic affairs. Emery really gets to know her students, whether it's helping students select a major, schedule classes or take a look at careers in particular fields, she works to help students make the best choices for their future success. As an administrator, Emery has the opportunity and responsibility to educate, advocate for and direct the future of academic advising at the campus and the University.
"Education empowers people to live better lives, and having the opportunity to enhance the learning experiences of students is both rewarding and challenging," said Emery. "Being in a position to study and advance the field of academic advising and direct its future is something I fully embrace."

Emery earned a bachelor of arts in social work from Penn State and a master of education in guidance and counseling from Loyola University in Maryland.
A member of NACADA and a National Certified Counselor (NCC), Emery also serves on several Campus Senate committees at Penn State York, the University DUS Student Development and Success Committee, and the Academic Advising Advisory Committee for LionPATH. The DUS Student Development and Success Committee was awarded the 2016 NACADA Advising Technology Innovation Award for their work with MajorQuest.